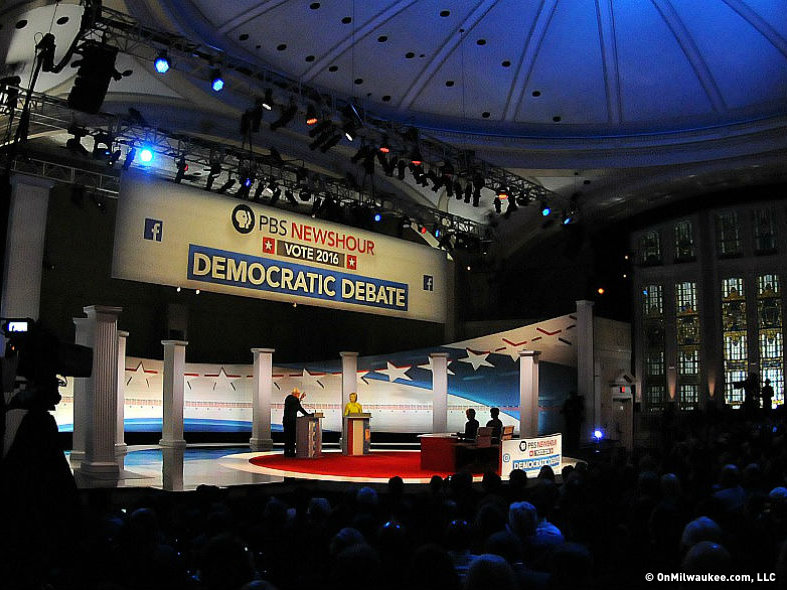 Outsiders continue to reign supreme at the UWM Democratic debate
It kind of said it all when an observer in the Facebook "swag room" at the Democratic Debate Thursday night commented that it was basically the Bernie Sanders room: Get free stuff!
Reporters grabbed the free stuff: Rubik's cubes, orange dietary supplements, yo-yos, brats, snacks and canvas bags. And they say the media is dying. Not quite. There's a lot of money in the media at this level. At least social media: Facebook, which co-sponsored the debate, is flush.
The media and national political elite descended on the University of Wisconsin-Milwaukee, taking over the union ballroom and giving the university – which has been struggling with devastating budget cuts – a blast of free media undoubtedly worth millions. Outside, protesters demanded free education, calling it a right. Inside, Hillary didn't take long to trash Gov. Scott Walker and decry his lack of support for higher education (it's frankly hard to argue with the latter).
Notables ranging from Sen. Tammy Baldwin to Lt. Gov. Rebecca Kleefisch swanned around the media center before and mainly after the debate to address the press. After the debate, however, neither Hillary nor Bernie made the post-performance rounds; the Wisconsin power-brokers who came in the room (Baldwin, Tom Barrett, Gwen Moore) supported Clinton.
Outside, though, the intensity was decidedly anti-establishment. People are tired of the lot of them: big media, big parties, big donors. This is what's interesting: It's happening on both sides. Yes, as they say, the poles do meet.
(PHOTO: David Bernacchi)
You know what? I'm tired of the lot of them too. So sometimes I kind of secretly like what Trump and Sanders both stand for when it comes, at least, to how they would smash and upend the status quo. I've seen the political process up close and been frankly disgusted by it. Who doesn't want an underdog – if a billionaire can be called one ...
The problem is it's impossible to imagine what America would look like at the end of a Bernie Sanders OR a Donald Trump presidency. And that's kind of scary. So I have a love-hate relationship with this anti-establishment stuff. If we're going to blow up the political process, I'd rather it not be done by a socialist. Or a reality star who wants to toss Muslims out of the country (I mean, what?).
Maybe John Kasich or Marco Rubio will gather steam. As for Rubio being labeled a robot, 95 percent of those on stage are robots. Except for Bernie and Trump ...
If Bernie and Trump end up squaring off in a general election, it will make wonderful column fodder, but I might have to move to Ireland (only half joking). We will see if Bernie's support can make it through South Carolina and other states outside his Northeastern comfort zone.
Hillary is in big trouble, obviously. The media buzz was all about staff shakeups in the Hillary camp. She seemed cool and collected on the debate stage, but maybe too cool and collected. Yes, it was robotic, and we can all write the script at this point, other than one big moment. Call it Hillary's gamble: She attached herself firmly to Barack Obama, lavishing him with praise while trashing Bernie for trashing Obama (off strategy since the president is controversial, although less so with Democrats of course, but Hillary had tried to create some distance between herself and him).
"One of us ran against Barack Obama. I was not that candidate," Bernie said as Hillary glared. Bern! And that was the end of that.
Hillary can't shake the pernicious perception that she represents the past and the inside game, that she's fundamentally dishonest, and that she fails to move people. I can imagine her hunkered down in deep political conversation with Bill, upset about how it's "happening again." Again, there's an upstart candidate threatening to depose Hillary just as she's about to grab the brass ring.
On the debate stage, she trotted out the typical talking points. A Hillary America sounds at least somewhat less radical than a Bernie America (I'd like to keep a little of my money, thank you. And can you imagine Bernie squaring off against ISIS or Putin? I mean, c'mon).
I do think the Democrats have points, however, on some issues. For example, as the candidates noted on the debate stage, it's appalling that Wisconsin leads the nation in the black incarceration rate, and we should all be concerned about that. I get confused by the Democrats' talking points, though. They're against mass incarceration – when Tom Barrett isn't giving another angry news conference blasting criminals and calling for tougher juvenile penalties, anyway. And someone needs to tell both Hillary and Bernie that Dontre Hamilton was not unarmed if you count the baton that he was swinging at an officer.
However, I don't think support for Bernie (or Trump) is logical. This is the part that Hillary just innately doesn't have and didn't have Thursday at UWM either: passion. She seems calculated; Bernie seems authentic. She appeals to the head; he generates an emotional response in people. And this is powerful.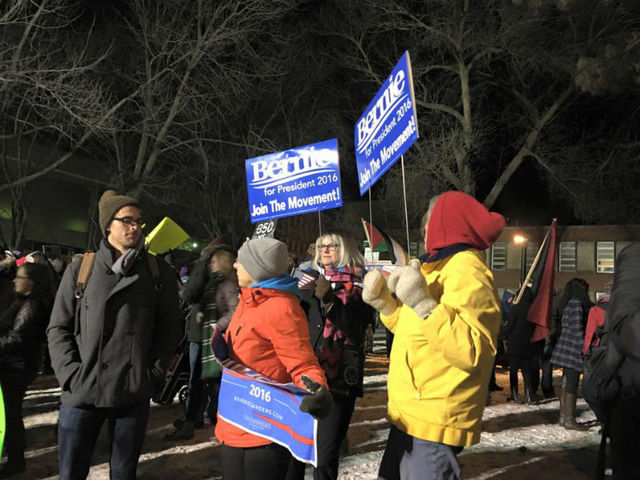 (PHOTO: Jessica McBride)
The protesters and some students inside, who were largely locked out of the debate, decried the insider game that keeps the political process in the hands of a few elites. They don't want the insider candidates anymore, and they don't want the candidates the "big media" tells them to pick.
The Democratic National Committee didn't get the "we're angry at the elites" message, parceling out tickets as if they were Willie Wonka golden tickets with only about 25 reserved for college students themselves. Instead, the tickets were parceled out to party insiders and the like. The same was true at the Republican debate in Milwaukee, of course.
This didn't sit well with Oliver Edward, 25, who was so hacked off that he couldn't get in the debate that he stood outside the media filing center on campus with a big sign that read, "Cancelled my classes, but thanks for the 25 student tickets for a 30,000 student campus."
"I was excited, but I just got vague emails," he said. UWM PR told the student news site Media Milwaukee that the ticket process was controlled by the DNC.
Edward was upset that "bigwigs" got into the debate and that students had to suffer through the inconvenience of the whole show but were largely locked out of it.
"They caused huge disruption," he said, noting that two of his classes were cancelled, including one in world politics.
Nicholas Stamates, 20, a history major, was also upset about the lack of tickets for students. He theorized the "campus is pro Bernie, and they want Hillary people" in the debate. His two favorite candidates? Bernie and ... Trump. He likes their positions on trade. Something is definitely in the air.
Outside, a mini Woodstock or Occupy Milwaukee type scene unfolded, and there did, indeed, seem to be more intensity for Bernie than Hillary there, although some protesters with megaphones trashed both candidates, saying, "No more war! Do you see that Bernie and Hillary!"
They waved around Palestinian flags, called for an end to the drug war, trashed the DNC and its "cronies," demanded a $15 minimum wage and waved around Black Lives Matter signs.
So why did more people seem to be holding Bernie signs aloft?
"He's for the people. He's the first candidate in my entire life who is not the lesser of two evils," said Cassie Maher, 25, of Oshkosh. "He's genuine."
She doesn't appreciate the older feminists who have recently trashed young women for not supporting the female candidate, saying she supports candidates for "what they stand for, not what they are."
Asked specifically why she likes Bernie, she said a few generalities, more topical than specific. Bernie's appeal is emotional.
There were some Hillary supporters. Rachel Barry, 39, of Chicago, was one of them. It seemed like both campaigns pushed their supporters to come protest from out of town. Asked why she preferred Hillary, she said she was a Buddhist, and "Buddhism has been infiltrated by Chinese spies, and she's the only person onto that dynamic."
What?
She also thinks Hillary is more qualified.
But if the New Hampshire results are any indication, as well as the scene around UWM Thursday, the "establishment" – and the candidates who seem tied to it on BOTH sides – better take this movement seriously.
Facebook Comments
Disclaimer: Please note that Facebook comments are posted through Facebook and cannot be approved, edited or declined by OnMilwaukee.com. The opinions expressed in Facebook comments do not necessarily reflect those of OnMilwaukee.com or its staff.