10 Downtown eyesores: East Town edition
From ugly parking structures, to dead stretches of street to a freeway that cuts like machetes, Milwaukee – for all its vigor – still has some problem spots. We look at some on the east side of Downtown.
1. Whose idea was that?
Believe it or not, there are some businesses on the lower level of the Juneau Village Shopping Center, along the 1100 block of North Jackson Street, but it sure doesn't feel like it. Nearly half the sidewalk frontage is parking structure and the rest is just plain unwelcoming.
Even on a bright, sunny weekday lunch hour, there's nary a soul, though the signs on a salon, a dry cleaner and an Indian restaurant all glow "open" (for now).
2. What kind of playground can't draw kids?
The kind that's tiny and tired, like this one in Cathedral Square Park. There's plenty of space to create a great playset, like the one in Washington Park or Tosa's Hart Park. Then, maybe kids would be having so much fun they wouldn't be tempted to pile sand on the slides.
3. Parking structure-itis
I know, I know, we love our cars. I drive one and I park it, but it sure seems like Downtown has waaay too many of these. I don't have to point them all out. You've seen them. I chose to picture the Chase Plaza parking structure because is among the most forbidding and high profile, occupying an entire block on Water Street and the Riverwalk, between Clybourn and Michigan. We must get better at integrating parking into developments rather than having parking lots be the developments.
4. Inefficient surface lots
Yes, I know, first I complain about structures and then I suggest that these inefficient surface lots be replaced with them. But, what I mean is that a couple acres like this could be put to a whole lot better use than a few dozen parking spots. Buildings with underground parking or other integrated parking is a much better option. So is mass transit, of course, but, hey, I know...
5. Progress begins at home
This surface parking lot for city vehicles sits at a high-profile intersection, Market (speaking of dead streets, see below) and Wells, quite literally in the shadow of City Hall. This part of Water Street is one of Downtown's major arteries, lined with offices, hotels and entertainment. Is a lot full of DPW trucks really what belongs here?
6. Dead streets
Remember when Clybourn Street east of the river – heck, west of the river, too – was alive with retail and, gasp, actual buildings?! No, I don't either. But I've seen pictures. Nowadays, other than Johnson Controls, which you see at right, there are precisely three buildings – and a parking structure, natch – between the river and Lincoln Memorial Drive. One is the Button Block at the far left on Water. The two in the middle appear to be vacant.
But Clybourn's not the only dead street in East Town. Spare a kind thought for old Jefferson Street north of Kilbourn, for example. Or Jefferson south of Wisconsin, for that matter (or much of the east side of Jefferson between Wisconsin and Mason). There are blocks here and there on other streets, too, that house almost nothing beyond parking.
7. The skywalk of all skywalks
Oh, I'm sure if I worked in the U.S. Bank Plaza, I'd be thrilled to partake in the climate controlled charms of the skywalk and the lobby businesses, especially in winter, street below be damned. Instead, I often drive or walk into the darkness that is this block-wide dead zone created for the fern-y goodness above.
8. Vacant retail
There are vacant retail spaces scattered around Downtown, but this one especially caught my eye, because the building at 900 N. Van Buren St., which was long home to Edwardo's Pizza, has a fabulous decorative facade (though folks rarely notice). And because it sticks out like a sore thumb amid surface lots to its north, south and east, and another across Kilbourn Avenue. There had been plans to tear this down and go tall, but that didn't happen. It's a shame that something more intimate can't be allowed to flourish here.
9. Heal this wound
Imagine the joy in my heart when I saw the wrecking balls pulling down I-794 east of the river in recent months, and my sadness at seeing it start to be rebuilt. I know my friends in Bay View and points south enjoy zipping through on this roadway, but it slices Downtown off from the Third Ward and creates block after block of dark, unwelcoming, useless space (except for ... wait for it ... parking). Replacing this spur with a boulevard at grade would only slow traffic down briefly before it connected up with I-94, but would bring light back to the space, reconnect Downtown and the Third Ward, and open Clybourn Street and the eastern part of St. Paul to development.
10. Tribute?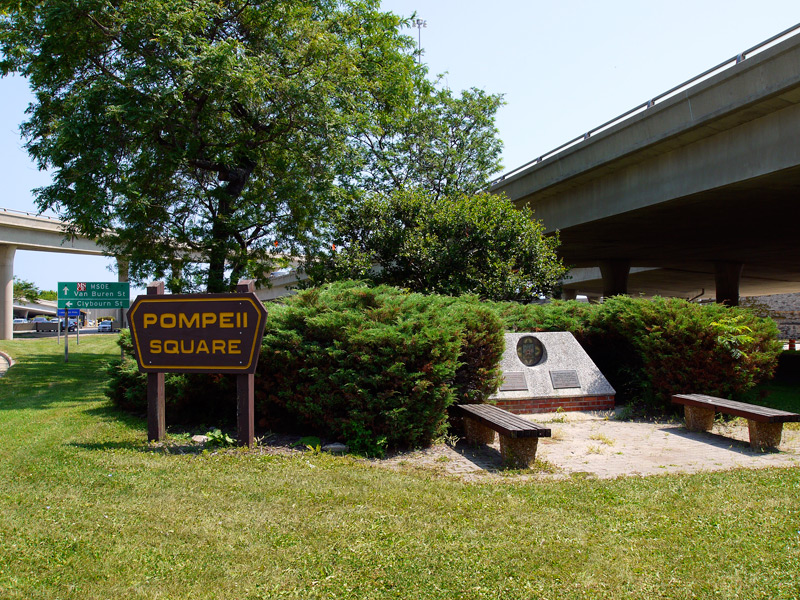 If the indignity of the Little Pink Church that was the heart and soul of the Italian Third Ward being pulled down to build the I-794 spur wasn't enough, this square – which marks the site of the old church – hardly feels like much of a tribute. Although a pedestrian can technically get to it, the path can be tricky. Nice touch sticking the benches there, as if anyone would want to sit contemplatively for a moment dwarfed by freeway overpasses and at the bottom of a ramp that disgorges cars directly toward the monument at an unsettling velocity.
Talkbacks
pfan | Aug. 18, 2014 at 8:48 a.m. (report)
Excellent piece that highlights the consequences of bad design. Some will suggest these places have to exist because they are components of how we live in the city. That simply isn't true. Great cities value the public realm All these examples could have been/could be much better.
PaulK | Aug. 17, 2014 at 11:30 a.m. (report)
This is a great overview of some bizarre and downright ugly spots in Milwaukee. Granted, not every place in any city is going to look nice, but these examples are whole blocks of questionable design. The space under the overpasses is especially bad. City planners: tell me why this space could not be improved -- a park, a garden, a well-marked and well-lit walkway, perhaps? Ok, throw a few parking spaces in there too if you want but don't just leave it blighted.
Facebook Comments
Disclaimer: Please note that Facebook comments are posted through Facebook and cannot be approved, edited or declined by OnMilwaukee.com. The opinions expressed in Facebook comments do not necessarily reflect those of OnMilwaukee.com or its staff.