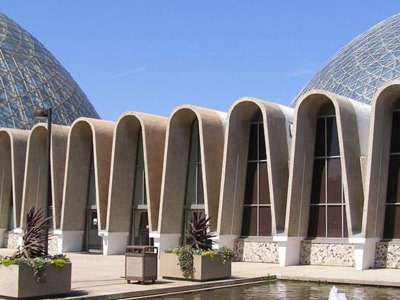 Milwaukee Face Off: Harley-Davidson vs. The Domes
For this series of articles, we take two seemingly unrelated Milwaukee icons, and then pit them against each other in 10 categories. In each category, we'll assign them points, one through 10, then add them up and name the winner.

No, it's not scientific, but it's fun. So, how does Harley-Davidson compare to The Domes? Read on to find out...

Affordability:

Harley-Davidson, 3
According to the Harley Web site, Sportsters start at $6,695, Softails start at $15,895 and Road Kings start at $17,595. Of course, these prices don't include a lick of ergonomic, performance or aesthetic customization -- which is huge in Harley culture -- so buyers usually spend much more. However, because Harley-Davidson generates citywide pride, gives generously to many organizations and brings revenue to the city, the steep price has slightly less of a sting.

The Domes, 8
Mitchell Park Conservatory, a.k.a., The Domes, on the other hand, are a steal, with an admission price of only $5. (Seniors, people with disabilities and kids ages 6-17 are $3.50.) Residents of Milwaukee County get in for free on Mondays between 9 and 11:30 a.m.

Value to city:

Harley-Davidson, 9
The aforementioned pride that many Milwaukeeans feel from living in the city that birthed Harley-Davidson is priceless. Unlike other things that people associate with Milwaukee, like Laverne and Jeffrey Dahmer, Harley puts Milwaukee in a positive light. Plus, Harley creates lots of jobs and the anniversary parties bring thousands of bikers -- and dollars -- to Brew City. (The 105th anniversary celebration is set for Aug. 28-31.)

The Domes, 9
The Domes bring a different kind of value to the city. They offer the chance to bask in a warm dessert (the Arid Dome) or a tropical paradise (the Tropical Dome) on below-zero temperature days. They show us flowers and plant life that would be impossible to see anywhere else in Wisconsin. Anyone who grew up in Milwaukee took a fieldtrip to the Domes, and with good reason. It's always an educational experience, too.

Popularity:

Harley-Davidson, 10
Harley motorcycles are owned and coveted by many, but the Harley image on clothing is even more popular, due to the affordability of clothing versus a motorcycle. Anyone who has been to a large-scale public event in Milwaukee knows how popular Harley merchandise is in this town. Next time you're at Summerfest, count how many Harley T-shirts and caps you see.

The Domes, 4
The Domes are a solid Milwaukee attraction, but less popular overall. Most Milwaukeeans -- other than those with small children or a seriously green thumb -- visit the Domes irregularly. Many would agree that The Domes are a great place to have a wedding.

Name recognition:

Harley-Davidson, 10
The Harley name -- and logo -- is recognized in most parts of the world. The supreme name recognition has inspired a "Harley culture" of people who do not own motorocycles. Instead, they wear Harley clothing, own Harley products (such as Harley-shaped telephones) and visit Harley-Davidson cafes.
The Domes, 2
The Domes score particularly low here because most Milwaukeeans probably don't know the actual name is the Mitchell Park Horticultural Conservatory. (That name just doesn't roll off the tongue quite as easily as "The Domes.") The Domes, however, are very visually recognizable, and the unique structure lends itself to discussion which helps with name recognition.
Design:

Harley-Davidson, 10
Harley-Davidsons have a very distinctive design (and sound) because of the heavy customization opted for by most riders. Customization is the heart of Harley ownership, and most riders want to express their personality through their bikes. In general, Harleys are streamlined, well constructed and sport the famous logo.
The Domes, 7
The Domes have a unique design. They include three rounded, beehive-shaped structures that are 85 feet high. The Domes are extremely recognizable, but because of their mound shape are sometimes referred to as Milwaukee's "three boobs" (or other slang terms for female breasts).

Uniqueness:

Harley-Davidson, 5
Harley motorcycles -– and Harley gear -- are so popular in Milwaukee (and the rest of the world) that they border on cliché. Also, some believe that Harley once stood for toughness and ingenuity, but now the brand is less cool and distinctive because so many white-collar professionals -- who are mellow weekend riders -- own bikes.

The Domes, 8
The Domes rank highly in this category because they are the only conoidal (cone-shaped) domes in the world. That's pretty cool.

Economic value:

Harley-Davidson, 10
Certainly, taxes paid by the company and its workers contribute greatly to the city of Milwaukee. Plus, the Harley-Davidson Museum (which will open this summer on 6th and Canal Streets) is expected to attract 350,000 visitors annually from around the world. The metropolitan Milwaukee Association of Commerce projects the museum will bring $78 million in annual spending and $12.3 million in annual local tax revenue.

The Domes, 3
As a not-for-profit entity, the economic value of The Domes is much lower than Harley. The revenue generated from The Domes isn't a huge impact, but adds value to the city's image.

Convenience factor:

Harley-Davidson, 5
Harley headquarters on Juneau Avenue are easy enough to access -- although you might not get to walk in and chat with top brass -- and with dealerships all over the state (not to mention on the Web), it seems like finding a Harley would not be much of an inconvenience.
The Domes, 8
The Domes are very easy to access. If you're coming from the East, take 94W to the 22nd and Clybourn exit and cruise over the viaduct. For those coming from the West, take 94E to the 26th and St. Paul exit and drive south on 27th Street until you cross the viaduct. You can't miss 'em once you're nearby.
History:

Harley-Davidson, 10
Harley-Davidson was founded in 1903 when William S. Harley -- along with Arthur and Walter Davidson -- created their first motor-bicycle. The first Harley factory was built in 1906 on Chestnut Street, which was later Juneau Avenue. This summer, Harley will celebrate its 105th anniversary, Aug. 28-31. The Harley Museum has not announced an opening date, but assures it will happen before the anniversary party.
The Domes, 6
The Domes replaced the original Milwaukee Conservatory that stood from 1898 to 1955. The Domes were constructed from 1959 to 1967, so they haven't been around as long as Harley-Davidson.

Quality of product:

Harley-Davidson, 8
Although some would argue that Harleys are inferior to Japanese bikes, Harleys have the reputation of being high-quality motorcycles. The fact the brand has existed for more than 100 years also suggests that Harley has a solid product. Harley employees routinely ride motorcycles and attend rallies to stay in touch with their customers.

The Domes, 7
The Domes are very well maintained, but in May 2005, a $32 million plan was proposed to revitalize the Domes and tend to existing problems. Hopefully, lack of funding won't cause The Domes to loose its grip on quality.
Total:
Harley-Davidson, 80
The Domes, 62

Winner: Harley-Davidson

Talkbacks
rniam | Jan. 9, 2008 at 11:26 a.m. (report)
Where is the category for "dumb-ass, look at me, noise factor"? Spies within OMC tell me that before this category was omitted the Domes won by a score of 1,000,062 to 80.
Facebook Comments
Disclaimer: Please note that Facebook comments are posted through Facebook and cannot be approved, edited or declined by OnMilwaukee.com. The opinions expressed in Facebook comments do not necessarily reflect those of OnMilwaukee.com or its staff.