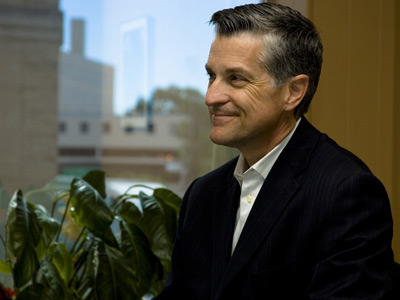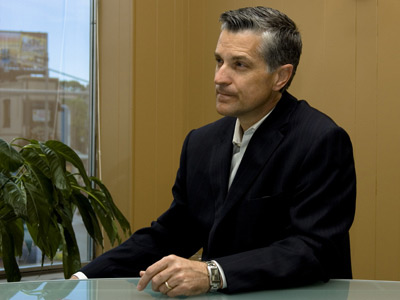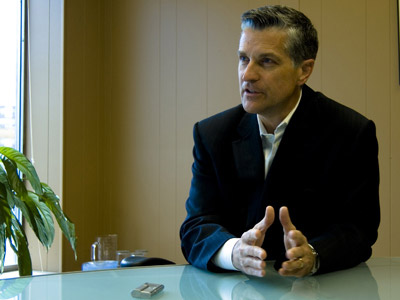 Milwaukee Talks: Mike Gousha
Podcast:
Mike Gousha talks about when things went haywire on live TV
Subscribe
to OnMilwaukee.com Podcasts
If you ever meet Mike Gousha, the veteran former anchor at WTMJ-TV, don't ask him if he's retired. Just because he left broadcast journalism last August doesn't mean he's lost his relevancy. The venerable Gousha, who's only 51 years old, is now the public face for Marquette University's law school and he's actively working on raising the program's profile through seminars, debates and conferences.

We caught up with the two-time Emmy Award winner recently to discuss his career, his love of Milwaukee, his future plans -- and why he left the most coveted job in local television.
OMC: I've never begun an interview by asking this question.

Gousha: Uh oh.

OMC: But I think it's a question that most people who haven't heard from you since you left Channel 4 want to know: How are you?

MG: I'm great, I'm doing very well. I have some exciting new challenges on the work front. On the personal side, my wife and I have had a little more time together since leaving TV. It's been great.

OMC: Can you tell our readers a little bit about your new job at Marquette?

MG: The official title is "Distinguished Fellow in Law and Public Policy." My friends are still giving me a hard time about that. They say that it's a pretty fancy title for a guy who wore makeup and read out loud for most of his adult life. That's the official title, but the goal is really to make Marquette a leader in (creating) a serious discussion of important issues. We want to be a place where newsmakers visit regularly, where political debates are held on a regular basis, and where we have forward-looking, solution-oriented conferences. Trying to tackle some of the issues, not just facing Milwaukee, but on a national scale.

OMC: How has the transition been from working in TV for the last 30 years? Has it been easier or more difficult than you expected?

MG: It's been fairly smooth, and I think that's because I'm still doing a lot of the same things I did in television. I'm still acting as an interviewer, a moderator, a facilitator at many of our events. There's a comfort level there. It's gone pretty smoothly.

OMC: What can you talk about regarding your departure from Channel 4? Why did you do it? What are the differences, if any, between the public perception and why you really left?

MG: I think there were two main reasons why I decided to leave. One is that I'd been at Channel 4 for 25 years and doing essentially the same things for 25 years. Really, 30 years in my broadcast journalism career. And there was an urge to do some new things. I think that's human nature. The second thing is, and I've been very honest about this, and I've said this both publicly and privately: I wrestled with some of the changes that I saw in television news, so I thought, now's a good time, by my standards; I'm still a fairly young man. I thought if I was going to do something, now was the time to do it.

OMC: Someone said to me the other day that he perceived you as the last real journalist on Milwaukee TV. Has anyone ever said that to you?

MG: That's kind for that person to say that. There are a lot of good people who still work in TV news and are working hard to do the right things. I just tried to do the best I could on a daily basis, but I do appreciate it when people say things like that.

OMC: Now that you're not at the station, who do you watch? Who do you like locally?

MG: I have friends still at the station, so I'm checking in to see how Channel 4 is doing. I try to watch all the stations a little bit, so I have some idea of what's going on. I am probably like some people, I'm flipping around a little bit to catch things. But, certainly I still have friends at (Channel) 4, so old habits die hard on that front.
Page 1 of 3 (view all on one page)
Next >>
Facebook Comments
Disclaimer: Please note that Facebook comments are posted through Facebook and cannot be approved, edited or declined by OnMilwaukee.com. The opinions expressed in Facebook comments do not necessarily reflect those of OnMilwaukee.com or its staff.