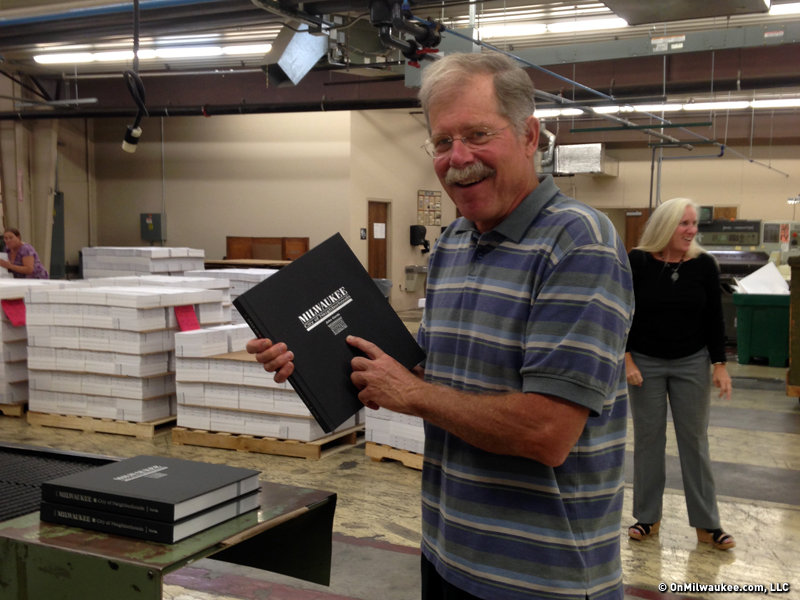 Gurda's important new book draws inspiration from Kotowicz's beloved posters
We've all seen the Milwaukee neighborhood posters. Decades after their first appearance, these images endure.
These iconic 1980s posters were created by then-city employee Jan Kotowicz and featured a long essay by historian John Gurda on the reverse.
The posters have now also served as an anchor for a weighty new tome published by Historic Milwaukee Inc.
The 472-page book, "Milwaukee: City of Neighborhoods," was written by Gurda and includes 11 new poster images created by the now-retired Kotowicz.
Gurda took all 37 neighborhood posters and wrote a chapter on each neighborhood, creating an in-depth and truly remarkable portrait of Milwaukee's mosaic of cultures and flavors.
The book will be officially launched at a kickoff event Thursday, Sept. 24, from 6 to 9 p.m., at the Grain Exchange, 225 E. Michigan St. Ticket and other information is available here.
In addition to selling one-sided posters of the 11 new images for $10 each, Historic Milwaukee Inc. is in the process of acquiring the City of Milwaukee's stock of the original two-sided posters, which it will also sell to help raise funds for its many projects, including Spaces & Traces and Doors Open Milwaukee.
"I think the posters have enduring appeal because they look so damned good, first of all, but also because they raise our everyday reality to a new level of awareness," says Gurda. "They elevate the ordinary, in other words, and people have been responding for over 30 years now."
Like his landmark "The Making of Milwaukee," "Milwaukee: City of Neighborhoods" is an intimate portrait of Brew City. But unlike the former, which focused on the broader picture – politics, industry, commerce – "City of Neighborhoods" digs deep into the streets where we live, where we work, where we play. It explores the richness of our patchwork of ethnic roots, of our unique and shared cultures.
And while some of the book is rooted in Gurda's work on the posters, that text was written more than 30 years ago, and, says Gurda, needed some love.
"The poster text was definitely the basis for my writing," he says, "but every neighborhood needed a fresh look and significant updating. The 11 'new' neighborhoods, of course, were all from scratch."
Those new neighborhoods include Amani/Metcalf Park, Enderis Park, Johnson's Woods, Lindsay Heights/Walnut Way, Menomonee Valley, Thurston Woods, Silver City and Washington Park.
Amazingly, the original series did not include posters for Downtown and the Third Ward, which were only sparsely populated with residents in the early 1980s, and the East Side.
In addition to the inclusion of Kotowicz's poster images, the book also draws together a vast range of images that capture the city across the decades.
For example, in the Enderis Park section, there are early maps of the neighborhood before development, historic photos and a landscape architect's plan of the park that gives the neighborhood its name, and a portrait of the woman, assistant MPS superintendent and influential Milwaukee Rec director Dorothy Enderis, whose name graces the playfield itself. Historic photos of a neighborhood church sit alongside current images of the mostly residential area.
Like "The Making of Milwaukee," Gurda's helps us better know and better understand the city we call home. It is essential reading.
According to Historic Milwaukee Inc. Executive Director Stacy Swadish, HMI will donate about 500 copies of the book – along with copies of the posters – for free to neighborhood nonprofits and community centers across Milwaukee. Interested groups can request an application directly from Swadish.
tqrfexrzdwayxeeudzuqwsyaxstucwyvbawwt
Facebook Comments
Disclaimer: Please note that Facebook comments are posted through Facebook and cannot be approved, edited or declined by OnMilwaukee.com. The opinions expressed in Facebook comments do not necessarily reflect those of OnMilwaukee.com or its staff.