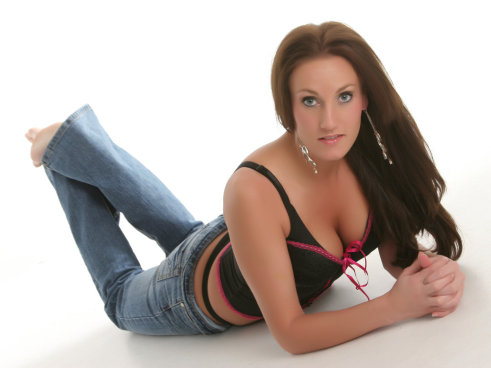 102.9 The Hog holds "Rock Girl" finale Saturday night
Radio station 102.9 The Hog will crown its next "Rock Girl" at 6 tonight at Hal's Harley-Davidson and Buell, 1925 S. Moorland Rd., New Berlin. Admission is free.
After several weeks of preliminary competition, 11 finalists will vie to become the stations third Rock Girl -- a spokesperson who represents the station at concerts, promotional events, commercials and on the air. The award comes with more than $20,000 in cash and prizes, including a 42-inch plasma TV from American, a year free cable, phone and internet from Time Warner Cable, a 102.9-day lease of a Harley-Davidson or Buell motorcycle or a $1,000 shopping spree at Hal's and several other prizes.
The contest is sponsored in part by American, Time Warner Cable, OnMilwaukee.com and Hal's.
We caught up with Rock Girl Stephanie, whose won the competition last year and will turn over her crown tonight:
OnMilwaukee.com: How did you become the Rock Girl last year?
Rock Girl Stephanie: I had been working in La Crosse for four years and I was new to the area. Me and radio were not really friends. I was listening to a lot of mix tapes and I started listening to the radio and heard about the contest.
OMC: It seems like every contest winner I've ever met had to be cajoled into entering.
RGS: The event was at Bar Louie. I hesitated to do it. My friend said, "Let's go down." I got to see Bob and Brian and Natalie (the reigning Rock Girl), and that was cool. I was a little nervous, so I had a glass of wine. At the finals, I was way more confident. I knew who the girls were and what their personalities were like. I was more confident than nervous.
This contest is not all about looks. It's really big on personality. I tried to remember that. You have to be outgoing, obviously, but you don't want to be the girl who is talking all the time and being annoying. So, I tried to be laid back in front of everybody from The Hog.
OMC: So you entered the finale feeling like you had a chance to win?
RGS: It's a funny thing. I wasn't sure how far I was going to go, so I had booked a trip to the Bahamas the same weekend the Rock Girl finale was held. Once I made the sacrifice to give up the trip, that made me push myself a little more. I'm a goal-oriented person. I like too have something to work toward and I think that really gave me an edge.
OMC: What does it take to win the event? What advice would you give this year's finalists?
RGS: At the finale, it's more about personality. There are a lot of girls and they are all very attractive. You have to be the girl that stands out. If there are nine brunettes and one blonde, the blonde is going to stand out. If there are five brunettes and five blondes -- and they are all tall and good looking -- you have to do something that makes you stand out.
You have to be the amazing girl out of the ordinary. My talent involved me pogo-sticking in a homemade furry outfit. For a lot of girls, it's tough to come up with a stage talent. you have to be creative. It's not just about singing or dancing, which is what a lot of stage talent is.
OMC: What was your favorite part of the experience?
RGS: My favorite part, on the flattering side, was seeing myself on a billboard. Growing up, that's never something i could have imagined. It was really cool. I also liked going to concerts and meeting people. It's been a great year.
Here is a look at a "day in the life" for Rock Girl Stephanie:
Here is a montage of this year's finalists:
Facebook Comments
Disclaimer: Please note that Facebook comments are posted through Facebook and cannot be approved, edited or declined by OnMilwaukee.com. The opinions expressed in Facebook comments do not necessarily reflect those of OnMilwaukee.com or its staff.