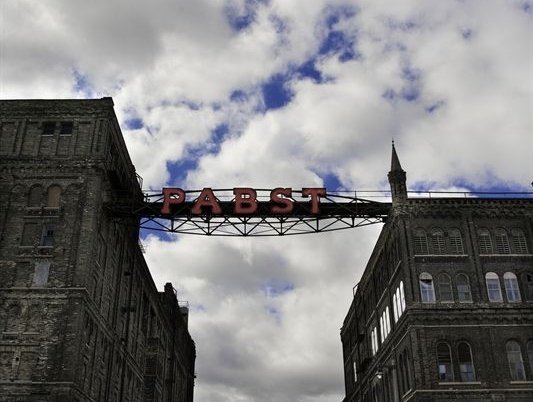 Should Milwaukee buy PBR?
Pabst Brewing Co., the 170-year-old company that makes Pabst Blue Ribbon— which has always been known as "PBR" to us Milwaukeeans — is for sale, Reuters reported over the weekend. It could be sold for as much as $1 billion.
A new Facebook page promoting that Milwaukee should buy Pabst Blue Ribbon is making the rounds, with hundreds of likes in just a few days.


I do agree on a number of fronts with whomever is behind the Facebook page. Milwaukee is, and has always been known for beer. The Pabst sign still hangs stately above the old complex. You can take the Best Place Tour in the old Pabst complex and learn more knowledge on Pabst and Milwaukee's storied history with breweries than you will ever need. You can stay at the Brewhouse Inn & Suites and SEE the history there. Milwaukee is the in PBR logo!
Could buying Pabst bring more tourism here? Could Milwaukee MAKE money off of buying and bringing home PBR in some kind of municipal capacity? Does it give Milwaukee more credibility somehow? Should we want to see more of these buses promoting a brand built here in Milwaukee back on our streets?
Photo: directmediausa.com
Well, Milwaukee is already known as a "beercation" capital, and wouldn't Pabst coming back home to Milwaukee only increase the tourism angle? IF that did happen, would it be worth Milwaukee paying $1 BILLION for it? Would the additional jobs? PBR itself isn't brewed by Pabst Blue Ribbon (it's brewed in six Miller-owned breweries around the country), but certainly to have the brand headquartered back here would show something for Milwaukee.
That isn't for me to decide, and indeed, that sounds ridiculous right now in pothole ridden Milwaukee. Even if an amazing Kickstarter campaign happened, that is still a lot of dough.
But, if you'd like to see PBR come home to Milwaukee and make it the beer capital it once was (like these guys), chime in with your opinion. And, if they do indeed start a Kickstarter, I will be sure to contribute.
Talkbacks
Photodavie | March 7, 2014 at 10:20 a.m. (report)
WASTE OF MONEY. The future of MKE brewing is in microbreweries like Lakefront, MKE Brewing Co, Spetcher, etc. More of these companies is what real beer drinkers from out of town will want to experience. Not Miller or PBR. And to your point, MKE has WAY bigger issues like potholes and declining education numbers to worry about. They are not going to buy a brewery. Please.
Facebook Comments
Disclaimer: Please note that Facebook comments are posted through Facebook and cannot be approved, edited or declined by OnMilwaukee.com. The opinions expressed in Facebook comments do not necessarily reflect those of OnMilwaukee.com or its staff.