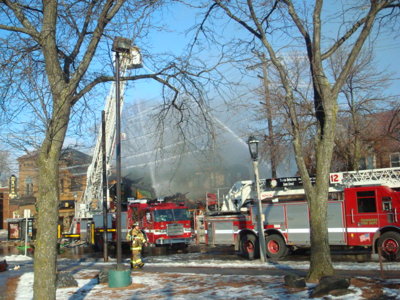 Another burning fire department issue
The Milwaukee Fire Department has probably gotten more headlines in the past few months than in the entire history of the department. And most surround budget cuts, brownouts and a closed fire station near Riverwest.
Alds. Bob Donovan and Joe Davis have been the most vocal in their questioning of the new policies.
Ald. Jim Witkowiak is now raising issues about the ability of suburban fire departments to fight fires in Milwaukee as part of a mutual aid agreement suburbs have with the city. That deal's importance was highlighted when the Pizza Man fire on Jan. 19 turned into a five alarm blaze and suburban departments had to cover areas of the city for the MFD.
Witkowiak wants a study of suburban departments to see if there are "any actual or potential deficiencies in the pact that could affect the safety of our city and residents.
"Some questions have been raised about the capabilities of some suburban fire departments to fight an urban type fire," he says. "Some questions have also been raised about communications deficiencies between the departments."
Not a sexy issue: Recent coverage of attempts by the state Legislature to regulate the payday loan industry have focused more on Assembly Speaker Mike Sheridan's dalliance with an industry lobbyist than on the legislation itself, which, in the version passed by an Assembly committee last week, is actually quite lame.
The bill would regulate borrowers more so than lenders, doing nothing to protect folks from being gouged by brutal interest rates.
It would limit payday loans to a maximum of $600 or 35 percent of bi-weekly income, whichever is less; ban vehicle title loans; prevent people from taking out more than one loan at a time or renewing a loan once it is due; require lenders to set up repayment plans if borrowers default; and allow borrowers change their minds about the loan within roughly 24 hours.
Tracking people so they don't take out more than one loan at a time has raised issues about privacy. A database would be created to keep tabs on borrowers. Sheridan, who once favored capping interest rates at the still-usurious 36 percent, now called putting a cap on interest rates as going "too far."
Wisconsin is the only state that does not regulate the payday loan industry.
The state's Grand Old Party seized the opportunity to hit the ball down the fairway after Dems teed up an easy shot for them.
"What we're seeing is more shady backroom deals cut by Democrats who want to trick the public into believing they've got their best interests at heart," said Mark Jefferson, executive director of the state Republican Party.
"What the Assembly Democrats really want is to bury the story about their speaker and whether his personal relationship may have affected public policym."
Taxes are the issue: Taxes are usually at the top of the list when it comes to issues being espoused by Republican candidates for office and in the case of Terrence Wall and his nascent campaign for U.S. Senate it's no different. Except in Wall's case, his paying taxes has become an issue.
According Wispolitics.com, Wall has declared no personal income in 12 of the last 15 years. The Madison real estate developer also houses some of his corporate offices in Delaware to avoid paying higher taxes in Wisconsin.
According to records, Wall paid $18,643 in net income taxes in 1994 and $12,828 in 1996. Wall paid $43,520 in 2005.
Wall is also the first candidate to pop up in TV ads. His first one starts this week and begins with Russ Feingold explaining why he voted against the wishes of his constituents. A Wisconsin taxpayer then says she is fed up that Feingold isn't listening anymore. Wall, a supporter of term-limits, says he will always put Wisconsin first.
Solar program soaked: While the president, the governor and even Milwaukee County are trying to push for more green projects and to think green, We Energies seems to have set its bar rather low.
The utility, which essentially has a monopoly on gas and electric service in this area of the state and had offered to pay folks who installed solar panels a higher price to buy the extra electricity produced from them. But it set its cap for the program as a mere one megawatt. It reached that level quickly and has discontinued the program, according to a letter it sent to its solar panel customers.
"In 2007 I installed a large, grid-connected PV array on my east-side home, and the buyback rate played an enormous role in my decision. Without this incentive, I would be very unlikely to make a similar investment in the future," said David Coles.
A megawatt can roughly power 1,000 homes for a year.
Courthouse mayhem continues: The state Democratic Party continues to dog Milwaukee County Exec -- and Republican gubenatorial hopeful -- Scott Walker over his new and favorite budget balancing tool -- the mandatory furlough.
This time it comes after Walker's decision to furlough courthouse staff who process protective orders and arrest warrants for six more days this year to cover a $5 million budget hole.
State Dem chair Mike Tate seized on the issue, saying, "A criminal may go free or a mother may go unprotected from domestic violence because of Scott Walker."
Your government at work: Another burning issue has been put to rest in Madison. Gov. Jim Doyle signed the so-called "Pickle Bill" last week.
The bill would allow individuals to sell home-canned fruits and vegetables at farmers markets and community events without obtaining a food processing license.
It was a win-win for Doyle at a time when he needs some positive headlines after going down in flames in his attempt to take over the Milwaukee Public Schools.
"This is where many of my fruitful ideas come from," quipped Gary Sherman (D-Port Wing), who championed and massaged the bill through the tricky legislative process.
Talkbacks
sijan_heights | Feb. 19, 2010 at 9:38 a.m. (report)
Jake Ryan from 16 Candles needs sex advice? There IS a God! Here here on your Hissom comments too.
jakeryan | Feb. 19, 2010 at 9:20 a.m. (report)
Doug's articles may not always be the most headline grabbing, but week in and week out I still appreciate reading them as they provide useful info that I may not find else where. But now lets see if I can get some sex advice from Sarah Foster..................................
Facebook Comments
Disclaimer: Please note that Facebook comments are posted through Facebook and cannot be approved, edited or declined by OnMilwaukee.com. The opinions expressed in Facebook comments do not necessarily reflect those of OnMilwaukee.com or its staff.