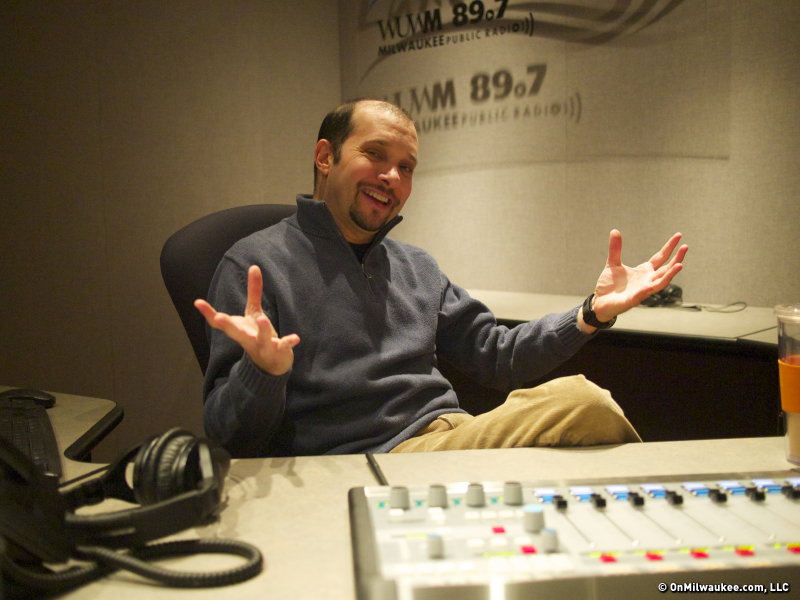 Milwaukee Talks: WUWM Executive Producer Mitch Teich
Mitch Teich, the executive producer of WUWM's "Lake Effect," isn't a native Milwaukeean. In fact, he's traveled around the country building his radio resume, but for the past seven years, he's called Wisconsin his home.
And it shows. The 43-year-old host of the local interview show has taken the time to become an expert in the issues he covers on "Lake Effect." Teich says his job is like taking a midterm exam on a different topic every day.
We caught up with Teich recently at WUWM's Downtown studio to talk public radio, moving to Milwaukee and the future of the industry. Enjoy this latest Milwaukee Talks.
OnMilwaukee.com: Tell me the Mitch Teich story. How did you wind up in Milwaukee?
Mitch Teich: For a long time, I was a public radio nomad. This is stop number six for me on the radio tour. As of February, we're closing in on the longest of stops I've made. I grew up in the Washington, D.C., area, outside the Beltway. I went to college in Iowa and did my first radio internship in Cedar Rapids. My first radio job was in commercial station in Decorah, Iowa. I was there for two years. I spent two years in Rochester, Minn., at Minnesota Public Radio. Two years in far northern New York. I got out of radio for nine months, which was about eight months longer than I was happy to be out of radio. I got back in radio, and worked in Flagstaff, Ariz., for seven and a half years.
OMC: That seems like a good NPR community.
MT: It was a perfect NPR community. Flagstaff was the rare place where the public radio station was the top-rated radio station in the market. It was the kind of place where the public radio people were noticed when they went out.
OMC: Why did you leave the paradise of the mountains, where you were a rock star, to come to Milwaukee?
MT: We had just had our first child. We knew that we weren't going to be lifers in Flagstaff. The rub at the time was that it was a lifestyle more than a community. My wife is from Minnesota, I'm from the East Coast. Milwaukee is not exactly splitting the difference, but we were interested in coming back to the Midwest. It was really a lifestyle move. From the moment we got here, Milwaukee was the comfortable pair of bluejeans that you forgot about in your closet.
OMC: Is it unusual for people in public radio to move around as much as you have?
MT: There are social climbers in this business. I think it's not unusual for people who are relatively young and unattached to move around. I was that person, looking for the right chance. I was moving my way up to see what I could accomplish, but you get to a certain point in your career and you realize the thing that got you into public radio was being a part of the community. You can't truly be a part of a community that you only stay in for two years.
OMC: That being said, do you plan on sticking around Milwaukee for a while?
MT: Yeah.
OMC: What is Milwaukee's relationship with public radio?
MT: It's interesting. In some ways, I'm still trying to figure it out. It's not the same as Flagstaff or the north country of New York. Here, where you not only have 25 or 30 stations, you have four public radio stations in the same market. It's always a question that we're asking. Is it peoples' relationship with public radio or a relationship with media, in general? I think "Lake Effect" fills a particular niche. The reason that we do this show the way we do it is because people are hungry to feel like they're eavesdropping on a conversation.
OMC: So is Milwaukee a good NPR city?
MT: It is, actually. And I hope we're making it a good NPR city. I've been in radio for 21 years, but radio has really changed. I think public radio has been the beneficiary of how it's changed. People still want to hear a local voice when their clock radio goes off in the morning. There are fewer and fewer of those truly local voices out there. Even if I didn't work here, I'd probably be listening to WUWM exclusively, with the exception of Brewers games.
OMC: Listening to "Lake Effect," I'm always impressed that you become an expert on every subject that you interview people about. How do you do that?
MT: I tell people it's like taking a midterm every day on a different topic and not having taken the class until that day, as well. We really take it seriously that when someone sits down in this studio. We prepare to interview them. We've done our homework. We come at it with the attitude that you are doing us a favor by coming in here and subjecting yourself to being interviewed. It shows up the most when we interview authors who are almost, to a person, pleasantly surprised to find out that we have read their book.
Page 1 of 2 (view all on one page)
Next >>
Talkbacks
scotbear8175 | Jan. 30, 2013 at 12:39 p.m. (report)
WUWM does a great job as an NPR outlet....that said, can you guys can the musical "interludes" that are tacked-onto EVERY announcement? What's wrong with a few second's worth of silence?
Facebook Comments
Disclaimer: Please note that Facebook comments are posted through Facebook and cannot be approved, edited or declined by OnMilwaukee.com. The opinions expressed in Facebook comments do not necessarily reflect those of OnMilwaukee.com or its staff.