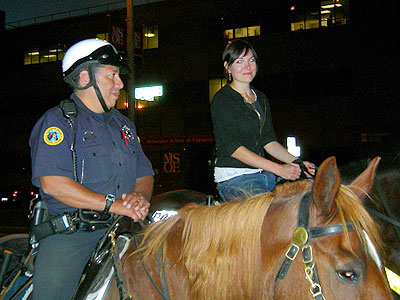 Milwaukee Police horse force keeps watch from the top
While hundreds of people jockey for blanket space on the grass of Cathedral Square Park every Jazz in the Park Thursday, Officer John Peterson gets a much different perspective of the event. Sitting atop Duke, a stoically beautiful police horse, Peterson is able to keep on eye on the large crowd from the corner of Kilbourn and Jefferson.
Duke weighs in at 1,800 pounds and stands almost six feet. To compare, an average riding horse is about 1,000 pounds, which means Duke is absolutely massive. Still, his size does nothing to deter gaggles of curious kids and families from approaching Peterson to chat.
This is what a Mounted Patrol presence at Jazz in the Park primarily entails, Peterson says. It's about public relations, and it seems to be working. Not 10 minutes passes between someone asking to pet Duke -- which he allows unless he's actively doing crowd control -- or simply introducing himself. It's the kind of thing you just don't see with officers on foot.
"That is the benefit to our presence," Peterson says, referring to officers Steve White and Greg Llanas, who are on duty with him. "When we walk around, we can see down into the crowd and the crowd can see us. If we were on foot, people don't even notice we're there and we get lost in the crowd. This way, people know where to find us and they know they're being watched, so it helps them behave."
Peterson has been on the Milwaukee Mounted Patrol for nine years -- since the new program began in 1999. Prior to that, the Milwaukee Police Department hadn't had a horse force since 1947. The 50-year gap was finally closed, Peterson says, when several Downtown businesses not only began requesting the service, but going so far as to donate money for horse trailers and training. Sergeant Fred Tice now manages six officers and eight horses for the Milwaukee Mounted Patrol.
For the most part, the officers say, Jazz in the Park is a pretty civil affair, especially considering all the public wine consumption. Compared to the lakefront festival beat, the weekly jazz outing a walk in the park.
Summerfest and the perennial ethnic festivals, however, are when Duke and his crew are most beneficial as a show of force. Peterson recalls the days when the Third Ward inadvertently became the site of a Summerfest after-party, with drunken fest-goers fighting, vandalizing, drinking and using the streets as their toilets. He says the added horse presence has significantly curbed many of these problems over the last few years.
"We've got a far better track record of getting people to go home, rather than whooping it up outside the gate," he says. "Officers on foot had a hard time making that happen, but the first year the horses came I was amazed myself. We got people off the main gate in 15 minutes when it used to take two hours. After a few beers, you could have an officer standing right next to you and not even realize it. Horses you can't miss, and they mean business."
When the festival circuit dies down, the Milwaukee Mounted Patrol focus on other parts of the city, like the Marquette and University of Wisconsin-Milwaukee campuses. At least a portion of the mounted patrol is on duty every day of the year, even through winter. Peterson rides five days a week.
"After all this time, I still love it," he says. " The winter time is not quite as fun as the summer, but even when it's 20 degrees out, it's important to keep the horses in shape and acclimated to the streets. "
New horses go through sensory training in spring, enduring an obstacle course of things they might encounter on the streets -- plastic garbage, tarps, road flares, a squad with lights and sirens -- to build confidence. When the horses are off duty, they stay at stables on the city's South Side, at 228 E. National Ave.
Peterson sees the Mounted Patrol as a positive addition to the MPD and says there is no threat of the fleet being replaced by officers on Segways, as has happened in other cities. Currently, the MPD does not employ the use of Segways and Peterson's not worried about an electronic takeover of sorts.
"We're a lot higher than a Segway. Plus, I don't think Segways get the same respect as a horse does in a crowd that's getting out of hand."
vfcbqfxftbaxafdweyxfstdd
Talkbacks
T15 | Oct. 8, 2007 at 9:57 a.m. (report)
What a waste of resources. Still waiting on the experience of having MPD to protect and serve me. I am a law abiding taxpayer and these guys are always trying to pull some power trip on me. And when they do, they just don't seem very smart.
wiboots | Oct. 6, 2007 at 7:58 p.m. (report)
The Mounted Horse Patrol is an asset to the Department. The men and woman of the unit are a group of hard working officers who brave the weather elements during all four seasons. You see them on their patrol horses in the baking sun and during the cold wind driven snowy days. They are outside more often then beatmen and motor cops. At each public demonstration they are present for crowd control. The unit is under the direction of Sgt Fred Tice, a 30+ year veteran of the Department. The citizens of Milwaukee should be proud of this unit. I know I am. Keep up the good work.
Facebook Comments
Disclaimer: Please note that Facebook comments are posted through Facebook and cannot be approved, edited or declined by OnMilwaukee.com. The opinions expressed in Facebook comments do not necessarily reflect those of OnMilwaukee.com or its staff.