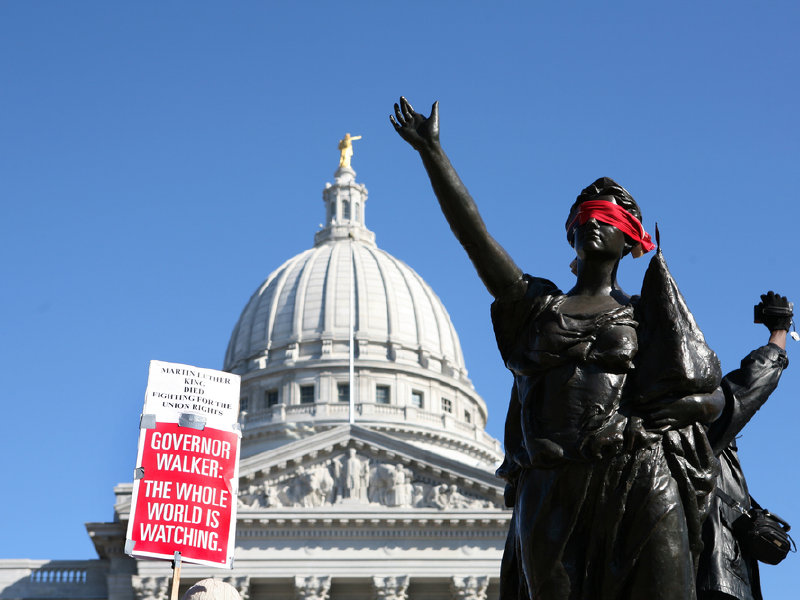 Another week proves Walker's way is not Wisconsin's way
A few months ago now, after the previous big document dump from the various investigations of Wisconsin Gov. Scott Walker and his associates, I argued that regardless of whether Walker is ever charged with a crime, he's proven that the way he operates is wrong for Wisconsin. "The problem," I wrote, "is not that Walker is a criminal (he legally is not).
It's that he and those who support him believe that the Walker way of governing, politics over policy, is okay. This is not the kind of government we need, nor even what we deserve."
I stand by that, and this past week or so has only served to reinforce Walker's unfitness for the office he now holds.
We could talk about the cover story about Walker in the New Republic cleverly (but poorly) titled "The Unelectable Whiteness of Scott Walker." In that story, the author, Alec MacGillis, chronicles Walker's rise to Governor and gives credit to not just the racial divide in Milwaukee (hence the title), but also to the flood of money from conservative groups and individuals like the Bradley Foundation and the Koch brothers. But that's probably not why you wandered over to my corner of OnMilwaukee.com to see what I would say this week.
Or we could talk about the bad jobs numbers that came out last week -- compared to the rest of the Midwest, Walker's Wisconsin is doing terribly but that's not the big news, either, of course.
No, the big news was that the world finally got to see the prosecutors' case in the now-stalled John Doe investigation into Walker and his supporters' potential and alleged campaign finance violations. Not to get too technical -- you can read others for that -- the gist is that prosecutors believed that Walker and his campaign lieutenant R.J. Johnson were engaged in illegal coordination of campaign activity.
Walker and some supporters dismiss it all with a hand-wave: no charges have been filed! they say. This seems a bit disingenuous, since the parties involved have done everything they can to stall the investigation before the charges could be filed. Others are more insidious; so what? they ask, claiming the kind of coordination alleged by prosecutors is perfectly legal.
Indeed, this was the reasoning of the federal judge, Rudolph Randa, who shut the investigation down. Wisconsin Club for Growth, one of the parties Walker and Johnson allegedly coordinated with, sued the (Republican, Walker-voting) special prosecutor claiming that the investigation was a violation of the Club's civil rights to free speech and free association. Randa agreed, writing in his decision that Walker and the groups he allegedly coordinated with "have found a way to circumvent campaign finance laws, and that circumvention should not and cannot be condemned or restricted."
Let that sink in for a second: a federal judge declared that Walker and crew "found a way to circumvent campaign finance laws." And, according to the judge, this loophole-exploitation is something to celebrate. I can think of no other circumstance in which anyone, let alone a federal judge, would celebrate the efforts of criminals to circumvent the law.
What Walker and his team did, in other words -- according to Judge Randa -- was not simply to follow the rules set out by the state of Wisconsin for how elections should be run, the way every other candidate and campaign tries to. Rather, Walker and his allies specifically sought ways to end-run around those rules, to exploit loopholes and violate the spirit, if not the letter, of the law.
Election-law experts in Wisconsin and around the state find this incredible. For example, UC-Irvine professor Rick Hasen wrote in Slate that "the main defense against the state prosecution is one that, if successful, could bring down the few remaining limits we have left on money in politics. It would allow virtually unbridled coordination between outside groups and candidates, giving money ever more influence over politicians and elections." MacGillis, in the New Republic, documented the flow of money to Walker; the end-game for Walker and his supporters -- both on his campaign team and in outside groups, though it seems like those are often the she people -- is to fully open the floodgates.
When I wrote a few months back that Walker's way was not Wisconsin's way, I used as the hook something that Walker himself said. "Governors," Walker told an on-line magazine, "should be defined not just by what they do and say, but who they surround themselves with." In this case, we see that Walker has surrounded himself with people who do not merely want to elect him, but want to elect him by running roughshod over campaign finance law.
And that's not acceptable. Wisconsin simply must not abide a governor whose allies, associates, and employees see the law as something to be circumvented, rather than followed.
Talkbacks
Scotty1979 | June 30, 2014 at 10:06 a.m. (report)
OMC, you're going the way of Shepherd Express with articles like this and that's not a compliment.
TheyThink | June 24, 2014 at 3:51 p.m. (report)
Right Jay, because Barrett and the countless lefty/union groups NEVER coordinated with one another in the run up to the 2010 or 2012 elections in Wisconsin. It's amazing when one will believe when they suspend reality.
Facebook Comments
Disclaimer: Please note that Facebook comments are posted through Facebook and cannot be approved, edited or declined by OnMilwaukee.com. The opinions expressed in Facebook comments do not necessarily reflect those of OnMilwaukee.com or its staff.