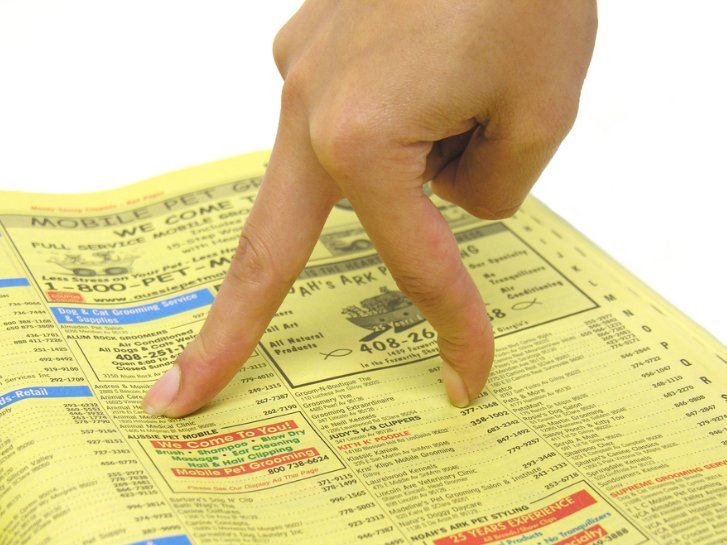 Social Circle: Are you appreciative of or annoyed by the Yellow Pages?
The Social Circle almost unanimously agrees that the yellow books need to stop arriving on their doorsteps.
A few people, however, say they find them useful and a couple others brought up the fact that not everyone has internet access and therefore maybe, for some, they still serve a purpose.
What are your thoughts? Do you appreciate the Yellow Pages or do you believe they have become obsolete?
William Bunyan: "I hate the automatic drop off of the Yellow Pages, and never use it. There has to be a better way, like maybe they first go around with a doorknob flyer that you leave on your door if you actually want them to deliver the book?"
Teresa Snyder Colloton: "I whole-heartedly agree with the comments, however, when the power went down, as well as my Internet service, I found the phone book a handy backup. Weighing the frequency of losing power and all the waste, I say ditch the phone book and proactively write down important numbers. Now where did I put those darn numbers?"
Laury Corrao: "Irritating. They're like little squatters that keep showing up."
Frank Datzer: "Don't use them. They go right from the curb to the recycling bin."
Ted Dargis: "Just last night I went through my apartment building and collected all the lonely and unwanted Yellow Pages in front of people's doors and threw them in the recycle bin. There were about a dozen. I think it's a waste and too expensive to advertise in."
Liz Dupee-Schafer: "They should be delivered only by request. Or perhaps a better solution, so that people that don't use the Internet much would still get delivery, to be able to opt out. I haven't used one in years. Goes right to recycling."
Jessica Halverson Foor: "I do from time to time want to look up my options in the Yellow Pages without all the other distractions that come with looking it up online, but I think we should have to call and request a new one if we want one. Not every one wants or needs one, so it is a huge waste of resources and money. But it does provide jobs, I suppose."
Tina Hulen: "I still use it. My ex and I used to race to see who could find a phone number faster, me with the book, and him on the computer. I always won."
Jennifer Janviere: "Yellow Pages are quickly becoming a relic as more people use online searches to find the same info more quickly and easily. YP online comes in handy, though. Maybe they should go completely digital."
William Ivy Jenkins III: "They make awesome paper weights."
Shannon Knapp: "Hate it! And now that they have shrunk them to reduce costs, the only people who want them need a magnifying glass to read them."
Sue Knight: "It is a huge waste of paper and it always goes straight to the recycle bin at our house. I also refuse to advertise my two small businesses in the Yellow Pages due to the horrific level of customer service when dealing with them in the past. I agree, some people do not have access to technology, and may need a physical phone book, but then take the time to set up a system for people to get off the list."
Dan Krass: "They are immediately recycled. The web is a more efficient resource for finding business listings."
Lisa Krolasik: "I know a lady whose parrots like to chew them so they go to her. Have not looked at one since I was last looking for a job nine years ago."
Jessica Laub: "Hell no. Sick of it!"
Amy Nemson Lacinak: "They should be available for pick up at the post office only."
Denise Lubotsky: "I think it is criminal behavior – organized litter."
Jason McDowell: "Sometimes I keep them around if they arrive near Halloween they make a good source of papier mache. If I'm out in the rain, I use them to stuff my shoes so they don't smell bad. If I can't reach the top shelf I drag them out of the cabinet instead of dragging the step ladder out of the basement."
Dave Mikolajek: "Just had two dropped off at the restaurant. One will stay behind the bar and the other above the coat rack. As for at home, they go straight to the garbage."
Lisa Malmarowski: "They get immediately recycled and I stopped advertising our business in them years ago."
Richard Menning: "I still put the new one on a shelf, recycling the one from last year, which I never used."
Teri Peterson: "I use it to elevate my dog's water bowl."
Sonia Maria Simões: "I used the Yellow Pages for the first time in a decade last week (at my dad's) to find out how many George Webb's are left in Milwaukee."
Jen Skladanek: "I use the paper version once in a while, but I have to recycle all the books they drop off at my house which is a four-family unit because no one else uses them. Wasteful if you ask me."
Trevor Smith: "Yellow Pages? I thought those where analog versions of Facebook that Mark Zuckerberg dropped off at my apartment complex."
Michael Stodola: "Stupid, stupid, stupid. Immediate recycling."
Annie Wiedert: "It goes straight into the recycling. I resent that they continue dropping them at buildings that have been vacant for years, especially retail storefronts that are very obviously vacant."
Ruth Weill: "Almost never and I am guessing for folks without Internet access the answer might be different."
Christopher Wilde: "They should be delivered only by request. I manage a small number of apartments, (and) no tenant ever takes them in and I end up recycling the soggy messes they become, even in those spiffy plastic bags."
Trevor Williams: "The pages are great for getting the wood started in the fireplace throughout winter."
Kera Zbichorski: "Yep. I use it. To put down on the floor and let my rabbits destroy it instead of destroying my carpet. They love it."
Talkbacks
Myke | Nov. 25, 2012 at 10:19 p.m. (report)
I appreciate them, as I'm sure many who don't read OnMke.com do also.
blurondo | Nov. 25, 2012 at 1:14 p.m. (report)
I use mine every week. It's valuable reference book that catagorizes businesses and services. Also, I'm not sending any money to WE energies when I use it. " My ex and I used to race to see who could find a phone number faster, me with the book, and him on the computer. I always won." Not only that, every business in the catagory along with their phone number and address is right there; you don't have to search individual business names.
Facebook Comments
Disclaimer: Please note that Facebook comments are posted through Facebook and cannot be approved, edited or declined by OnMilwaukee.com. The opinions expressed in Facebook comments do not necessarily reflect those of OnMilwaukee.com or its staff.