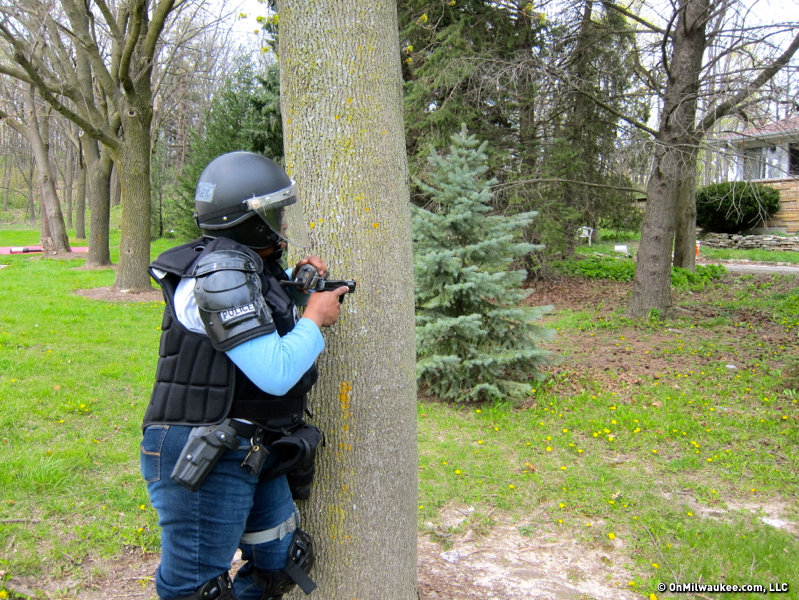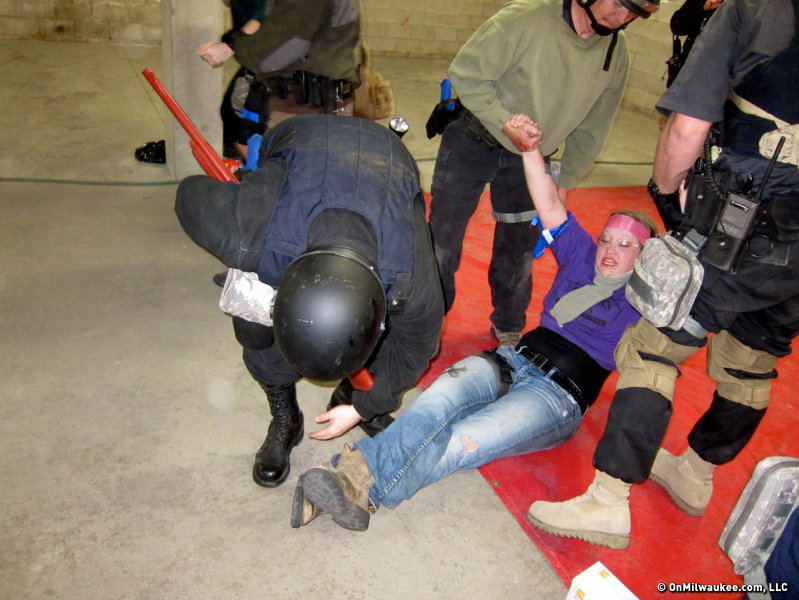 MPD officers learn first-hand combat medic skills in realistic tactical training
When Milwaukee police find themselves in a bad situation – a really bad situation – there's only one way out: and that's to rely on their training to save victims and each other when a scene is too hot for traditional paramedics.
While police are regularly shouldered with the job of neutralizing a threat, the task of tending to the injured while an active shooter looms in the foreground is both extremely stressful and perilous.
But proper training can make such situations at least more familiar.
That's where Tactical EMS Training, or TEMS, comes in. For the last several years, a handful of police officers and EMTs have led a week-long seminar at the Waukesha County Technical College to bring law enforcement up to speed on the latest modalities for applying triage care while the bullets are flying.
At the April course, 28 MPD officers and EMTs studied, in classrooms, the Tactical Emergency Casualty Care guidelines for civilian EMS and law enforcement. The development and implementation of this course is taken straight from the pages of the Department of Defense's requirement to establish mission-specific combat casualty care.
On the final day of the class, they put what they've learned to the test in three ultra-realistic scenarios. I was fortunate enough to join them.
Scenario one: "cult house," with active shooter and an unknown number of wounded
After grilling out for lunch, the tone of officers becomes much more serious as they go through a safety check to make sure their real guns have been replaced by "airsoft" pistols and rifles. The instructors, led by MPD Officer Chad Stiles, literally frisk each and every one of them.
"This training can mean life or death to officers," says Stiles. "We have taken evidence based military medicine concepts and adapted them for the law enforcement setting to treat injuries that can kill an officer or other victim in 3-5 minutes. Even given the fact that we have one of the best EMS systems in the state, and access to a hospital in less then 10 minutes from anywhere in the city, if the officer can't get to that definitive care due to an unsafe scene or prolonged extrication time, they will die."
The group is split up into three teams, and they're given the rules of engagement: "deadly" force is authorized, but officers must be careful not to hurt the "victims" or the "suspects." The victims in this scenario are friends and family of the students. The suspects are fellow officers, and they will get shot with pellets.
At 12:10 p.m., the officers switch their police radios to channel one and pile into three vehicles. They have a general idea of what's about transpire, but they don't know details.
At 12:20 p.m. Stiles and I drive just off campus to a ranch house donated to the college for these kind of exercises. He puts up a "police training" sign in the driveway, then feigning breathlessness, he relays the situation to dispatch: a loud music complaint at a house with previous issues. Suddenly he yells, "Shots are fired! There's a male suspect wearing some type of red hoodie!"
As the teams pour onto the scene, the "cult leader" steps outside and begins firing his gun. The officers leap out of their vehicles and begin to advance upon the house; first from behind trees then across the driveway, guns drawn.
Inside the house, it's a scary scene, and for a moment, I forget that I can walk amongst the action – because, like the instructors, I'm wearing a yellow vest and safety goggles.
It feels like I'm a ghost, actually, taking photos and video with guns pointed in my face. I do my best to stay out of everyone's way.
It's dark, and loud music is blaring. A smoke machine makes the carnage hard to discern, but screaming and moaning victims lie strewn throughout. The police apprehend the suspects – the mock cult leader has already committed suicide – and bring the victims out for triage by 12:45 p.m.
During the debriefing, Stiles notes that this group performed the quickest entry of all his classes, and that's important, because a person can bleed to death in 3-5 minutes. The officers discuss how hard it was to hear each other (in a typical scenario like this, they would've killed the music and turned on the lights, but were instructed not to for training purposes). A student also notes that one of the victims in triage had a gun, and they need to ensure they separate the victims from the suspects. The amateur radio volunteers who coordinated the radio response report that they are impressed with the smoothness of the operation.
Page 1 of 2 (view all on one page)
Next >>
Facebook Comments
Disclaimer: Please note that Facebook comments are posted through Facebook and cannot be approved, edited or declined by OnMilwaukee.com. The opinions expressed in Facebook comments do not necessarily reflect those of OnMilwaukee.com or its staff.