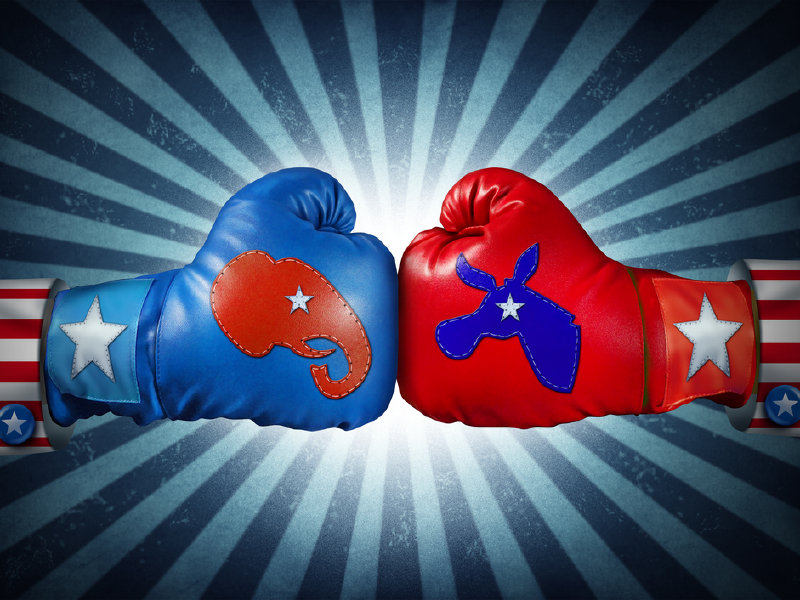 More than half of Wisconsin: "Walker doesn't care about people like me"
I'm not just saying that because I am a public school teacher and I think Walker's record on that point is pretty clear.
I'm saying that because that was the question and answer that jumped out at me most from last week's Marquette University Law School poll of Wisconsin.
Okay, technically, the question was "Does 'cares about you' describe Scott Walker?" In response, 51 percent of the people polled said no, it doesn't – Walker does not care about people like them. I'm not a math teacher, but even I can tell that's more than half, which when we're talking about a guy up for re-election this year is a big deal.
Indeed, apparently a lot of people who care about Scott Walker think Scott Walker doesn't care about them – the love only goes one way for at least some of the 48 percent of respondents who said they'd vote for Republican Walker over his Democratic opponent Mary Burke.
Fewer than half of people answering Marquette's poll think Burke cares about them, too, but more think she does (36 percent) than think she does not (29 percent), with about a third who don't know her well enough to say one way or the other.
The reason the question jumped out at me is because I'm thinking about ways to defeat Walker in November (hey, I never pretended to be non-partisan!). To date, to my great dismay, Walker almost seems invincible. In the poll, he's sitting at not just 48 percent to Burke's 41 percent in a head-to-head match-up, but he's got a 49 percent favorability rating and a 47 percent job approval despite all the dismal economic data that show Wisconsin lagging most of the country.
Respondents said that they wanted to hold Walker accountable for his jobs pledge (73 percent said fulfilling that 250,000 jobs pledge was important to their vote this fall), but the fact that he's coming up short doesn't seem to be hurting him. Two-thirds of voters knew about the Kelly Rindfleisch email dump, with all of its revelations, but again, nada.
But this question! This is the one that offers a wedge of hope. People seem willing to vote for Walker right now even though they don't think Walker has their best interests at heart, and that suggests to me a serious vulnerability. If Mary Burke wants to win this fall, and I am under the impression that she does, she needs to make this campaign about this question.
The trick, of course, is to make it not sound whiny. Put my face on the TV being all "Scott Walker doesn't like me!" and the whole state would call the wambulance at once, overloading the circuits, and that's just dangerous, because Rindfleisch might legit need it. But that's why I'm the idea man, not the ad man.
Walker could always try to turn it around himself, I guess, by canceling the Vegas trips and the like and trying to talk his legislative caucus into doing something about--
Who am I kidding? No, it's up to Burke. With luck and some campaign savvy, she can turn the "cares about you" question into a victory on Nov. 4.
Talkbacks
fetlarpo | May 4, 2014 at 3:42 p.m. (report)
Kudos to you Jay, You hit the bull eye and a great article. This was Romneys Achilles heel and it would be Walkers as well. The problem is Walker is not Romney and until you can find a hidden tape of Walker stating the truth as Romney has that 50 percent of all people in the United States take more from the system then they put in then it is hard to connect the he doesnot care about us feeling. Walker needs to remind students about the freeze on tuition at UW schools to connect with them. Walker needs to remind home owners that property taxes are lower now than during the Doyle years. Walker needs to connect with the elderly who are on fixed incomes on how raising the minimum wages by $2 to 3 such as Mary Burke suggests will eat a away at their fixed income.
TheyThink | March 31, 2014 at 4:33 p.m. (report)
What the One-Percenter (Mary) needs to do is exactly what Obama did to win re-election. Make promises of giveaways and other free handouts from state government. Voters don't look at Republicans to "care" about them, they care about them getting a job done, positive growth, and staying true to their campaign promises. Sadly, Mary already has several "False" or "Pants on Fire" ratings from Politifact which is NOT a good way to start a campaign as a challenger. Moreover, she just announced that she wouldn't self-fund her campaign which probably went over like a lead balloon in the Dem circles.
Facebook Comments
Disclaimer: Please note that Facebook comments are posted through Facebook and cannot be approved, edited or declined by OnMilwaukee.com. The opinions expressed in Facebook comments do not necessarily reflect those of OnMilwaukee.com or its staff.