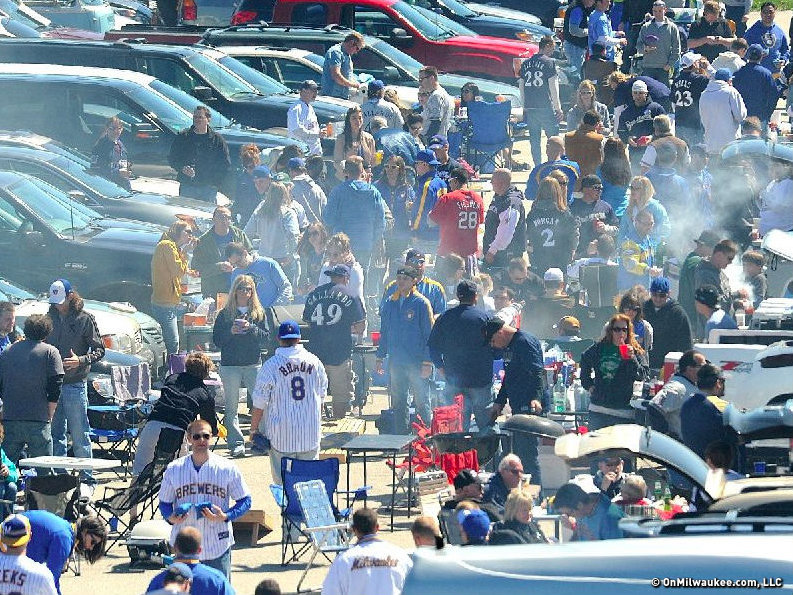 OnMilwaukee Weekend Preview: June 1-4, 2017
June is officially upon us, and so is your Weekend Preview. Go out and celebrate the summer with great Milwaukee weekend events like Downtown Dining Week, the Milwaukee Ballet performance, 5K at the zoo, Brewers games and more!
GET THIS IN YOUR INBOX EVERY THURSDAY. Subscribe here.
SUNDAY
BAR WORK 2
Come out and enjoy a night of music at Cactus Club. Headlining the night will be independent hip-hop group PrettyGirlHateMachine, followed by Wisconsin natives Taiyamo Denku, November Criminals, Rich P., Neu Dae and Jahmarri Deal. Cover is $5 and the show begins at 9 p.m.
WINDY CITY WEDDING SHOW
My True Beauty Bar Tour makes a final MKE stop at the Hyatt on Kilbourn Ave. to help Milwaukeeans celebrate women and their true beauty. This time around, they will have a Windy City Wedding Show, where you can try out some of their products, enter giveaways and more.
DOCENT-LED WALKING TOUR
The Lynden Sculpture Garden holds walking tours once a month, with Sunday marking the first of the summer. Be sure to join in to see what the garden has to offer. Register and reserve your spot here.
GIRLS ON THE RUN 5K
Girls on the Run of Southeastern Wisconsin will meet up in Bayshore to take on the "Be your own Superhero" 5K. From 9-11 a.m., you can run, volunteer or watch the race. Learn more about it here.
BREWERS FAMILY OUTING
The Down Syndrome Association of Wisconsin will host its 14th annual Milwaukee Brewers outing. Purchase a ticket and receive full access to the fully-catered tailgate party, beverages and a 200-level game ticket. See the ticket options and full details here.
RIDE FOR THE ARTS
Support UPAF and the local art scene through this bike race. Grab a Bublr Bike – or use your own – and join in on riding through the city. Don't forget to register if you want to be a part of this ride.
SPONSOR
Don't miss out on great shows at one of Milwaukee's premier concert destinations, The Rave. Get show info, tickets and more at TheRave.com.
BEERS & CHEERS
Sugar Maple will host this benefit to support Fernwood Montessori Fund. A tasting, raffles, auctions and more will be offered at the event.
DIANA KRALL
The world's most popular jazz artist will be performing here in MKE at The Riverside Theater. Grab some tickets and check out the show this Sunday at 8 p.m.
POETRY READING
Woodland Pattern will be hosting Jennifer Scappettone for her poetry reading and writing workshop. Come for one or come for both. The whole event starts at 2 p.m.
TACO FEST
From noon to 8 p.m., head out to Harley Davidson Museum to enjoy the 4th annual Taco Fest. Local Milwaukee restaurants will come together to give you a day of tacos tastings, tequila and entertainment, including lucha libre wrestling, eating contests, live music and a chihuahua beauty pageant. Be sure to grab some tickets and reserve your spot at this event here.
BEAD AND BUTTON SHOW
The largest jewelry and bead show will be here at the Wisconsin Center, starting Sunday. Grab your wallets and get ready to check out more than 370 vendors that will fill the venue, along with classes and a bead art exhibit.
BREWTOWN RUMBLE
A vintage motorcycle show will ride its way into town. On the grounds of the Historic Pabst Brewery, you can check out the show, live music, food and vendors.
INTRODUCTION TO HENNA
Bela Suresh Roongta will make a stop at Lynden Sculpture Garden to discuss henna and how she uses it for storytelling. You could be one of the lucky ones to get your very own henna tat. Tickets can be found here, and the event starts at 3:30 p.m.
BARRE ON TAP
Third Space Brewing and Barre Code Milwaukee will come together on Sunday at 10:30 a.m. to give you a class and some craft beer. Get a 50-minute full-body workout and then refreshments at the brewery's tap room. Space is limited, so be sure to sign up here.
ALL WEEKEND LONG
DOWNTOWN DINING WEEK
Get out and enjoy eating at some of your favorite local spots like The Brass Alley, Coquette Cafe, Kil@Wat, SafeHouse, Vagabond and many more. There will be food deals, a raffle and more. Be sure to save some room in your tummy and get ready to chow down this week. Here's the full list of restaurants and deals.
SNOW WHITE AS YOU'VE NEVER SEEN BEFORE
A simple story becomes compelling theater in this reimagined version of Snow White. Master storyteller Michael Pink shines a new light this weekend on this tale of good and evil through couture costumes and striking sets. Dark and daring, Mirror Mirror offers a breathtaking night of entertainment. If you loved Dracula, you won't want to miss Mirror Mirror.
MCGUIRE
After a brief hiatus, "McGuire" is back at Milwaukee Rep. The play stars Tony award-winning Marquette alum Anthony Crivello as Al McGuire, the MU coaching legend. Learn more about this basketball icon and celebrate his life, and the show, before it's too late. It will be here only until June 18, so be sure to snag tickets ASAP.
MIDWEST BREWHAHA
Sixteen roller derby teams will fill UWM Panther Arena for the 8th annual Midwest BrewHaHa. For two days, check out match-ups on the rink and be sure to cheer on our MKE folks. Get the full schedule of the tournament here.
BREWERS VS. DODGERS
Los Angeles will be coming to Miller Park to battle Milwaukee. Put on your blue and gold, tailgate, drink some brews and, most importantly, get ready to cheer on our Brewers all weekend long.
LOST VALLEY CIDER ANNIVERSARY
One year ago, this lovely hard cider bar made MKE its stomping grounds. Now, it's time to celebrate its time in our city. Lost Valley's own house ciders will be released, food trucks will be there, prizes can be won and a patio bar will be open. It may be the party of the weekend, so you don't want to risk missing it. See the full schedule of events here.
SPONSOR
Stylish, Saucy, Stunning: Milwaukee Ballet's stunning end to the season
Milwaukee Ballet presents Mirror Mirror - the story of Snow White as you've never seen before. The classic fairy tale is re-imagined as a ballet featuring couture costumes, stylized sets, and an international cast of dancers. Be mesmerized by Mirror Mirror -- evil has never looked so good. More information and tickets here.
MAM EXHIBIT PAUL DRUECKE: A SOCIAL EVENT ARCHIVE
Through Aug. 16, you can check out Milwaukee Art Museum's latest exhibit. City native Paul Druecke examined how historical and social events are commemorated and interrogated why certain events are chosen for celebration while others remain invisible. He is using his art to help share untold stories of our city. The exhibit displays an entire archive of nearly 800 photographs. Stay tuned because Druecke will also organize public concerts, poetry readings and cultural celebrations in conjunction with the exhibit. See more details here.
GET OUTSIDE
The weather is starting to look and feel more like summer, so fully embrace it by checking out our guides for outdoor dining, beer gardens and outdoor drinking.
SWEENEY TODD
Enjoy a night of bloody revenge at the Skylight Music Theatre with Sondheim's classic production "Sweeney Todd," a broken barber whose life and family were stolen from him by an unscrupulous judge.
JUNIE B JONES IS NOT A CROOK
Bring one of your favorite children's books to life at Marcus Center. Junie B. Jones has to deal with someone who took her brand new black furry mittens. This made her feel like "Finder's Keepers" is a new mantra in her life, causing her to get into some trouble. Watch her kindergarten conundrums Friday through Sunday.
100 THINGS TO DO IN MILWAUKEE
Can't exactly come up with what to do this weekend? Don't sweat it; we've got you covered. Here's a list of 100 things you, your family and your friends can do.
BUY A MILWAUKEE GIFT THIS WEEKEND
Searching for the perfect Milwaukee gift for a dear friend or loved one? Buy local – and buy often – from this guide of 100 Milwaukee gifts.
SEE A MOVIE IN THE THEATERS THIS WEEKEND
Showtimes, tickets, reviews and more are here inside the Milwaukee Movie Guide.
FIND YOUR FAVORITE RESTAURANT
Looking for the right place to eat this weekend? Check out the OnMilwaukee.com Dining section here.
©2017, OnMilwaukee
Facebook Comments
Disclaimer: Please note that Facebook comments are posted through Facebook and cannot be approved, edited or declined by OnMilwaukee.com. The opinions expressed in Facebook comments do not necessarily reflect those of OnMilwaukee.com or its staff.