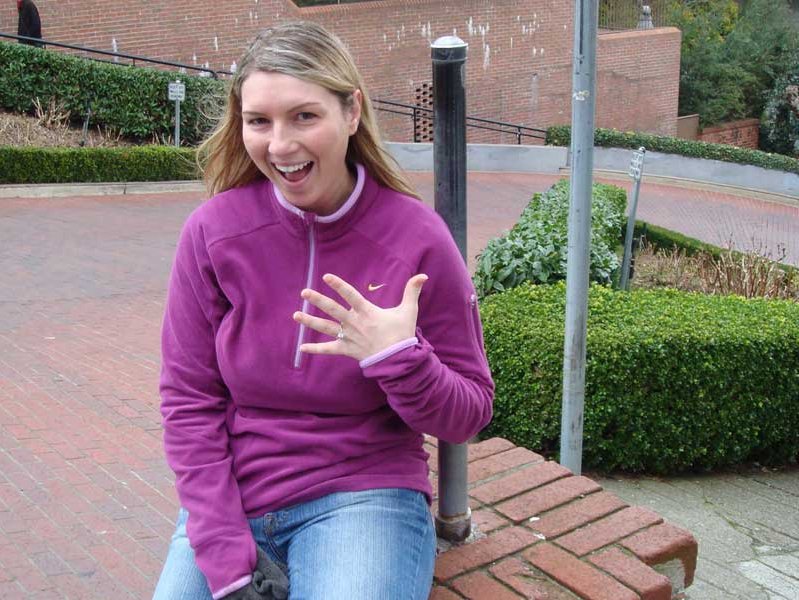 A writer's long, winding road toward marital bliss
When my buddy Drew Olson called (actually, he texted and e-mailed -- who calls people anymore?) about sharing my recent engagement story with OnMilwaukee.com readers on Valentine's Day, well, I wasn't exactly on-board from the get-go.
As the Packers beat writer for the Wisconsin State Journal, football's my forte. Amore? Not my area. And while I did share the story on Drew's radio show, "The D-List" on 540 ESPN, and the future Mrs. Wilde, Paula, shared her version with WKLH's "Dave & Carole," we did so more for entertainment purposes than for self-promotion.
On top of that, ever since my engagement in San Francisco on Jan. 31, there have been two images I haven't been able to get out of my head. And neither is going to get you into a romantic mood for Valentine's Day.
Do you remember the HBO show "Dream On" from the early 1990s? If memory serves, the story went that the main character, Martin Tupper, watched so much TV as a kid that when things happened in his life, he instantly related them to various sitcom situations he'd seen in his youth.
Now, my formative years weren't quite so dominated by TV, but since popping the question, two "Seinfeld" scenes keep popping into my head. (Isn't it amazing how a show about nothing is applicable to everything?)
One, that annoying woman at the Long Island house party hosted by Michael Chiklis (you know, the guy from "The Commish" and "The Shield") constantly using the word "fiancé" -- or, as she draws it out, "fee-ahn-SAAAY" -- much to Elaine's chagrin:
Woman No. 1: "I wonder what happened to my fiancé. I know he's here somewhere. Ellen, have you seen my fiancé?"
Woman No. 2: "He's upstairs."
Woman No. 1: "Are you going upstairs? Tell my fiancé I'm looking for him. I have lost my fiancé, the poor baby."
Elaine: (In a heavy Australian accent, referencing the 1980 Azaria Chamberlain disappearance) "Maybe the dingo ate your baby."
Page 1 of 3 (view all on one page)
Next >>
Facebook Comments
Disclaimer: Please note that Facebook comments are posted through Facebook and cannot be approved, edited or declined by OnMilwaukee.com. The opinions expressed in Facebook comments do not necessarily reflect those of OnMilwaukee.com or its staff.