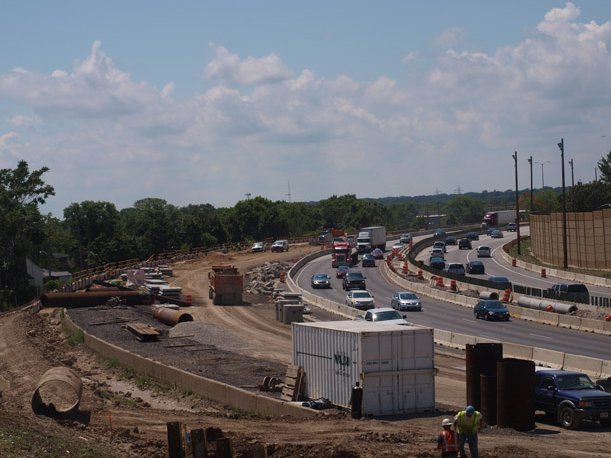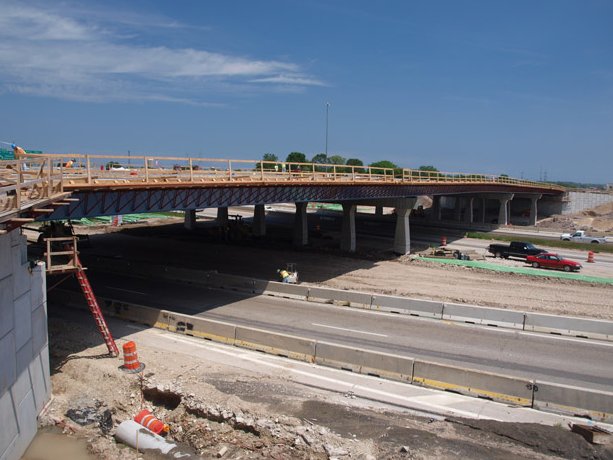 Big projects planned for area freeways
With gas prices on the rise and new policies and ideas on the table, it's time to look at how we get around. We all need to get someplace and we use many different modes of transportation to do so. As we kick off 2011 at OnMilwaukee.com, we're taking an in-depth look at how we get around with a special "Transportation Week," featuring all kinds of stories about how Milwaukee gets where it's going. So, buckle up, hop on and all aboard.
As the old joke goes, there are two seasons in Wisconsin: winter and construction.
As the Southeast Wisconsin freeway system nears the end of its useful life, a number of major road construction are in progress or planned for the near future.
The biggest project is already underway, a complete reconstruction of the Mitchell Interchange. Included in that project are rebuilds of the Plainfield Curve, the Airport Spur and numerous bridges, on- and off-ramps.
"It's a complete reconstruction," says Ryan Luck, Southeast Wisconsin Freeway Construction Chief for the Wisconsin Department of Transportation. "When finished, there will be all new roadway surfaces and bridges. All of the existing freeway will be removed, crushed and recycled as much as possible into the new roadway."
Safety first
The $162 million project -- part of a $1.9 billion project rebuilding the entire I-94 corridor between the Mitchell Interchange and the Wisconsin-Illinois state line -- began in 2009 and will be complete in 2012. The new roadway will be much safer than it's predecessor, eliminating a number of left-hand ramps, adding "clear zones" -- which allow an out-of-control vehicle to safely exit and re-enter traffic -- and new, single slope concrete safety barriers.
"All of our new safety features are consistent with Federal Highway Administration standards," Luck says.
Milwaukee drivers will feel the biggest impact in and around the Mitchell Interchange, which serves as a junction for the North-South Freeway (US 41/I-94) and the Airport Freeway (I-43/I-894).
All the bridges and ramps in the interchange are being rebuilt, including three tunnels which will carry traffic through the interchange. Two of the tunnels will carry motorists between I-43/894 and I-43/94 while a third will connect traffic coming north on I-94 to westbound I-43/894.
"Tunnel systems were the most economical choice and the best fit for this location," Luck says.
Construction of the tunnels is underway and will continue throughout the year. The final year of the project will focus on a number of connector ramps in the area and the S. 27th Street interchange, which is a focal point of the project.
The S. 27th St. corridor is one of the busiest in the Milwaukee area and will also be completely rebuilt. A first-of-its-kind "U Ramp" will be built at 27th Street, allowing traffic to keep moving through the corridor without interruption from traffic trying to exit or enter the freeway.
All traffic will enter the freeway by a right-hand turn off 27th Street. The only cross-traffic will come from vehicle exiting the freeway and making a left-hand turn on to South 27th Street.
"South 27th Street is a very important corridor and these changes should allow for better free flow of movement," says WisDOT Southeast Freeways Design Director Bob Gutierrez.
Further south, the project will build new roadway between the state line and Milwaukee county while also eliminating a number of dangerous "braided ramps" along the corridor, upon which traffic from the freeway exits onto a frontage road, from which traffic is also trying to enter the freeway.
"It seemed like a very intuitive design at the time but it's not considered acceptable now," Luck says. "All aspects of this project are in line with federal guidelines for consistent safety designs."
During the project, WisDOT maintains a Web site providing specific information to motorists and area residents.
I-94 resurfacing starts in March
Travelers on the East-West Freeway will be in for a challenge this summer when work begins on resurfacing the heavily-traveled route between Downtown and Waukesha County.
The $44 million project will take two years to complete in Milwaukee County, while work in Waukesha County, between WIS 16 and the county line will be completed this summer.
The Milwaukee segment will get underway in March. The current road surface will be removed and the underlying base will be compacted into gravel, upon which the new roadway will be built, according to Gutierrez.
Planning for the resurfacing was done with other projects on mind. WisDOT chose to work on the westbound lanes first because a key ramp in the Mitchell Interchange, from EB I-894 to northbound I-43/94 will be closed for much of the year. A large volume of traffic which would normally use that route to access Downtown will instead be turning to eastbound I-94.
This is the third resurfacing project for the East-West freeway since it was completed in the 1960s. The first was done in the late '70s and another was completed between 1997-'98.
The new surface is expected to last 12-15 more years, at which time WisDOT will consider whether to do another replacement or completely rebuild the heavily-traveled roadway.
During the project, traffic during peak travel times is expected to be reduced to two lanes. Approximately 170,000 vehicles use that stretch of I-94 on a daily basis.
WisDOT is hoping to reduce that number by 50 percent during the project, with the hopes that motorists turn to local roads or use public transportation.
Page 1 of 2 (view all on one page)

Next >>




Talkbacks
esider | Jan. 17, 2011 at 9:39 a.m. (report)
Looks like a lot of money - - more than $2 billion - - is being committed: Is this in budgets? Does it take money from other projects, or local needs, like filling potholes? And how does Wisc. afford all this but could not afford the estimated $750,000-$2 million needed annually to operate the Madison-Milw. train. Looks like transportation here is a one-sided option.
Eggie | Jan. 11, 2011 at 11:03 p.m. (report)
I absolutely agree with you, nmballa! The lower long-term costs and other advantages have long made me not understand why Wisconsin has so much concrete (if that's the word) roads. I have hated it since I moved here from the East a decade ago. And, asphalt and pavement is so much more enjoyable to drive on, and dare I say, can be aesthetically pleasing. (Think about freshly spread black asphalt with high contrasting yellow lines smoothly passing under you as your car flies and whispers down the highway. Now envision the clickedy-clunk of crumbling concrete as it bounces your steering around, or the hiccup you feel every twenty feet as you cross each and every separated block of concrete- even on brand new roads (it's a design necessity I guess). Compare the two- as a driver, there's no contest! Asphalt/pavement... It's smooth like buttah! (Now if I could get the city to let me change my driveway...!)
nmballa | Jan. 8, 2011 at 5:54 p.m. (report)
Props to the WisDOT for doing things the right way and going the perpetual pavement route. Not only does the road last but it so much nicer of a ride. Coupled with the fact that the roadways built like this will need less maintenance, which means less delays for drivers and less upkeep cost.
Facebook Comments
Disclaimer: Please note that Facebook comments are posted through Facebook and cannot be approved, edited or declined by OnMilwaukee.com. The opinions expressed in Facebook comments do not necessarily reflect those of OnMilwaukee.com or its staff.