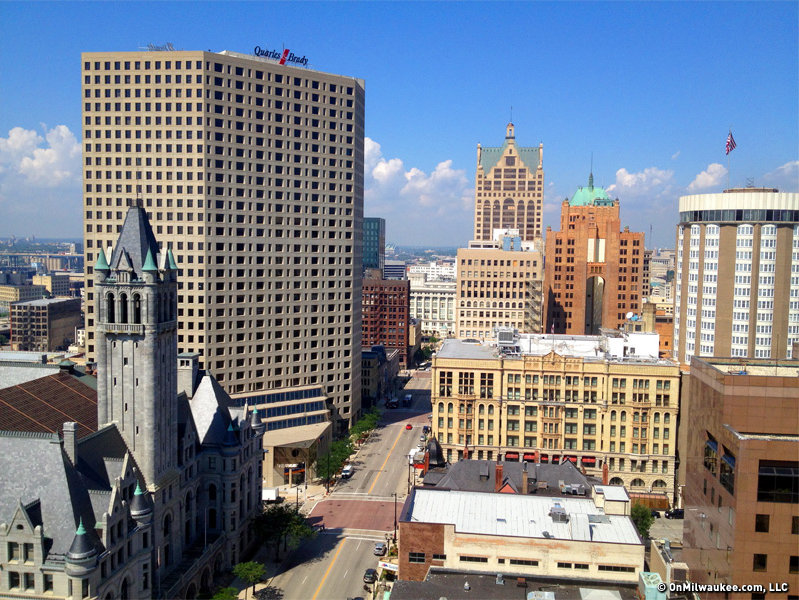 List tops the list of absurdly ignorant lists
I love lists. I mean I absolutely love lists.
Give me the top 20 single women golfers and I'm in heaven. Show me a list with the top 100 new toys at the Consumer Electronics Show and I'm rapt. Or how about the 15 least expensive high-end gourmet restaurants in or around Green Bay. Happy, happy, happy.
Don't get me wrong, here. I don't necessarily believe these lists. But I think they are good for conversation.
Milwaukee makes it onto a lot of lists. Best sausages. Most surprising places to visit. A top place for entrepreneurs.
Love it when my hometown gets props.
And then, along comes the 24/7WallSt., which, just two days into the new year and the paper ran a breathlessly long article about the 10 best- and worst-run cities in America.
And we are No. 10 in the worst-run city categories. We are in a group with Newark and Detroit, two cities I've spent lots of time in and, let me tell you, we don't come close to being as dismal as they are.
And this study put Virginia Beach in the top 10. I've spent a lot of time there, too. As a matter of fact I worked there for a couple of months trying to find a way to keep the state from taking over the school system.
Here's what the site had to say about Milwaukee:
"10. Milwaukee, Wisconsin
Population: 599,000 (28th largest)
Credit rating: Aa2, stable
Violent crime per 100,000: 1,294 (10th highest)
2012 Unemployment rate: 10.1% (27th highest)
"Milwaukee struggles with poverty and high crime rates. Last year, a typical household made just over $34,000, and nearly 30% of people lived beneath the poverty line, considerably worse than the country's figures. There were nearly 1,300 violent crimes per 100,000 residents in 2012, more than three times the national rate of 387 violent crimes per 100,000 people. The city's socioeconomic problems were among the reasons Moody's assigned Milwaukee a Aa2 rating. The agency also expressed management-related concerns, specifically highlighting the city's debt burden and the complexity of its debt financing."
I hardly know where to begin, but since I'm sending this column to the website, let me make a couple of points.
First of all to rely on statistics and data from a wide variety of sources and use that information to determine whether a city is well-managed is absurd. There is so much more that goes into a city than statistics that to ignore it proves that the only reason for this survey was to generate conversation.
And the second, and major point is that to ignore efforts to solve problems and to ignore the quality of life aspects offered in a city is especially stupid.
Let me just talk to this 27/7WallSt. briefly about the things I think are important.
We are problem solvers in Milwaukee. We are relatively optimistic. We are honest and we know what difficulties face our city. We know how to have fun in Milwaukee. We are both a family city and a great place for young singles to settle. There is opportunity in Milwaukee. We have a lively arts community. We honor our history but refuse to be bogged down by it. We are brave, not afraid of the future.
We are not a perfect place, by any means. But I've been in lots of places in my life, and Milwaukee is a long way from being a badly managed city.
Like I said, I love lists. If you want to read the story, here's the link.
But let me say, once again. Read it at your own peril.
It's good for a laugh, but not much more.
Talkbacks
milwaukee.resident | Jan. 16, 2014 at 1:14 p.m. (report)
How do you disagree with stats? What problems have we solved? What is your proof that Milwaukee is being managed well (http://www.jsonline.com/newswatch/mps-votes-to-sell-vacant-school-that-private-voucher-school-sought-b99120576z1-227836011.html)? How can you avoid looking at: - the violent crime (http://data.jsonline.com/News/HomicideTracker/Default.aspx) - amount of sex trafficking (both women and children: http://fox6now.com/2013/11/19/human-sex-trafficking-on-the-rise-and-its-here-in-milwaukee/) - lacking public school system (http://www.maciverinstitute.com/2012/11/milwaukee-public-schools-earn-a-d--when-graded-by-wisconsins-new-report-cards/) - unemployment rate (34% for african american males:http://www.cbsnews.com/news/in-milwaukee-34-percent-of-black-men-unemployed/) - a governor who is reducing the amount of people eligible for badger care (http://www.jsonline.com/news/statepolitics/session-convenes-on-delaying-badgercare-changes-over-obamacare-woes-b99154440z1-234088741.html) - horrid water quality in MKE rivers and lakes (http://www.jsonline.com/news/milwaukee/wisconsins-beach-water-is-second-worst-in-nation-new-study-says-b9942543z1-213154571.html) I love Milwaukee, but I am not blind to its problems. Talking about how great the city is doesn't make it any better, especially arguing against proven facts. If you are upset with the list, focus your efforts on helping to solve the city's problems.
emills81 | Jan. 16, 2014 at 9:12 a.m. (report)
Milwaukee is very well run if you live on the eastside or downtown. As for the other 85% of the city, Barrett couldnt give two spits. Get a widow table next time you venture over to Jakes for lunch, you'll see what they mean.
Photodavie | Jan. 16, 2014 at 8:20 a.m. (report)
They used statistics to back up their argument. You used "we like to have fun in MKE". Please don't send your blog to them in response. You are not helping your case at all by doing so.
Facebook Comments
Disclaimer: Please note that Facebook comments are posted through Facebook and cannot be approved, edited or declined by OnMilwaukee.com. The opinions expressed in Facebook comments do not necessarily reflect those of OnMilwaukee.com or its staff.