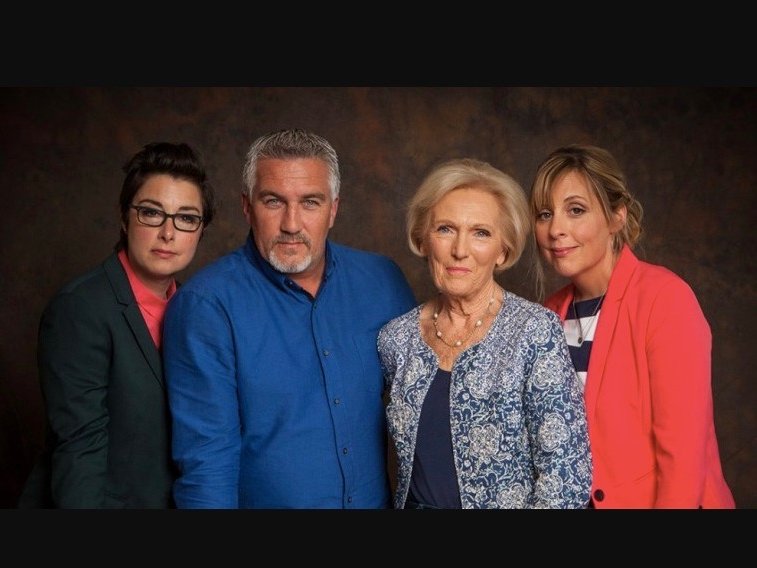 7 tip-top reasons to watch "The Great British Baking Show" on PBS
If you haven't already fallen in love with "The Great British Baking Show," I must encourage you to give it a whirl. The impeccably charming reality show has become a national obsession in the U.K., but it also has a niche following among Anglophiles and foodies in the U.S. And there's good reason for that.
I hereby present seven great reasons to watch the new season, which premieres across the Wisconsin Public Television viewing area at 6 p.m. on Sunday, June 18.
1. It's delightfully different
Unlike so many of its kind, "The Great British Baking Show" defies the conventions of the reality TV genre. The first thing you'll notice is the tranquil setting: a simple tent on the idyllic British countryside. The decor is painted in pleasant pastel tones. It never rains (or so it seems). Honestly, it's downright relaxing.
2. No blasted branding
Next up is the remarkable absence of irritating product placements (thanks, BBC!). Indeed, there is no blatant brandishing of brand-name flours or silicone baking molds. So, you needn't feel like you're watching a one-hour commercial for household goods.
3. The contestants
Watch no more than ten minutes and you'll also realize that the contestants are decidedly different (in a very, very good way). They are diverse and delightful. And that's partially due to the fact that they aren't type-cast. You won't find "the evil bitch" or the "egotistical douchebag" returning season after season. These folks are simply ordinary people with ordinary jobs who just happen to love baking.
4. The judges
In parallel, the judges are shockingly kind. Unlike the stereotypical critics – who rail on contestants for mistakes or hurl insults (you know who I mean) – the genteel Mary Berry and swaggering Paul Hollywood are firm but supportive. They judge contestants fairly, not by their perceived merits as human beings, but by the texture of their biscuits and the rise of their soufflés. And, although it is often sad when contestants are eliminated, it is nearly never unjust.
5. Simply joy
And – maybe most delightful of all – there are no monetary advantages for the winner. Yes, you heard me correctly: The winner of "The Great British Baking Show" wins a title and an engraved cake stand. That's it. There's simply the joy of a job well done.
6. Get your Mary Berry fill while you can.
Instead of feeling irritated by polarizing personalities and falsified plot lines, you'll find sheer pleasure in rooting for the genuinely likable contestants and enjoying cheeky co-hosts Sue Perkins and Mel Giedroyc's sharp-witted comments and bawdy puns about frosted buns.
It's exquisite escapism at its very best. And you should take advantage before Berry, Perkins, Giedroyc leave the show starting with season seven (wah wah). Heaven knows what will happen once the show leaves BBC, so get your fix while it lasts.
7. You can bake along!
As if it weren't lovely enough to watch, the masterminds at Wisconsin Public Television have come up with an even better idea. You can test your talents and bake right along with the contestants on the show.
The Great Wisconsin Baking Challenge is a fun, free baking adventure that is open to all ages and skill levels. As WPT notes: "Whether you can build a showstopper with your eyes shut or are trying a Paul Hollywood recipe for the first time, we want to see your best attempts at greatness — even if they fall flat."
How does it work?
One week before an episode airs, WPT will issue three baking challenges based on the upcoming new episode of "The Great British Baking Show." Unlike the contestants, you have a choice: select just one or bake all three. The only catch? You must execute the recipe with a Wisconsin twist.
Once you have completed your challenge, share your baking results and story with WPT through their online submission form before the deadline. As part of the submission, you'll be asked to answer a few fun questions, as well as submit a photograph of your creation. You're also welcome to submit a short 30-second video.
You can also share your project's progress on social media using #WisconsinBakingChallenge
Each week throughout the 10-part challenge, WPT will review all baker submissions and feature them at wpt.org. Six lucky submissions will also be chosen as the week's featured bakers.
The first baking challenge theme is cake, and bakers will have the choice of three challenges (excerpted from the WPT web site):
Signature Challenge – Drizzle Cake. This is Paul's favorite cake, so take care to make yours extra spongy and your drizzle absolutely perfect. (Remember, it's not an icing!)
Technical Challenge – Jaffa Cakes. While this is a British favorite, it looks tasty enough to eat in Wisconsin. Bake 12 identical cakes that have a jelly disk and chocolate layer — with a signature criss-cross decoration. Never made jaffa cakes before? You aren't alone. Contestant Selasi hadn't either — and he survived. So will you. Mary's advice: It's suggested that you do things in an order — keep to that order." The cakes have to be "absolutely perfect!" Deep breath.
Showstopper Challenge – Mirror Glaze Cake. Create a tasty genoise sponge cake with ingredients of your choice. The glaze decoration must cover the entire cake and reflect a beautiful Wisconsin scene. Close your eyes and imagine how the sunset reflects the shoreline of Crystal Lake in Vilas County. Or how a boat looks anchored in Door County. Or perhaps how a lantern from an ice fishing tent casts a glow.
Entries for the first week's challenge are due on or before June 18.
Get more information and sign up for the Great Wisconsin Baking Challenge on the WPT website.
Talkbacks
exchilango | June 12, 2017 at 8:30 a.m. (report)
We don't get Wisconsin Public Television here; why are you referring to that? Season 4 starts this Friday, June 16 at 8 pm on Milwaukee PBS 36.
Facebook Comments
Disclaimer: Please note that Facebook comments are posted through Facebook and cannot be approved, edited or declined by OnMilwaukee.com. The opinions expressed in Facebook comments do not necessarily reflect those of OnMilwaukee.com or its staff.