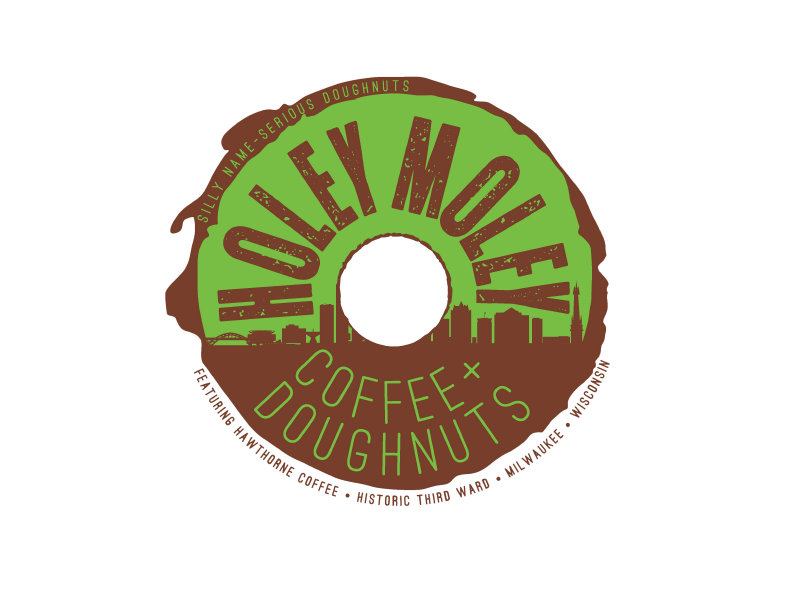 Holey Moley! The Third Ward gets a donut shop
This Friday, Milwaukee Cupcake Company will close down its retail counter at 316 N. Milwaukee St.
But, beginning in early July, the space will accommodate the brand new storefront for Downtown's first craft donut destination, Holey Moley Coffee and Doughnuts.
Holey Moley is the brainchild of Joe and Angie Sorge, of local restaurant group Hospitality Democracy, which includes the likes of AJ Bombers, Smoke Shack, Swig, Water Buffalo and Zaffiro's Pizza.
Although their interest in donuts has been percolating for years, Sorge says that the idea really began to develop after the couple visited a variety of donut shops during trips to Portland, Chicago and New York.
And, with all the creativity brewing in those locales – at shops like Firecakes Donuts, Glazed and Infused, Mighty-O, and Voodoo Donuts – it's no surprise that the Sorges decided to err on the creative side with their Milwaukee project.
"After seeing some of the innovative and well-crafted work in those cities," says Joe Sorge, "We found a preference for interesting flavor combinations and ingredients. Not just the standard donut fare."
Holey Moley plans to offer six or more core donut offerings, along with unique daily specials.
Donuts will be made fresh daily, and will incorporate as many local ingredients as possible, along with transfat-free oils. In addition to traditional offerings, Sorge says the shop will also carry at least one gluten-free donut variety.
Coffee -- because you can't have donuts without it -- will be provided by Hawthorne Coffee Roasters.
"These guys have something really special happening," says Sorge, "And we knew from our first meeting that it was a perfect fit. Steve (Hawthorne) and Wade (Nemetz) have created a very Milwaukee brand of coffee and we can't wait for our guests to taste this combo for themselves. I mean, who doesn't love coffee and donut?"
Hawthorne agrees, noting that the partnership is a great fit for their brand.
"They are passionate about bringing great food and great experiences to people in Milwaukee," he says. "And we're passionate about bringing great coffee and great coffee experiences to Milwaukee. So, Holey Moley can be a place where our passions come together to create something truly unique."
He says the shop will offer a rotating selection of single origin coffees, as well as espresso and espresso-based beverages made with the company's signature espresso blends.
In addition, they've already started brainstorming about unique offerings, including coffee and donut pairings, along with a coffee-infused donut.
Sorge has indicated that work on the shop is underway, though they will work with Deborah Gale, co-owner of Milwaukee Cupcake Company, to share the space so that she can fulfill her remaining cupcake orders this summer. Meanwhile, the walk-up counter and surrounding space will gradually be transformed from cupcake stop to unique Milwaukee donut shop.
"This is a really fun concept," Sorge says with a grin. "So many ways to make mouths happy… and to be able to produce our version of it infused with lots of Milwaukee, now THAT's exciting."
Stay tuned to OnMilwaukee.com for more details as they develop.
Talkbacks
Photodavie | May 21, 2014 at 2:29 p.m. (report)
So donuts are cool again? Just checking. I thought we were trying to put a cupcake joint on every corner for a second there.
Facebook Comments
Disclaimer: Please note that Facebook comments are posted through Facebook and cannot be approved, edited or declined by OnMilwaukee.com. The opinions expressed in Facebook comments do not necessarily reflect those of OnMilwaukee.com or its staff.