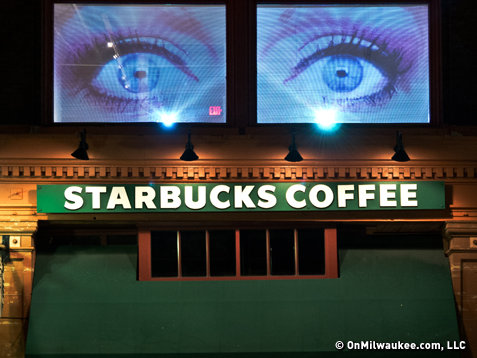 The Periodic Table: Milwaukee gallery offers a feast for the senses
Envision an artistically decorated communal table around which are seated twenty individuals, some friends but most strangers who've come to discover an entirely new dining experience.
Add the choreography of both the tangible and intangible: space, light, temperature, sound, smell, taste, touch. Senses illumine. The mind opens. And something incredible begins to happen.
This is the sort of experience diners can expect at Sensorium, a gallery space located in the second floor loft at 326 N. Water St in Milwaukee's Third Ward.
Conceived by Milwaukee natives Neille Hoffman and Ken Kornacki, design partners and the husband and wife team behind Aurum-Design, Sensorium opened to the public in July 2012 with an installation by Kornacki, focusing on the theme "Seen," for the Third Ward's Gallery Night and Day.
But, Hoffman and Kornacki's vision went beyond simple exhibitions.
"When we created Sensorium we envisioned a place that not only showcased art but also a place that brought people together," Hoffmann explains. "A place where communities gather. A place where ideas are shared. A place where friends hang out. And a place where new things happen."
Sensorium specializes in installation art with a contemporary lean. October's "Circling The Void," featured works by J.T. Bruns that provoked an exploration of "the cultural implications of interpersonal relationships, longing and desire" or what could be described as "the public dimension of private experiences."
Now the two creatives have transitioned into the second phase of their plans for the gallery.
"One of the main ideas from the beginning was to include the element of food," Hoffman explains. "Food brings people together and unites our differences. Many of our most memorable experiences are tied to the sharing of food. Our vision is food with a focus on its communal nature."
In an effort to bring their dream to life, Hoffman and Kornacki partnered with James Beard nominee and food visionary, Chef Justin Carlisle of Umami Moto, to create the first in a series of dinners entitled "The Periodic Table." His mission: to create five courses of sensory delights featuring surprising, complex, and delightful pairings.
"We wanted to allow the chef to be the creative force behind the food," Hoffman says, "So, we didn't confine him to a theme, per se."
Carlisle's courses will feature simple ingredients, prepared with a taste of the unexpected. Courses will feature spices and preparations that engage multiple senses and provide textural contrasts, while evoking a combination of both the familiar and the exotic.
"I don't want anyone to come to the dinner with any preconceived notions," Carlisle explains as he describes the menu. "I'll be presenting common ingredients in unexpected presentations. Everyone's experience will be slightly different, but my hope is that all twenty individuals will leave the dinner with some sort of common shared ground, based on their experiences."
The first Sensorium dinner in the Periodic Table series will take place on Monday, Jan. 14, 2013. The evening will begin at 6:00 pm with cocktails and progress to include a five course dinner with beverage pairings at 7:00 pm.
Accompanying the dinner will be a private preview of "Cyclic Histories (for M.L.)", a sound and light installation by musician and inter-media artist Lawton Hall, that explores nostalgia and memory through a manic ballet of found 35 mm slides. Diners will also be invited to participate in a new Community Supported Art program, featuring limited edition multiples created by exhibition artists.
Organized very much like a Community Supported Agriculture program, in which shareholders invest in a local farm and receive a payout of fruits and vegetables, the CSA at Sensorium will ask shareholders to invest directly in the arts community with a "buy local" mentality. The program offers a reasonably priced way to support artists while receiving limited edition works of art in return. Editions will be unveiled with each new exhibition.
The current CSA launch will feature 10 shares by artist Lawton Hall for $100 each. Shares will include custom composed and recorded music by Hall featuring the musical sounds of the slide projectors Lawton uses in his exhibit Cyclical Histories (for M. L.). Each limited edition screened CD will be housed in a hand crafted plexiglass case featuring slides from the series – slides will vary for each piece.
Tickets for The Periodic Table 01: The White Scenerio are $100 per person, inclusive of tax and gratuity. Purchase tickets online at sensoriumperiodictable01.eventbrite.com. Information about CSA shares can be purchased online at sensorium.me/limited-edition-works.
Facebook Comments
Disclaimer: Please note that Facebook comments are posted through Facebook and cannot be approved, edited or declined by OnMilwaukee.com. The opinions expressed in Facebook comments do not necessarily reflect those of OnMilwaukee.com or its staff.