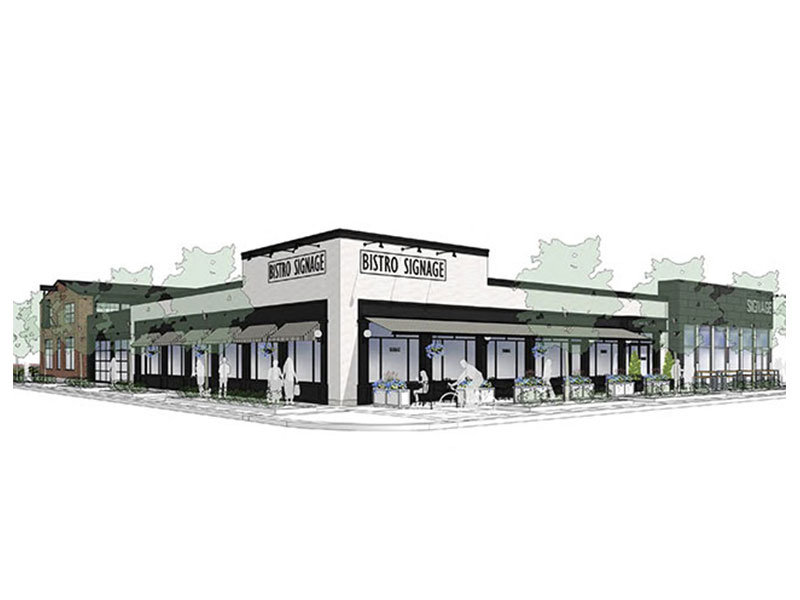 French cafe: A sneak peek at Bartolotta's restaurants at the Mayfair Collection
There's at least one aspect of restaurant development in Milwaukee that the average consumer never sees, and that's the work and planning that goes into developing a concept and seeing that concept through to fruition.
I was lucky enough to be invited to be a "fly on the wall" at Kahler Slater during the design planning process for the Bartolotta-managed restaurants, which are slated to open in 2016 at The Mayfair Collection. And here's a sneak peek at what I learned.
Previous articles in this series: Concepting, The Tavern
If you've ever craved the pleasant bustle of a Parisian sidewalk cafe – with its bright, airy feel, lively atmosphere and the intoxicating smells of French cuisine emanating from an open kitchen – you've begun to capture a bit of what awaits at another of the new Bartolotta-managed concepts in the Mayfair Collection.
A French cafe, located to the west of the tavern and facing north toward the planned retail spaces and apartments, will offer up a cozy gathering place with friendly service and charming, stylish decor.
As the Kahler Slater rendering shows, the exterior will be clean, classic and traditional – comprised of black and white brick, with retractable awnings and sidewalk planters.
"For the exterior, less is more with this classic design," says Amber MacCracken of Kahler Slater. "The definition is in the details—exterior panel trim, awnings, and globe sconces give this building as sense of Parisian charm."
Of the concepts, the cafe will be the most upscale, though it will be casual and affordable (a more casual version of Lake Park Bistro).
"It would be a super great place for a weekday date night," comments Jana Michaelis, creative director at Bartolotta's Restaurants, "Or a spot to gather with friends for a great meal with a couple of glasses of wine."
Within the concept, the kitchen and bar will both be showpieces. Mirrored glass will be hung behind the bar, which will feature a zinc bar top, similar to that at Lake Park Bistro.
"The palette is sophisticated and neutral," notes MacCracken, "Highlighted by brass details and a punch of bold color for the booth fabric. Tall windows and decorative trim add traditional character to the design."
The ceiling will feature tin decorative tiles, with medallions functioning as a foundation for globe-style lighting. Wooden millwork will add warmth and richness to the glass and metal fixtures.
Bistro-style curtains will hang in the tall windows, and banquettes will be decked out in rich burgundy fabric.
The dining area will also harbor 110 bistro-style seats at white table-clothed wooden tables. Coat hooks and hat baskets will adorn a half-wall, separating seating from the open kitchen.
The menu, which will include salads and entrees, along with a fairly extensive wine list, will also feature a raw bar component, offering fresh oysters and shellfish.
Will the range hood be black? Will the dishes be traditional? Rimmed with red or green? Are white table linens practical?
Questions still remain – including "What will the restaurant be named?" – and each of them will be ironed out as the concept moves forward.
Talkbacks
Otto | Sept. 17, 2015 at 6:16 p.m. (report)
Looks nice. Wondering if the new place will have french food on the menu or just a couple items like LPB.
Trugoy | Sept. 15, 2015 at 12:05 p.m. (report)
A strip mall surrounded by parking lots next to a freeway...I guess that's kind of like a Parisian sidewalk cafe.
Facebook Comments
Disclaimer: Please note that Facebook comments are posted through Facebook and cannot be approved, edited or declined by OnMilwaukee.com. The opinions expressed in Facebook comments do not necessarily reflect those of OnMilwaukee.com or its staff.