Sunday brunch at Bass Bay Brewhouse offers delicious food with a view
The Bass Bay Brewhouse, a casual eatery located on the grounds of the former Aud Mar Supper Club in Muskego, just opened its doors in July. But, owner Ryan Oschmann, formerly of the Eatery on Farwell, says that business has been growing steadily over the past two months.
As a result, the restaurant has extended its hours, with dinner service beginning at 4 p.m. Wednesday through Friday. This weekend, the restaurant also offered up its first round of what is certain to be a popular Sunday brunch.
If the weather is mild, the patio is the place to be. After all, it showcases a breathtaking view of both the Aud Mar grounds and Big Muskego Lake's Bass Bay shoreline.
Once you're seated, relax and enjoy your choice of brunch cocktails, including Bass Bay's housemade Bloody Mary ($7) or the Spicy Pickle ($8), a variation made with jalapeno-infused vodka; both come served with a Spotted Cow chaser.
If you'd prefer, the restaurant also offers a bevvy of Mimosas (priced between $4 and $6), including traditional, blood orange, raspberry Moscato or cranberry. If you prefer beer, you can opt for the Manmosa, which sports a combination of Spotted Cow and orange juice ($6). Or take that Spotted Cow and add amaretto, peach schnapps and a slice of bacon and you've got the "Lunch Box Beer Shot" ($4).
The brunch menu offers a combination of straightforward egg dishes, including omelets ($9-10), eggs with sausage and toast ($8), and eggs benedict ($11) with pulled ham. Steak and eggs is also an option ($26) and features a 12-ounce Angus ribeye with eggs, roasted mushrooms, Bearnaise sauce and toast.
Speciality dishes, some of which are hold-overs from the former Eatery menu include the Chicken and the Egg ($11) which showcases Chef Kurt Fogle's fried chicken breast – which is crisp and flavorful on the outside and tender on the inside – served atop a tender grilled biscuit and topped with an egg and flavorful sausage gravy. Cheesy hash brown casserole, which is served alongside, offers plenty of comfort food nostalgia, with its topping of crisp corn flakes.
Shenanigans ($13) is a mish-mash of deliciousness, featuring hash brown casserole topped with pulled ham, bacon, sliced bratwurst, sausage gravy, fried cheese curds and two eggs.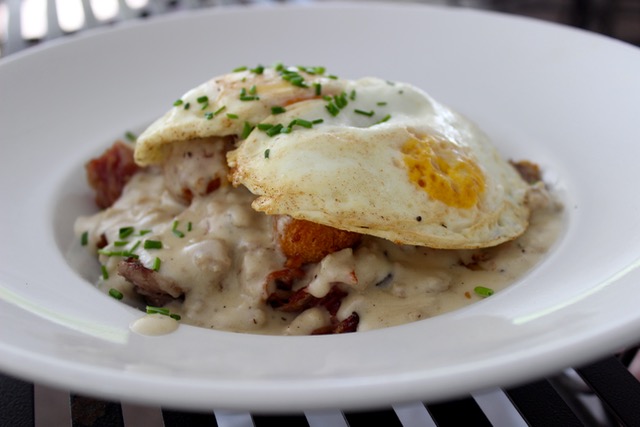 Other options include the Wisconsin Breakfast ($12) featuring bratwurst, cheesy scrambled eggs and toast served alongside a Pabst tall boy.
Sweet options include a fruit and yogurt parfait ($7) featuring salted caramel granola, French toast stuffed with Door County cherries and cream cheese and served with salted pecans and maple syrup ($9) and a Belgian waffle ($8) with fresh berries, vanilla ice cream and maple syrup.
Bass Bay Brewhouse is open Wednesday and Thursday from 4 to 9 p.m., Friday from 4 to 10 p.m. and Sunday from 10 a.m. to 3 p.m.
Facebook Comments
Disclaimer: Please note that Facebook comments are posted through Facebook and cannot be approved, edited or declined by OnMilwaukee.com. The opinions expressed in Facebook comments do not necessarily reflect those of OnMilwaukee.com or its staff.