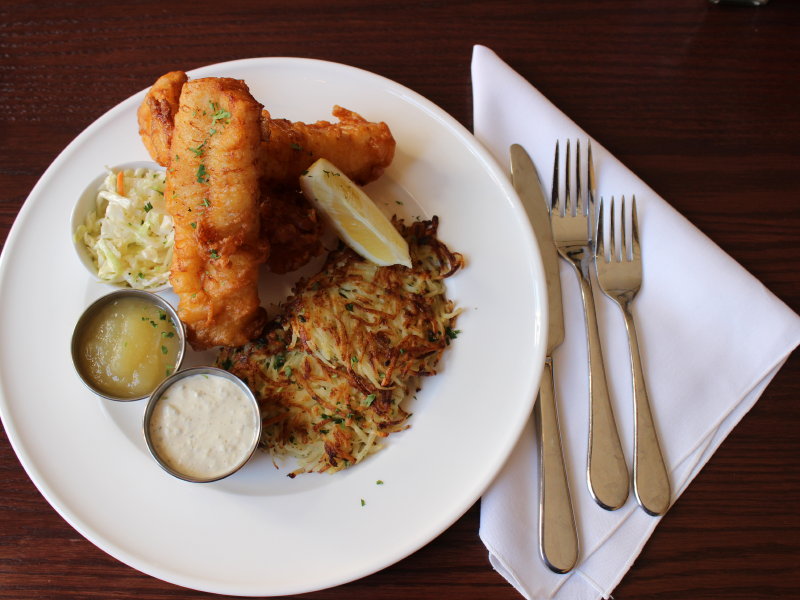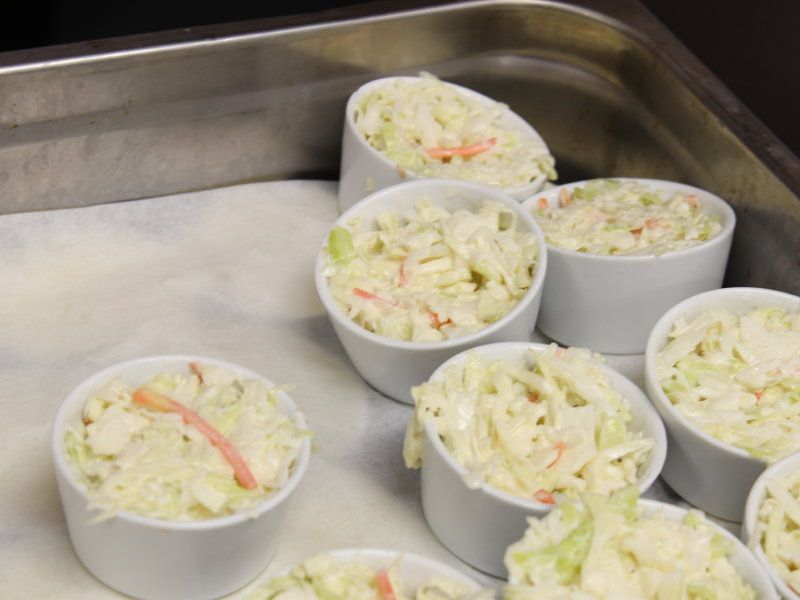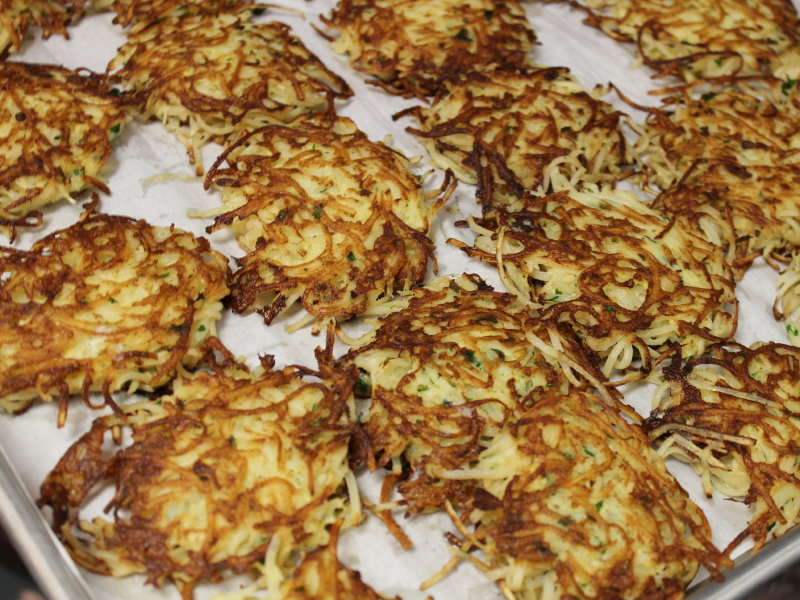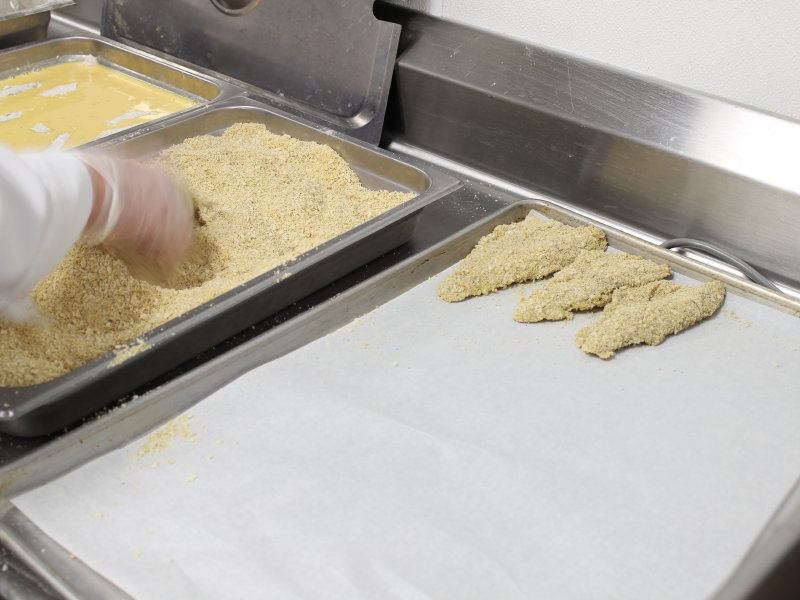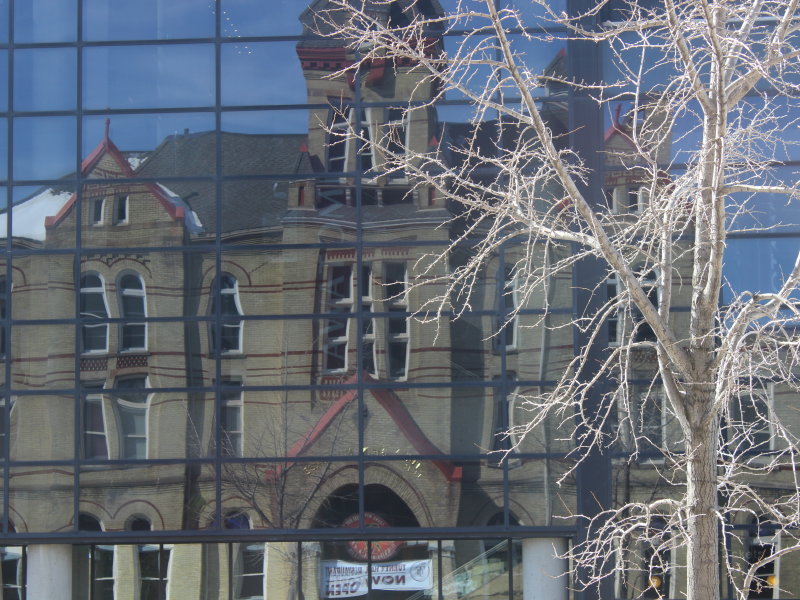 Behind the scenes at Milwaukee's iconic Turner Hall fish fry
The Friday night fish fry is a fixture in Wisconsin, but in Milwaukee there's likely nowhere like the Turner Hall Restaurant to imbibe in this cherished tradition. I spent a couple of hours at the restaurant on Friday, hanging out in the kitchen and chatting with James Beard Award-nominated chef Tom Peschong to see exactly what goes into pulling together one of Milwaukee's most iconic fish fries.
At 12:30 p.m. on a Friday afternoon, the Turner Hall Restaurant kitchen is as busy as you might expect. Line cooks are hustling to prepare orders for lunch patrons, while five or six others occupy the bustling space cleaning and breading freshly thawed fish, prepping the ingredients for homemade coleslaw and tartar sauce, and loading up warming units with freshly prepared potato pancakes.
The goal, says general manager Rob Koch, is to have every order made and delivered to the dining room in 12 to 15 minutes. And serving such a large volume of fish fries on Fridays presents its own unique set of challenges.
"Normally a restaurant might serve lunch from 11 to 2 p.m. and begin serving dinner at 4 or 5 p.m.," says Chef Peschong. "But we don't have that lapse of time."
Preparation for Friday's onslaught requires a full week of preparation, including 4 to 5 days of time allotted for slow-thawing the 225 to 300 pounds of fish served each week. In addition, the restaurant requires hours of time to transform 60 to 100 pounds of cabbage into coleslaw. Almost everything that comes out of the kitchen is made fresh, and fish is cooked to order using four small fryers.
The restaurant, which closed several years ago, reopened this past November after a renovation funded by the BMO Harris Bradley Center under an agreement with the Milwaukee Turners and the Turner Ballroom Preservation Trust. The kitchen was gutted and remodeled, new wooden flooring was installed in the dining room and bar area, and the bar was completely rebuilt.
The classic wooden booths in the dining area were reupholstered during the refresh, which preserved many of the classic elements of the old space, including woodwork, stained glass windows and German murals in the 19th century building.
The dining room, which seats 274, is filled to the brim on Friday nights as eager patrons gather to enjoy their choice of North Atlantic cod (beer-battered or baked, $12), crisp panko-breaded walleye ($14), or buttery Ritz cracker-coated lake perch ($14). Sides include creamy coleslaw with an orange vinaigrette and a choice of pommes frites (French fries) or crisp house-made potato pancakes with applesauce, an offering made fresh and only available at the restaurant on Fridays. House-made tartar sauce and cocktail rye from Miller Bakery round out the meal.
Cod is the best seller, with perch as a close second, Peschong told me. And deciding exactly how much fish to order to accommodate the rush on Fridays can pose a pretty big challenge.
"This is a learning process," Peschong admits, as he tells me about the various elements that go into ensuring that every customer has a great experience, even on the busiest nights. "The whole thing about a fish fry in Wisconsin is that it's a big tradition. Many places solely exist on the basis of their Friday offerings; some are only busy on Fridays. So, there's lots of competition."
Competition means that, even for a seasoned chef like Peschong, who spent over 10 years at the award-winning Riversite Restaurant in Mequon before finding his home at Turner Hall, providing the best experience possible is paramount.
I interviewed a few patrons to see if I could get a gauge for how things were going, and it seems that, for most, Peschong is hitting the nail on the head.
Rudy, from Milwaukee, had just finished a lunch of beer-battered cod with his friend Gary, a pilot from Texas who was visiting Milwaukee on layover.

"I used to come in here all the time for lunch," Rudy said. "Now it's back and I came to try out Chef Tommy's cooking. It was excellent … definitely in my top five for Wisconsin fish fries."
Gary agreed. "The breading was very light on the cod. And the portions were sizable. I'm stuffed."
Linda and John said they were very excited to hear that the restaurant had reopened, so they stopped by for lunch to check it out.

"We came here all the time before going to the theater, "Linda explained. "It's all refreshed really nicely … the same historic place as before."
Jason, who was visiting with his friend Eric, ordered the walleye and reported a similar level of satisfaction. "It was fantastic, and a good portion of food," he commented. "I really enjoyed the potato pancakes."
When I asked him how it compared to the fish fries he'd eaten at Turner before the remodel, he smiled. "It's even better than before," he remarked. "I'd definitely recommend people come back and check it out if they haven't been here in a few years."
Peschong says he's honored to reinvent the traditional fish fry experience.
"The Turners ran a fish fry in this place 30-some years ago," he says. "We're trying to build on that history, while acknowledging that this is an entirely new operation."
Talkbacks
hardgeminiguy | March 15, 2013 at 4:27 p.m. (report)
Lori--why didn't you CLEARLY state in your article the hours they serve fish? Bet Turner Hall will not appreciate answering dozens of phone calls due this lacking information. When start serving? When stop serving? I for one now must phone them to find out. Also, I recall when Turner Hall fish fries had large containers filled with potatoe salad, cole slaw and other side dish foods where the diners helped them selves. Great fish fries, too. Was an oll one could eat fish fry with the fish limited to what was served on one's plate. Those were the "good old days" at Turner Hall. Am happy fish fries are being served there once again. I will be there!
Photodavie | March 15, 2013 at 12:38 p.m. (report)
So glad to see this restaurant doing well after the closing/relaunch this year. It's a beautiful building in a prime location. Having dined there for brunch and dinner, I can say it's one of the best (yet affordable) restaurants in the area.
Facebook Comments
Disclaimer: Please note that Facebook comments are posted through Facebook and cannot be approved, edited or declined by OnMilwaukee.com. The opinions expressed in Facebook comments do not necessarily reflect those of OnMilwaukee.com or its staff.