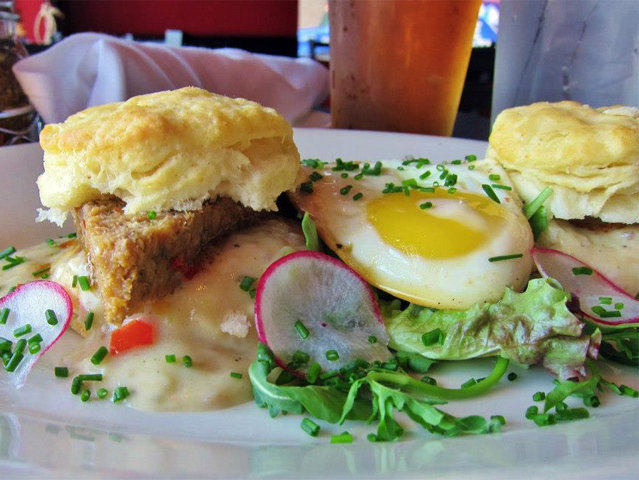 City of Milwaukee's best restaurant, 2012
For the sixth straight year, October is Dining Month on OnMilwaukee.com, presented by Concordia University. All month, we're stuffed with restaurant reviews, delectable features, chef profiles and unique articles on everything food, as well as the winners of our "Best of Dining 2012."
Your votes are in, Milwaukee, and you have selected the winners of OnMilwaukee's Best Dining 2012. We're announcing the results of this readers' poll, including our editors' pick, in a series of articles that run all October long during Dining Month on OnMilwaukee.com.
With so many exceptional dining options in the city it's undeniably tough to narrow down the very best, but the majority of voters picked Maxie's Southern Comfort, 6732 W. Fairview Ave., as this year's top restaurant, beating out last-years winner, Sanford.
Maxie's menu is loaded with southern favorites, from gumbo to blackened catfish creole to pulled pork sandwiches. There's also a nice selection of vegetarian options including a vegetarian jambalaya and a portobello po'boy sandwich. And everything washes down well with a Lousiana-brewed Abita beer, which is always available on tap or in bottles.
The deep red walls and chandeliers give Maxie's a classy but comfortable feel and the service is almost always top notch. All of these factors contribute to the winning number of votes this West Side restaurant received from OnMilwaukee.com voters.
The OnMilwaukee.com editors are big fans of Maxie's, too, but decided to go with La Merenda, 125 E. National Ave., as their pick this year.
La Merenda's bright, colorful interior is an instant mood elevator with vibrant couches, mismatched tables and fresh flowers. The restaurant offers small plate dining from cuisines around the world, including Thailand, Columbia, Europe and the good ol' United States. The menu items range often, depending on the season, and many of the ingredients are sourced locally.
OnMilwaukee.com editors' choice: La Merenda
Runners up:
2. Sanford
3. La Merenda
4. Lake Park Bistro
5. Comet
6. Bacchus
7. Odd Duck
8. Crazy Water
9. Ryan Braun's Graffito
10. Carnevor
11. Pastiche
12. Cafe Coquette
tie. Roots
14. Ward's House of Prime
15. Rumpus Room
wbrsyabw
Talkbacks
Saltydog | Oct. 3, 2012 at 3:50 p.m. (report)
Another example of the uninformed tastes of gen x and y ers. No wonder why this industry is confused. Seven of the places have no business being on that list. And although I agree Maxie's is a nice spot to go but the best? Really? Really??? Social media is ruining the restaurant industry.
hardgeminiguy75 | Oct. 2, 2012 at 8:18 p.m. (report)
I agree with freeinfine. I have eaten at Sanfords. A brillant restaurant in every detail. Have eaten in most restaurants downtown. Many are fantastic! Karl Ratzches is exceptional from food to decor and service. Certainly, the best German Milwaukee restaurant. I am pleased that Rumpus Room is last or #15. Have eaten there once and had a very bad experience so will never return.The real problem with these "so-called" surveys is that many giving votes have not eaten at most restaurants that should make this list.
feelinfine | Oct. 2, 2012 at 12:34 p.m. (report)
Really? This isn't as bad as Cheesecake Factory winning best of the northern burbs, but is Maxie's really the best eatery (who uses that word?) or restaurant in the Milwaukee Metro area? Asked and answered, your honor.... Don't get me wrong, Maxie's has good food in a lively setting, but the BEST in Milwaukee, I think not. I know a lot of people don't get to dine at the likes of Sanford, Lake Park Bistro, Crazy Water...etc...etc...because of economic reasons, but if they did, Maxie's would surely slide down the totem pole. I can't wait to see how homogenized the remainder of the "Best" lists go....
Facebook Comments
Disclaimer: Please note that Facebook comments are posted through Facebook and cannot be approved, edited or declined by OnMilwaukee.com. The opinions expressed in Facebook comments do not necessarily reflect those of OnMilwaukee.com or its staff.