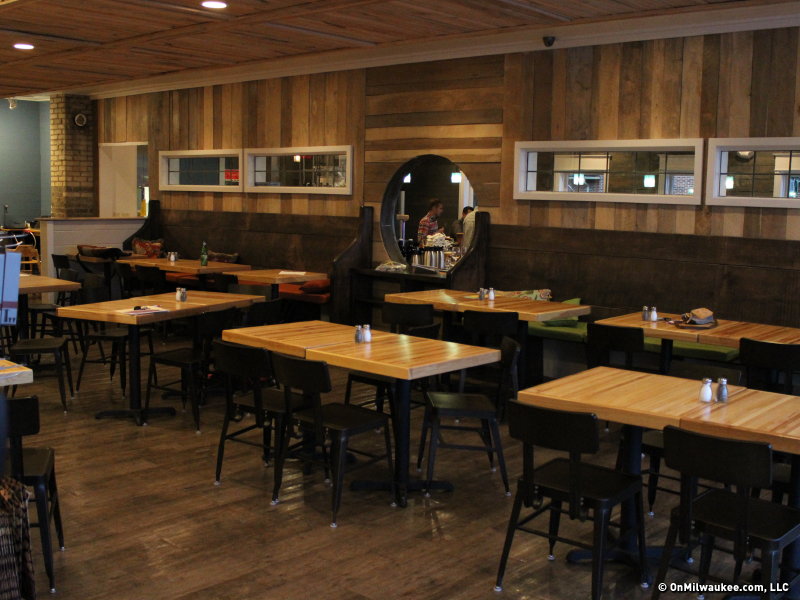 Let's meet for dinner soon at Story Hill BKC
Story Hill BKC has been serving up breakfast and lunch for four days. But, by the end of this week, it'll also have its first rounds of dinner service under its belt.
Starting Aug. 14, all components of the restaurant, coffee bar and wine and spirits shop will be in working order. And dinner service will begin that day, after 5 p.m.
The dinner menu, designed by chef-owner Joe Muench, is divided into three categories labeled "Taste," "Share" and "Pass." And, while it might sound slightly confusing, the concept becomes more clear as you examine the offerings.
Tastes will be made up of composed bites which showcase higher end or hard-to-find ingredients at reasonable prices, $3-12 per plate.
Meanwhile, the Share section will showcase shareable small plates, several of which could feed two or more people. Pricing will be between $6 and $13.
Pass, on the other hand, denotes family style fare, generally serving about four people per plate, with prices between $8 and $20.
Taste
A peek at the tentative menu shows Taste plates like chilled dill pickle vichyssoise ($5), steamed Walleye with parsnip puree and red wine ($9), grass-fed beef with masa pudding, avocado cream and guajillo pepper ($12), endive dressed with pistachio and goat cheese and a chicken meatball with truffle honey and green peppercorn sauce ($3).
Even offal will make an appearance in dishes like crispy sweetbreads with oyster mushrooms, thyme and chicken jus ($9) and tripe with barley, Napa cabbage and chili tomato sauce ($6).
Share
Shared plates include oxtail stew ($12, butter poached Cornish hen legs with German schnupfnudel, baby kale, oyster mushrooms and cracklings ($13) and Connie's Salad featuring shredded chicken, cucumbers, zucchini, pickled carrots, dried mango, cilantro and toasted sesame seeds with jalapeno dressing ($11).
Vegetable selections include roasted cauliflower with dried tomatoes, pine nuts, Montamore cheese and chili flakes ($8), Elote – corn served with bacon, lime, mayonnaise and Cotija cheese ($9), frisee and radicchio salad with anchovy dressing, soft cooked egg and meat bread croutons ($10), and roasted potatoes with garlic and meat drippings served with jalapeno mayonnaise ($6).
Bread service is also available for $3, which includes hand-formed butter flake rolls and salted butter.
Pass
If you'd prefer bacon wrapped pork loin with Founder's Apple Rye Sauce ($16), Mediterranean style skewered lamb chops seasoned with yogurt and herbs ($25) or whole whitefish crusted with ham and served with chopped egg sauce ($18), the "Pass" portion of the menu will be appealing.
Lake trout is featured with roasted prune and onion chutney and a sumac vinaigrette ($22), as well as Story Hill Steak, a uniquely shareable dish made from tri-tip that's been formed and tied, roasted in the stone oven and adorned with shallot butter ($20).
Roasted beets with blue cheese, raspberries and watercress ($12), as well as butter lettuce salad with smoked blueberries, dried tomatoes and red onion with a buttermilk peppercorn dressing ($10).
Sip
Accompanying beverage selections will include 22 tap beers, including Bell's Two Hearted Ale, Founder's Red's Rye IPA, Potosi Tangerine IPA, Abita Andygator Doppelbock, O'So Coffee Night Train Porter, Central Waters Le Petite Morts Bourbon Barreled Weizenbock, Rush River Minion IPA, Southern Tier Crème Brulee Imperial Milk Stout, Evil Twin Ryan and the Beaster Saison Ale, Lakefront Snake Chaser Irish Dry Stout, Hinterland Maple Bock, Potosi Templeton Slugger Stout, Like Minds Cucumber Pilsner and North Coast Brother Thelonious Belgian Abbey, among others. Their cider offering is McKenzie's classic.
All beer selections are available by the glass, but can also be purchased by the growler for carry-out. Pricing for growlers varies between $8 and $20 for 32-ounce and 64-ounce sizes.
Thoughtfully selected wines will also be available by bottle or glass at a wide variety of reasonable price points, thanks to the wine and spirits shop located right in the restaurant.
BKC will also feature four cocktails on tap. Created by bar manager, Ian Cliffe, offerings include the The Quarry Hill ($12), containing rye whiskey, vermouth, absinthe rouge and bitters, is inspired by the Sazerac and the Manhattan, A Good Ol' Fashioned ($8), Bramble Sangria, a red sangria with citrus and blackberry ($9) and the Rhuby Collins, featuring gin, lemon and rhubarb bitters ($8).
Freshly pressed juices and a variety of coffee drinks made with Valentine Coffee will also be available.
Story Hill BKC will be open for breakfast and lunch Monday through Saturday from 7 a.m. to 2 p.m. and Sundays from 9 a.m. to 3 p.m. Dinner service will be offered beginning Aug. 14 from Tuesday through Saturday beginning at 5 p.m.
Talkbacks
kobebeef | Aug. 13, 2014 at 10:27 a.m. (report)
I was lucky enough to get in for dinner last night during the soft opening/preview night and it was awesome. The food, staff and experience was top notch. They are a wonderful addition to the neighborhood and I am looking forward to many frequent visits.
Facebook Comments
Disclaimer: Please note that Facebook comments are posted through Facebook and cannot be approved, edited or declined by OnMilwaukee.com. The opinions expressed in Facebook comments do not necessarily reflect those of OnMilwaukee.com or its staff.