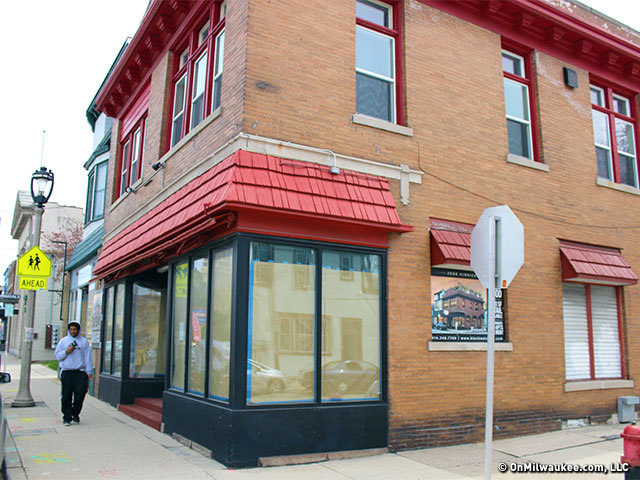 Bumstead Provisions is back on track in Bay View
If you've written off Bumstead Provisions, the new Bay View "deli-meets-bistro" concept slated to open at 2671 S. Kinnickinnic Ave., you probably aren't alone. After all, it's been nearly a year since news of the the venue hit the streets, and promises of a fall 2015 opening have since fallen to the wayside.
However, in the past few months, Twelve12 Hospitality owners Mike Bodow and Devin Eichler have pulled plans for the Bay View restaurant back on track. Former financial advisor David Eichler – who assisted with the buildout of Crafty Cow in Oconomowoc – has become a full partner in Twelve12 Hospitality, bringing a wealth of business acumen and years of restaurant industry experience. And the team is now anticipating that the highly anticipated venue will open by mid-July.

Mike Bodow, Devin Eichler, David Eichler
The space
Braatz Building, the creators of Café Lulu and Goodkind, have begun the build-out of the space, which will transform the former locations of ReThreads and Strehlow's True Value Hardware into a full service deli/shop, bar and restaurant.
Designer Libby Castro of LP/w Design Studios is also hard at work on plans for the interior, which will take advantage of the historic look and feel of the space, the assets of which include a moving library ladder and hardware storage compartments and a beautiful punched metal ceiling.
Although the interior is still rough, details are currently coming into view, including the cubic structure which will be mounted behind the bar in the dining room.
There will also be classic Milwaukee elements to the interior, including domed entryways and exposed Cream City brick walls, an element which was discovered as the contractors pulled down the white paneling in the northern side of the space.
The menu
The team has also been hard at work on pulling together more concrete menu concepts for the restaurant side of the business, including a number of signature elements that aim to stretch the boundaries of Milwaukee cuisine.
"Originally we planned for the menu to feature more twists on traditional fare," says Bodow. "And customers will still be able to order things like a great turkey and cheese sandwich. But, now we're really focusing more on unique things, including fun proteins and a variety of really funky ideas."
Some dishes on the docket include foie gras doughnuts and sandwich concepts like a coffee marinated pork belly torta.
"We're also working on a seafood salad sandwich," notes Bodow. "But instead of mayo, it will include an absurd amount of melted cheddar."
The restaurant will also feature a variety of boards, similar to those you might find filled with cheese or charcuterie, but a bit more unique. Take for instance a carving board which includes half of a pig's head, including a partial snout, cheek and ear, an "offal board," and even a "brunch board," which Bodow says will be a unique take on a dinner-themed board featuring more breakfast-centric items.
On the beverage side, Bodow and Eichler are planning on a small but well-curated wine list, craft cocktails and a broad collection of craft-only beer, including 12 to 16 rotating options on tap.
An old bank vault in the basement of the building will also be used as storage for aging beers, offering up a value-added proposition for true beer lovers.
"The current plan is to open up the vault once a year for a special event where people can try out the things that we've been aging," says Eichler.
Stay tuned to OnMilwaukee for additional details on the Bumstead Provisions project as they develop.
Facebook Comments
Disclaimer: Please note that Facebook comments are posted through Facebook and cannot be approved, edited or declined by OnMilwaukee.com. The opinions expressed in Facebook comments do not necessarily reflect those of OnMilwaukee.com or its staff.