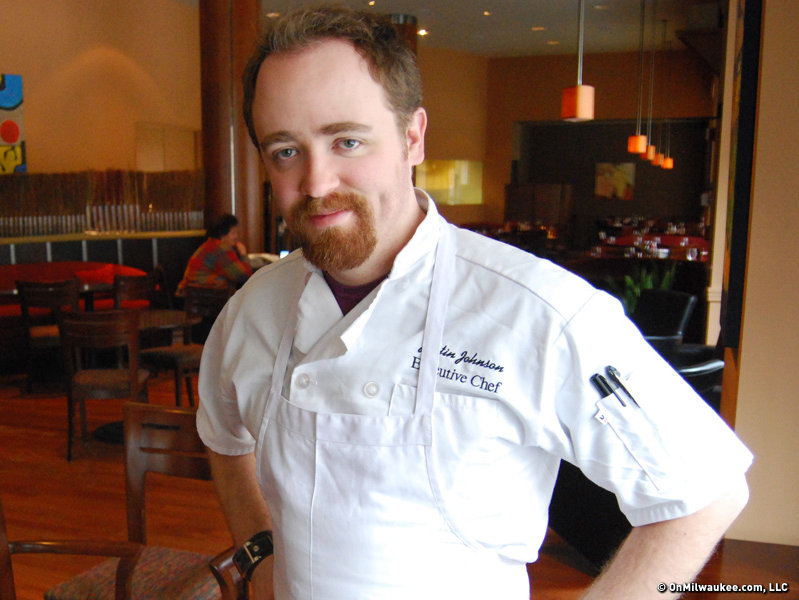 Featured chef: Hotel Metro's Justin Johnson
A little more than a year ago, we introduced OnMilwaukee.com readers to Justin Johnson, a chef that was turning pre-conceived notions of the retirement community dining experience on its head.
Johnson was at the helm of the kitchen of Wauwatosa's Harwood Place, where he made a fine dining restaurant out of what some might expect would be little more than a cafeteria.
"In two years," Johnson said at the time, "we have taken what once was an almost exclusively institutional food program and turned it into a full service, fine dining establishment. It is my dream that, through what we've been able to accomplish at Harwood Place, we can inspire other chefs to consider jobs in senior living communities, as they are starved for great food and highly appreciative of the craft and art of fine cuisine."
At the dawn of 2011, Johnson accepted an offer to take over at Hotel Metro, which was coming off a rough patch, having had at least two other chefs in the past year or so. Johnson oversees all the culinary operations in the hotel, from Cafe Metro to banquets to room service to Zen on Seven.
One of his earliest changes appears tonight when Hotel Metro hosts what Johnson says is the venue's first-ever fish fry. His take on this Milwaukee classic dishes up bluegill or grouper along with potato pancakes or fries, swiss chard or carrots, Savoy cabbage slaw or red apple cider slaw, New England clam chowder and a glass of wine or beer for $16.95.
Matching Johnson with the Metro is an exciting prospect, so we revisited the "Chef profile" concept with Johnson, who talks about his previous experience and how it will help him re-energize a Downtown hot spot.
OnMilwaukee.com: What kind of experience and training brought you to your current position?
Justin Johnson: After a period of about nine years working odd jobs as a cook, I decided to attend the Le Cordon Bleu College of Culinary Arts in Chicago. I earned my first executive chef's job at the age of 26 after graduating summa cum laude. My last three years at Harwood Place exposed me to all the challenges and joys of opening a restaurant virtually from scratch.
Despite Harwood residents and their families being the only people able to enjoy our restaurant, our food was good enough that our efforts began to receive local and national attention. This resulted in me being considered for positions like the one at Hotel Metro.
OMC: How has the transition to Hotel Metro gone so far?
JJ: The transition is still in its infancy but I've been pleasantly surprised to find a skilled and dedicated culinary team that is hungry for a fresh approach. I've been working on getting settled and developing my menus, as well as, reaching out to local vendors like Sweet Water Organics and Braise RSA.
The daily operations have seen no disruption thanks to the help of the former chef Jerry Garcia and sous chef Markus Heinevetter. This has enabled me to take the time to do things right as opposed to rushing though and having things missed or not done properly.
OMC: Are the challenges different than the ones you faced at Harwood Place?
JJ: I'm sure they will be but I'm trying to not let that change my approach. Our mindset at Harwood was always that we were catering to the public even though we had a somewhat captive audience. There's no question that the biggest difference between Harwood and Metro is that the onus is on us to keep people coming in the door as opposed to them already living here. But, I want to let the food do the talking for the most part.
OMC: Will your experiences there help you in this new role?
JJ: Unquestionably. Harwood Place will probably prove to be the most invaluable industry experience I will ever have. The reason is that you're sort of in a bubble. I had complete autonomy to try anything, see it succeed or fail, understand why and have my customers right on top of me telling me exactly why they did or didn't like something. The returns were immediate.
Sometimes, in the real world, you can try something and not see an instant response or you do marketing or advertising and don't always have an exact way to measure its effectiveness. Harwood was a like a mini community. My customers were very close to me and very vocal. It was kind of like "restaurant school" in a way.
Page 1 of 2 (view all on one page)
Next >>
Facebook Comments
Disclaimer: Please note that Facebook comments are posted through Facebook and cannot be approved, edited or declined by OnMilwaukee.com. The opinions expressed in Facebook comments do not necessarily reflect those of OnMilwaukee.com or its staff.