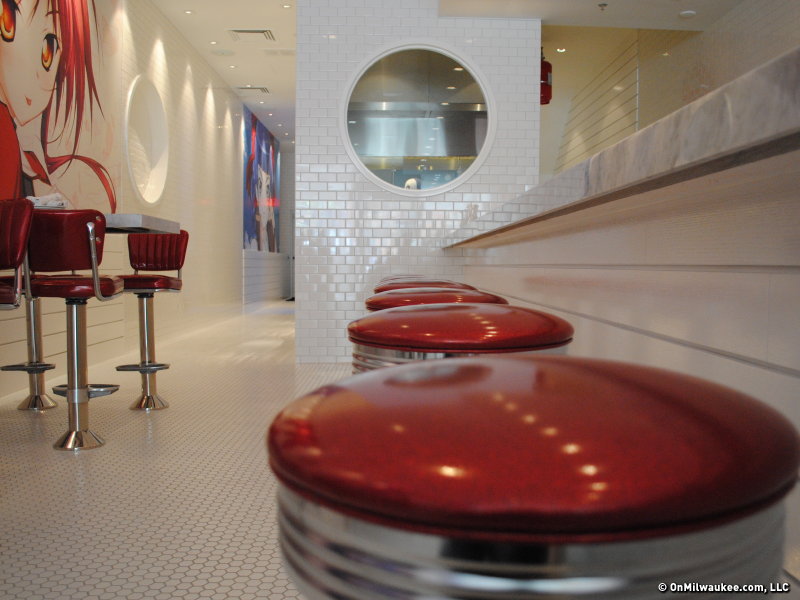 Dick's $100 pizza
Here are some ways for a new restaurant to get noticed among the tangle of plates, servers and valet stands on Milwaukee Street.
Introduce the only coal-fired pizza oven to Milwaukee.
Concoct a milk shake featuring candied bacon.
Sell a 14-inch pizza for $100.
That's what you get at Dick's Pizza & Pleasure, a high design, imaginatively upscale purveyor of pies. Make that pizza pies.
Dick's has a full bar and also sells a limited number of salads, appetizers and bruschettas along with those milk shakes. More on them later.
At 10 p.m. on Thursdays, Fridays and Saturdays, the two floors above Dick's ground level 40-seat dining room become lounges with a DJ and hand-craft shots. But let's talk about that $100 pizza.
The toppings include foie gras, sliced Kobe beef, truffles and Burrata, a super creamy cousin of mozzarella cheese. A split of Veuve Clicquot, a premium champagne, accompanies the pizza.
Dick's general manager, Adam Buttina, reports the pricey pie was ordered once during the restaurant's first two weeks in business, and founding executive chef Daniel Jacobs concedes it is a gimmick. The reality is Dick's doesn't need stunts to impress.
Its food is exceptional and its design is eye grabbing.
Four appetizers – prosciutto wrapped around fontina, coal-fired chicken wings, mussels, and calamari – are $7 or $9.
Three choices of brushetta – white bean, fava bean or English pea – are all $5. The English pea is served with a wispy sliver of preserved lemon that gives it a vivid tanginess.
Four salads are on the menu – Caprese, Caesar, arugula and chopped. All but the chopped are $7. Having your greens, mozzarella and salami diced costs $9.
Pizzas, which cover a large plate, range from a simple tomato, olive oil, oregano and parsley ($9) to a White and Black, consisting of white sauce, fontina, mozzarella, parmesan, burrata and black truffle ($15). Customers can build their own pizza, starting at $9 and adding everything from arugula and potatoes to white anchovies and bacon.
Coal-fired ovens, which date back to the early 20th century on the East Coast, burn extremely hot. The oven at Dick's bakes and cooks in a temperature range of 700 to 770 degrees. At that heat, it takes longer to stretch and top the dough than it does to bake the pizza.
Jacobs, a Chicago native with extensive fine dining experience there, spent time at Pizzeria Mozza, a Mario Batali restaurant in Los Angeles, learning how to create artisan pizzas. The coal-fired oven at Dick's chars the crust, giving it a chewy texture and surprisingly appealing taste. The crust is quite delicious naked.
"The dough is almost like a ciabatta," Jacobs said during an interview after the noon rush. "When it hits the oven, it poofs."
Dick's is selling pizza by the slice for $3 from noon to 1 p.m. and 1 a.m. to 3 a.m.
The restaurant is sourcing most of its food from Wisconsin farmers and cheese makers. It cures and smokes its own bacon, and makes the Italian pizza sausage.
Ten tap beers, all $5, lean heavily to craft brews, including Lakefront Snake Chaser, Madison's Old Glory APA from The Great Dane, and Spotted Cow. A selection of white and red wines by the glass are priced from $8 to $10. Seasonal cocktails have snappy names like Ken, No Barbie; Desperate Housewife, and Spa Day.
The separate milk shake menu is divided between non-alcoholic ($4 and $6) and those fortified with booze ($8). In the teetotaler category, the Pig Pageant features vanilla ice cream, a home-baked brownie and bacon that is candied in house by coating it with caramelized sugar.
If the combination of chocolate and peanut butter floats your boat, the Lightning Rod will make you giddy. Vanilla ice cream, real peanut butter, chocolate sauce and malt are blended together. It is served with a chocolate dipped pretzel.
While the food is reason enough to visit Dick's, its bright and bold ambiance is alluring. Huge wall-sized anime graphics watch over customers. A slick and shiny 21st century diner look includes LED lighted red plexiglass panels.
Executive chef Jacobs has left the restaurant since we talked. His recipes and the menu he heavily influenced live on at 730 N. Milwaukee St., according to Buttina.
Talkbacks
sijan_heights | May 27, 2011 at 2:54 p.m. (report)
Not to be confused with DIX, where $100 will get you a whole other type of pleasure
Facebook Comments
Disclaimer: Please note that Facebook comments are posted through Facebook and cannot be approved, edited or declined by OnMilwaukee.com. The opinions expressed in Facebook comments do not necessarily reflect those of OnMilwaukee.com or its staff.