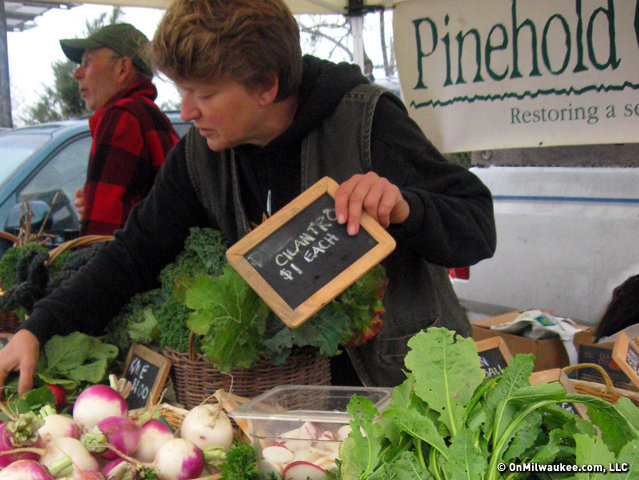 Eat Local Resource Fair aims to entertain and educate
What does it mean when someone says he or she "eats local"? And how does a person living in Wisconsin eat locally in the wintertime? Find out at the Eat Local Resource Fair, this Saturday, Aug. 27 from 10 a.m. to 1 p.m. at the Urban Ecology Center at Riverside Park, 1500 E. Park Pl.
This event, sponsored by Eat Local Milwaukee, serves as a kick-off for the fifth annual Milwaukee Eat Local Challenge, which takes place Sept. 1-15. During the Challenge, folks of all ages are encouraged to eat locally as often as they can to gain a better understanding of their relationship to food, from farm to fork.
"Eating locally is really nothing new," says Jamie Ferschinger, community program coordinator at Urban Ecology Center and Eat Local Milwaukee volunteer. "For centuries, Wisconsin immigrants have been preserving the harvest and sourcing ingredients found close to home."
And, despite the frequent assumption that going local is only for people with time and money to spare, cooking your own meals and putting away food for winter used to be considered thrifty things to do.
Even today, the benefits of eating locally are many.
"Supporting local farms and artisans keeps money in the state and, thereby supporting a thriving local economy," Ferschinger explains. "When you remove the middle-man and the need for cross-country transport, consumers get a high quality product and they are able to give back to the community at the same time."
During the resource fair, interested consumers can chat with seasoned Challenge veterans about where to source hard-to-find local foods, attend workshops and cooking demonstrations, and purchase the 2011 Eat Local Challenge cookbook, "Enjoying Winter's Bounty," which contains tips and tricks for eating locally during even the darkest of days.
Attendees will also be able to sample and buy local bakery, preserves, cheeses, and beverages and chat with local vendors, including Purple Door Ice Cream, Quince & Apple, Potter's Crackers and the Chubby Cheese Truck, which will be serving up delicious grilled sandwiches made with local breads and cheeses.
In addition to awesome eats and great tips, the Resource Fair provides an opportunity for long-term relationship-building between local providers and their customers – creating an increasingly strong network of support for their products.
By the end of the event, participants will not only be ready to participate in the Eat Local Challenge, but they'll be full of ideas and tools that will help them enjoy local foods year round.
Yes, even in the winter time.
For more information, including a full list of Eat Local Resource Fair vendors, visit eatlocalmilwaukee.org.
Talkbacks
kme | Aug. 25, 2011 at 9:47 a.m. (report)
If you plan on attending the Urban Ecology Center event on Saturday please use the brand new parking lot they built for guests! As a resident who lives right across the street from the UEC, it if extremely difficult to leave when visitors of the UEC park you in or worse, park in front of your garage space. Better yet, take your bike, take the bus or walk.
Facebook Comments
Disclaimer: Please note that Facebook comments are posted through Facebook and cannot be approved, edited or declined by OnMilwaukee.com. The opinions expressed in Facebook comments do not necessarily reflect those of OnMilwaukee.com or its staff.