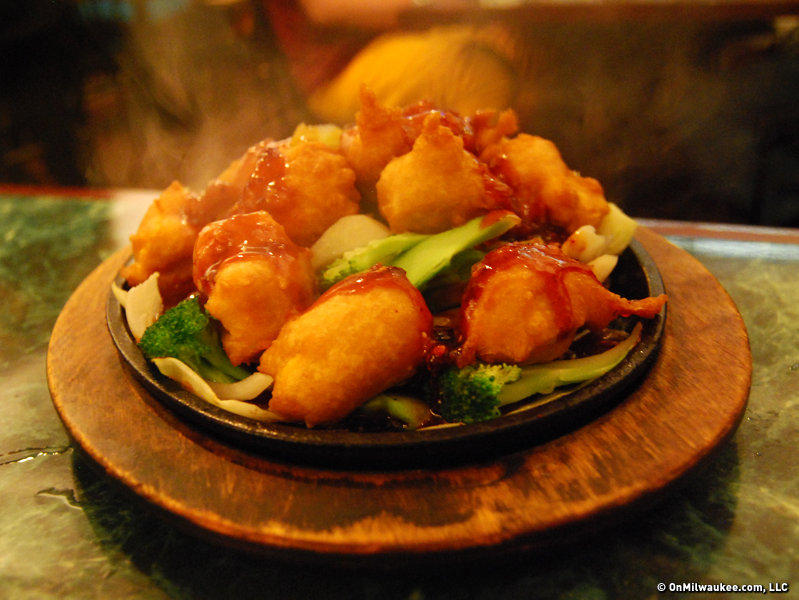 EE-Sane provides a mixed bag for Thai dining
EE-Sane, 1806 N. Farwell Ave., is one of the more established tennants on a stretch of Farwell that houses a proverbial world market of cuisines.
EE-Sane's Thai and Laotian hybrid menu serves alongside nearby Mona's Turkish Shawerma House and Ethiopian Cottage. Of the three, EE-Sane's entrance beckons the least, although that didn't seem to deter diners on recent visits to this East Side mainstay.
EE-Sane's interior is devoid of ambience. Bright aqua blues cover the nearly barren walls and the tables are cafeteria-like -- all forgivable characteristics if the food can carry them. EE-Sane's menu is filled with favored Southeast Asian dishes like Pad Thai, and other noodle dishes, a variety of curries and Laotian Larb dishes, which feature spicy shredded meats, served salad style.
Visits to EE-Sane were marred by poor, slow and impersonal service, with food that skewed to the spicier end of the spectrum (spicier than anticipated based on our ordering scale) with some dishes more successful than others. On the upside, EE-Sane offers most dishes in a vegetarian version for non-meat eaters, providing one of the larger non-meat menus in the city.
Diners at EE-Sane should expect to wait some time after sitting down to order their food, and if you require anything in between your dish deliveries, you may find yourself doing without.
Crab rangoons ($5.95) at EE-Sane were overcooked and greasy, leaving the interior cream cheese gummy in texture. Steamed spring rolls ($4.95) were much better, with the rice paper stretched thin to accommodate a generous stuffing of lettuce leaves, fresh mint, pork and other vegetables. Appetizers were served with a thick and delicious spicy peanut-style sauce and sweet and sour sauce.
Entrées, too, at EE-Sane seemed a mixed bag. Some dishes, like a panang ($10.95) -- served on one visit with chicken -- wasn't as flavorful as one would fine at other Thai restaurants in the area, and somehow managed to be spicy hot yet bland at the same time.
Volcano chicken ($14.95) was surprisingly good, and the higher heat quotient actually seemed to do this plate justice. Served with broccoli, carrots and cabbage, the chicken was juicy and tender to the fork.
The menu here is large enough that I could have likely taken four or five visits just to sample the many variations in preparation EE-Sane provides, but, unfortunately, I either chose the wrong items by going with more standard items, or I hit EE-Sane on off evenings. Either way, I didn't find the attraction for which I was hoping.
That said, the full dining room and parade of take-out orders would seem to say that other diners here know something I didn't discover during my visits. And the service here was so sub-par that I actually felt uncomfortable at times.
If I venture back to EE-Sane to sample Laotian cuisine or try some less popular Thai items, I would likely do so for take out rather than dine in.
bwdrzucxtf
Facebook Comments
Disclaimer: Please note that Facebook comments are posted through Facebook and cannot be approved, edited or declined by OnMilwaukee.com. The opinions expressed in Facebook comments do not necessarily reflect those of OnMilwaukee.com or its staff.