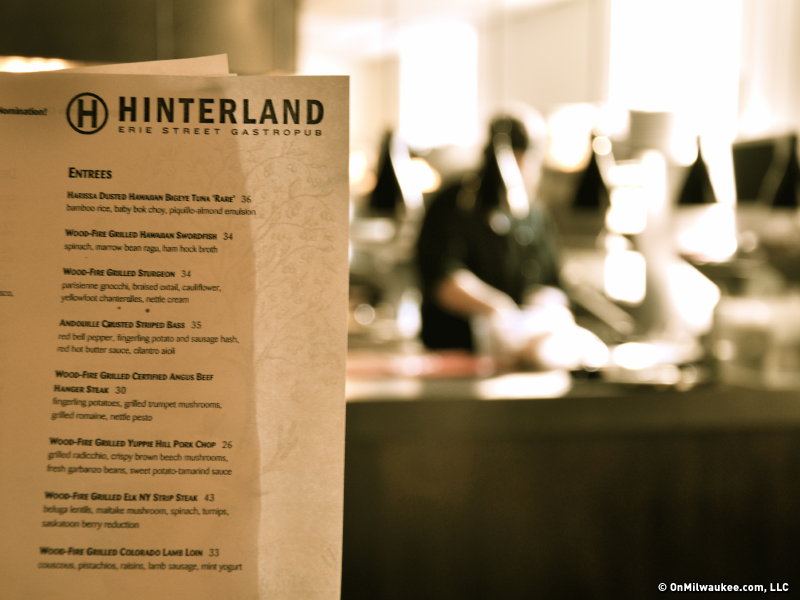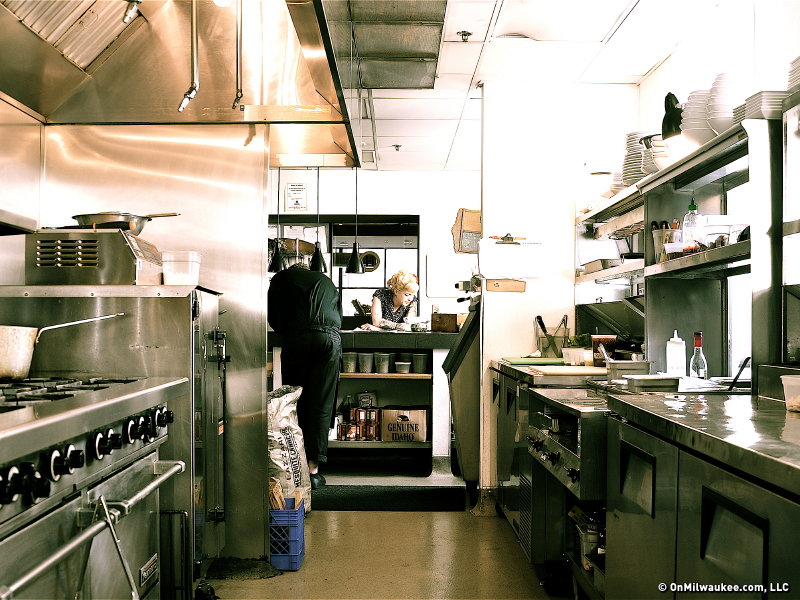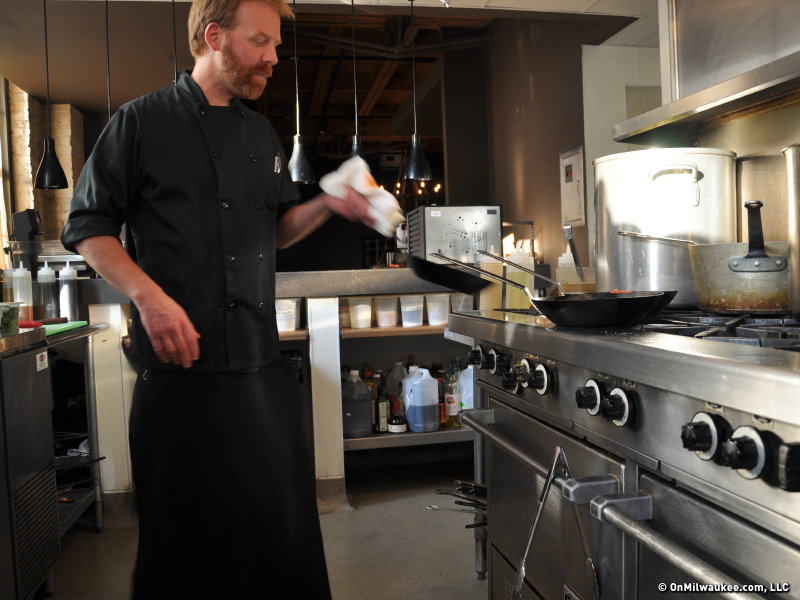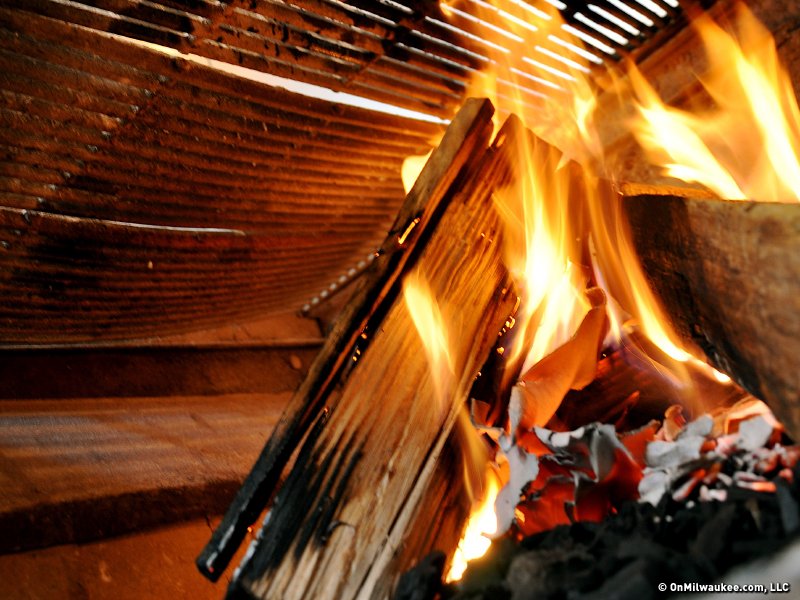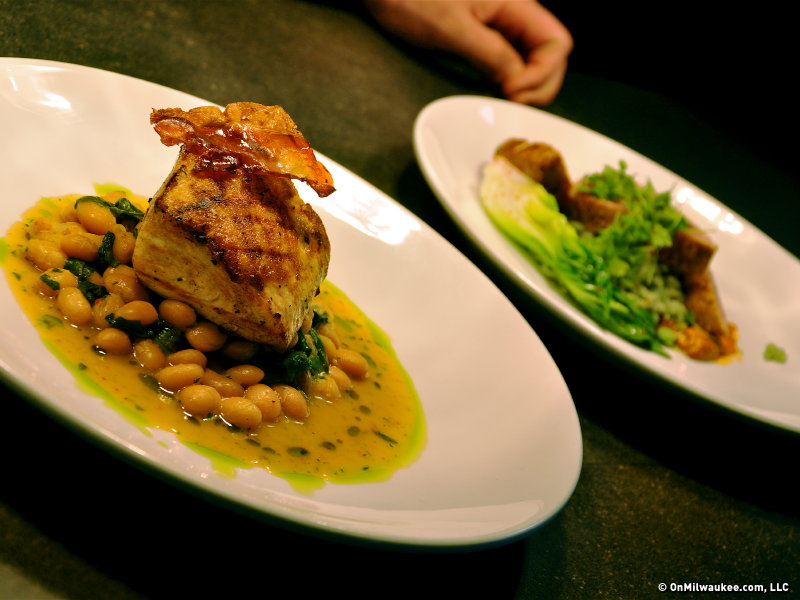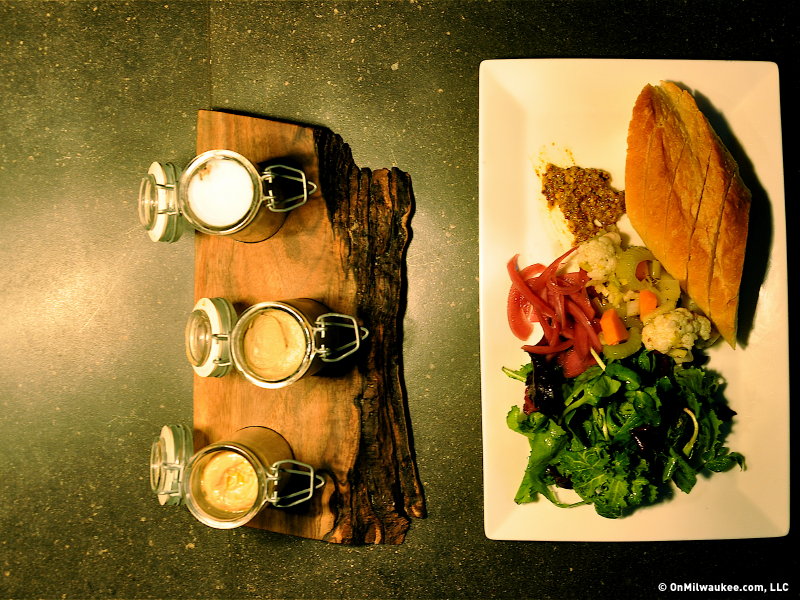 The Engine Room: An evening at Hinterland
It's an unnerving time inside the world of food. With restaurants closing at a record clip and the beleaguered economy still gasping for air, I've had to accept – with bemused resignation – the need for restaurants to lower the bar to turn a profit.
Out of this bankruptcy of innovation has sprouted a reductive fad that threatens to strap working-class communities firmly in the back seat to finer dining utopias like Chicago, New York and San Francisco. The fad is a concept known as "classic with a twist."
The idea is that you take a throwback that everyone knows and loves and you put a modern spin on it. It makes sense and is sometimes profitable but often lacks the actual "twist." And let's be honest; restaurateurs are loath to consider being on the cutting edge before revenue.
While the intention may be self preservation, Milwaukeeans, as a result, sometimes find themselves eating a suspiciously twist-less mac 'n' cheese while the rest of America's metro areas enjoy the spry and invigorating cuisine of the 21st century.
One of the fine-fettled saplings of this push for the classics is the modern American gastropub. The gastropub tag has been dubiously worn by many. Without staging a war on the definition of the popular concept, let's just agree that nachos and buffalo wings do not a gastropub make.
For my continuing series, "The Engine Room," I paid a visit to another 2012 James Beard nominee and marquee Milwaukee gastropub, Hinterland –home to Chef Dan Van Rite. Here, classic dishes get worked over like dusty rummage wear into chic designer threads.
The concept was first opened in Green Bay, Chef Dan's hometown, where it continues to do a solid business. The Hinterland owners are long-time compadres of Chef Dan, who was the opening chef behind their first venture. After a drifting odyssey that took Chef Dan through places like Portland, Minnesota, Nantucket and Colorado to name a few, the Hinterland owners looked to open Hinterland-Milwaukee and felt that they already had their man.
I arrived at the Erie Street Gastropub at 4 p.m. on a lovely, almost hot, clear-skied Wednesday afternoon. I was led by bartender Russell (still in his civvies) down a long corridor to a back bar and dining room I had previously not known existed and into the rear entrance of the open-ended kitchen. Music from a local rock station blares as black coat-attired men dance the dance of prep and set-up before service.
I say men because these are not wide-eyed, wet-behind-the-ear, recent culinary grads dipping their toes into the deep end. These are grizzled vets. Whether the bearded and bandana'd Dan T. looking like Hemingway or the dark-rim bespectacled New Yorker Micah looking like Ginsberg, these guys have been and seen and done.
It's amusingly appropriate that the witty and wry brigade of one-time head chefs in their own right are led into battle by Chef Dan, who is a dead-ringer for Chuck Norris. However, it's at looks alone where the "Walker Texas Ranger" likeness dissolves. Chef Dan is a man of few words and unlike most ego-driven artists, he isn't entirely comfortable sitting down and talking about himself.
Chef Dan graduated from Western Culinary in Portland – now a Le Cordon Bleu School – after losing interest in a career in architecture 23 credits short of graduating from UW-Milwaukee. I got the impression that Chef Dan could've easily ended up as a roadie for the Allman Brothers Band (who he was getting ready to see in New York the next day) and been perfectly happy with that.
Fortunately for the rest of us, Chef Dan began to cultivate an interest in food somewhere around the time he worked a prep station at the pre-fire Beans and Barley on the East Side. He did his internship out west, cutting his teeth at the renowned Caribou Club in Aspen, an exclusive celebrity-affiliated, members-only club. He also worked as a private chef for the former COO of Goldman Sachs, Jon Winkelried, who left the firm in 2010 ("before all the [stuff] went down," Chef Dan explicated).
The Hinterland menu, by Chef Dan's own admission, is influenced mostly by his varied travels. The fish of Nantucket; the elk and game of Colorado. So organically realized is Chef Dan's style of cuisine that he was stumped when asked to define it. His menus are about what he's seen, where he's been and what he's done. Not about what Food & Wine magazine tells him are the ingredients or dishes that are currently "trending."
His homage to his roots and what he likes to cook has served him well, as he is now a three-time James Beard nominee. However, if you ask him what the accolades mean to him, his answer is precious little.
"It's good for business," he tells me. He admits that he has little control over it and that, with or without acclaim, he and his team would do little, if anything, different.
As we began to talk food, Chef Dan was all too eager to share his culinary process. His kitchen is one of trial and error. He and his team love to research and experiment with techniques and ideas to see how they'll be received by their surprisingly adventurous diners. We talk about veal versus pork brains and a clever dish on the menu that, in concept, is pasta bolognese. But, instead of pasta, they slice strips of pig skin into "noodles" and simmer them, finishing them to order with a bolognese and Carr Valley's Marissa cheese.
The most prized piece on the service line is a wood-burning grill. "There's something about wood fire I love," Chef Dan tells me, further explaining that it's a challenge to control and maintain but the results are worth it.
Rounding out the team of cooks on this mid-week night was charcuterie maven Paul Funk, who is pictured prominently on the cover of the Food section of the day's Journal Sentinel, which sat, crinkled from handling, at the pick-up window.
The team was diffidently mortified to be caught reading their own press but I conciliated them by sharing that plaques of my past exploits line the walls of my home office. There's nothing wrong with being proud of your work. And these fellas ought to be. I commented to Chef Dan that it's interesting to see a recognizable and well-reputed chef deferring press to a member of his team. He shrugged unassumingly, "I could care less." Page 1 of 2 (view all on one page)
Next >>
ubuwvqfqed
ubuwvqfqed
Facebook Comments
Disclaimer: Please note that Facebook comments are posted through Facebook and cannot be approved, edited or declined by OnMilwaukee.com. The opinions expressed in Facebook comments do not necessarily reflect those of OnMilwaukee.com or its staff.