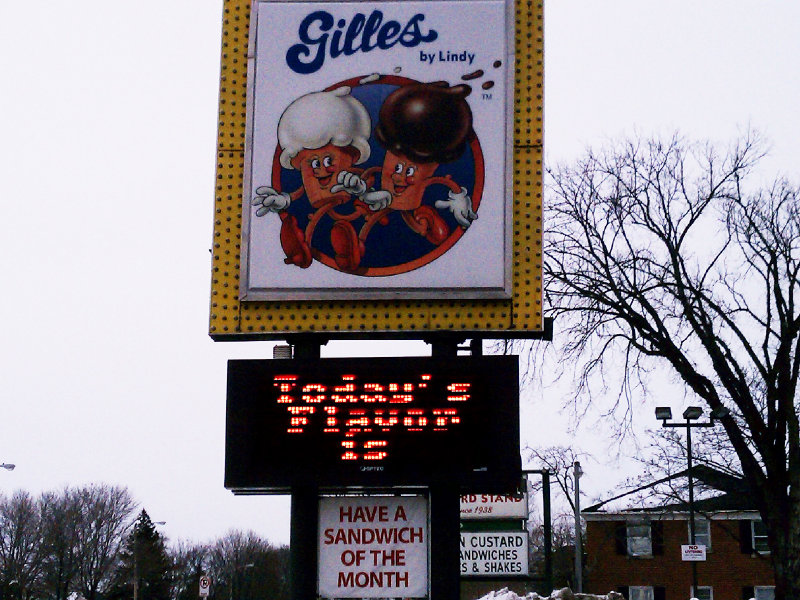 Oldest custard stand in Milwaukee? Gilles'
Before anyone licked a cone at Kopp's, slurped a malt at Culver's or dug into a sundae at Leon's, Paul Gilles was selling frozen custard at the corner of 75th and Bluemound. He bought the land when Blue Mound was a gravel road and erected in 1938 what is now the oldest operating custard stand in Milwaukee.
Through the years, Gilles' has served a gazillion gallons of creamy frozen custard, been a high school hangout for several generations, and served as the unlikely site of informal and unofficial Major League Baseball meetings. Paul Gilles died in 1984, but the business has continued as a West Side landmark, evolving into a year 'round restaurant with limited indoor seating.
Vanilla custard, strawberry and hot fudge sundaes, hot dogs and root beer were the only items on the original Gilles' menu. Pecans could be added to the sundaes.
Now you can order a bowl of roasted vegetable soup, an Italian beef sandwich, home made chili and a fish fry. And you can do that on a sub-zero day in February. For many years, Gilles' closed around Thanksgiving and reopened with the arrival of the first spring robins.
Nine years after opening his business, Paul Gilles made an important personnel decision. He hired a young Robert Linscott to work at the stand, and by the early '60s, Linscott was a key manager.
His duties included keeping the peace when hundreds of teenagers descended on Gilles' after high school football games and dances. The spot was especially popular with students from nearby Pius XI, Juneau, Marquette University High School, Wisconsin Lutheran and the two Wauwatosa high schools.
School rivalries sometimes overheated into fisticuffs but police were rarely called. Linscott maintained order while the custard machines churned. He bought the restaurant from Gilles in 1978 and sold it to two of his seven children, sons Tom and Pat, in 1992.
Pat Linscott died in 2001, leaving Tom as the sole owner and operator, and another sibling, Mike, joined the business as restaurant manager five and a half years ago. While the second generation of Linscotts has transformed Gilles' into more of a full service eatery, such signature items as the Gillieburger (a Sloppy Joe) and the fudge mellow mint sundae (vanilla custard, mint marshmallow sauce, hot fudge and chocolate jimmies), remain central on the menu. Tom Linscott reports that the turtle is the top selling sundae, but fudge mellow mint is particularly popular with women.
Gilles' sold only basic custard flavors until the mid-'80s, when it joined its competition in offering rotating flavors of the day. Monkey Madness, Orange Dreamsicle and Bailey's Irish Creme are some of the exotic tastes now served.
Page 1 of 2 (view all on one page)
Next >>
Talkbacks
mjrrmr | Feb. 21, 2011 at 5:30 p.m. (report)
A little trivia ... brother Tom opened a Gilles in Fond du Lac in 1949 - with Paul's financial assistance. It is still run by the Gillies family. They now have stores in Green Bay and Sheboygan as well.
littledog | Feb. 17, 2011 at 2:22 p.m. (report)
The Lalopalooza Sundae got me through my second pregnancy. Love Gille's. Such a great Milwaukee landmark.
AndrewJ | Feb. 15, 2011 at 12:25 p.m. (report)
Still can't figure out why they put that unnecessary blinking red electric sign up. Bad idea there; should have stuck with the old school sign that didn't make it a game of timing/chance to see the days flavor. But, by far my favorite place to grab a grilled cheese and a shake on a nice summer night.
Facebook Comments
Disclaimer: Please note that Facebook comments are posted through Facebook and cannot be approved, edited or declined by OnMilwaukee.com. The opinions expressed in Facebook comments do not necessarily reflect those of OnMilwaukee.com or its staff.