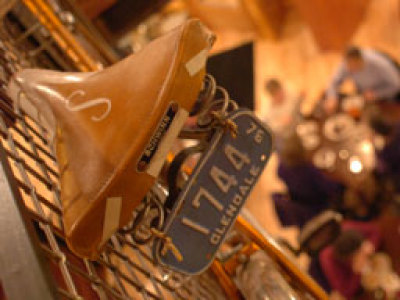 Cafe Hollander proves itself a great new Milwaukee icon
Gil's Café was a Downer Avenue icon, known for its outdoor seating, coffee drinks, four-cheese pizza, and an unparalleled chicken Caesar sandwich, not to mention Gil Fest, the restaurant's own Milwaukee festival; so when Gil's closed their doors and made way for Café Hollander, 2608 N. Downer Ave., many Milwaukeeans mourned the end of an era.
Café Hollander, a creation of the Diablos Rojos group, maintained the integrity of the cream city brick building, and threw us a few memory bones in the form of coffee drinks, hearty breakfasts and for our more mature dining audience, a tribute to the Coffee Trader Potato Noshers ($8.50); a french fry meets nachos creation that won the hearts of many locals some 10-plus years ago.
Café Hollander features a split smoking and nonsmoking downstairs dining section, which offers a good selection of Belgian ales, and like the Bay View icons The Palm Tavern and Roman's Pub, offers these specialties in their brand appropriate glasses for that added panache.
Menu items are in a word, eclectic. This restaurant features two direct ends of the spectrum while almost entirely avoiding the middle ground; for example, diners can order baked pretzels ($3.50) or a filet mignon ($24.00); but most items at Hollander lean towards the more expensive side, with a trickle of Dutch influence throughout the menu.
Recent visits brought two entirely different experiences at Cafe Hollander. Sunday brunch brings with it a crowd of young families, college students, and young couples, to sample Belgian waffles, eggs Benedict and bloody marys. The restaurant is child friendly, as are the waffles; large thick Belgian classics ($6) dusted with powdered sugar or with a variety of toppings from fruit ($7-$8), to onions and bacon ($8.50), to Guinness stout ($9.50).
The Hollander brunch special ($9) paired one of these waffles with shaved ham, white cheddar cheese sauce, tomato and a fried egg for a hearty and delicious offering. Tuscan Benedict ($9.50) served with prosciutto, asparagus, and white truffle hollandaise was the only disappointment to an otherwise above par brunch; the dish had sat too long, making it cold and congealing the hollandaise leaving it bitter and inedible.
Weekday dinner at Café Hollander brought with it a crowd of more mature diners, likely stopping for a visit before a show at the Downer Theater or a book reading at the nearby Harry W. Schwartz. With such a diverse menu, we spent a lot of time deciding what to order before settling on several items from acrossed the board. Curried mussels ($10.50) were delightful in a rich curry cream sauce served with a crusty baguette. Belgian burger sliders ($8.50) were overcharred and bitter, and were surprising served with mixed baby greens. A cup of Dutch split pea soup ($3.50) was thick, creamy and delicious, and a bowl would be equally satisfying as a meal.
Café Hollander's lunch and dinner menu features entrees in the $18-$24 range, and sandwiches in the $8-$10 range, and on our most recent visit, we opted for the sandwiches. Blackberry turkey ($9.00) was the enticing combination of turkey breast with blackberry jam, gruyere cheese, and hot giardineira served with a side of the house specialty patat frites (french fries). A Belgian Dip ($9.50) added smoked gouda cheese and ale braised onions to the classic sandwich. Both sandwiches were good, but overwhelmed by their baguettes; the actual slice of baguette was only filled with meat to the half way point, leaving the diner with another half of sandwich that was comprised of cheese, bread and spread. The French fries are crisp and lightly salted, and for 75 cents, you can choose one of their 18 sauces including spicy Thai peanut and curry ketchup.
Café Hollander shines in ways that will easily make it a new Milwaukee icon, and a place where former Gil's fans and new patrons alike can feel comfortable and well served. Service here is exceptional, and the space lends itself well to either dining or just stopping by for a Belgian ale or a glass of wine before a show. Outdoor seating will make this an even greater dining option for both students and Downer avenue area residents for many years to come.
Facebook Comments
Disclaimer: Please note that Facebook comments are posted through Facebook and cannot be approved, edited or declined by OnMilwaukee.com. The opinions expressed in Facebook comments do not necessarily reflect those of OnMilwaukee.com or its staff.