What's old is new again at Housekeeper Crockery
In today's kitchens, you'll find a vast array of cookware, from enameled pots and pans to bakeware made from aluminum and silicone. Much of the equipment used by chefs and home cooks has been mass produced by machines in China and shipped halfway across the world.
But things weren't always this way. During the mid-19th century, skillets were hand-poured from locally mined iron. Sauce pots were forged from copper. And pottery was hand-formed from naturally occurring clay.
And thanks to Sara Dahmen, Port Washington-based craftswoman and owner of Housekeeper Crockery, some of those hand-crafted items – including tin-lined copper cookware and cast iron seasoned over an open flame – are being returned to the kitchens of Wisconsin.
Interestingly, it all began with a novel.
Falling in love with history
In 2014, Dahmen published her first book, "Doctor Kinney's Housekeeper," a historical novel set in the 1880s that traces the experience of a widowed woman who makes her living as a housekeeper. The book earned the Grand Prize 2015 Laramie Award for Western, Pioneer and Civil War Fiction. But – maybe more significantly – it inspired Dahmen to fuel a growing curiosity about old-school workmanship.
"The novel revolves around a widowed woman named Jane," Dahmen explains, "And because her livelihood is based around domesticity and work in the kitchen, I found myself delving into the history of the kitchen tools she would have been using."
Dahmen's research led her to a realization: So much of the high quality cookware, including the tall copper pots and cast iron that was used in the nineteenth century, was largely absent from the modern kitchen.
"Cookware in the 1800s was handmade, and it was made to last for centuries," she says. "The mentality today is that we go to Walmart and spend $5 on something, and then we replace it when it's broken. We don't know the provenance of it, how it was made, who made it. And we have nothing to pass along to our children."
She also realized that a good deal of the high quality copper cookware available on the market was no longer manufactured in the U.S.
"Copperware hasn't been made in large quantities in the U.S. for at least 50 years," she says. "Most of what's on the market is coming from France, Italy, China and India. The realization sparked something in me, and I began to wonder if I could create a business bringing back some of these beautiful handcrafted items that I'd fallen in love with."
From there, she started making phone calls.
"I knew I wanted to support small family businesses," she says. "And I wanted to find ways to create items that are of the same quality that would have been in our grandmother and great grandmothers kitchen."
Bit by bit, she connected the dots, reaching out to countless small Wisconsin and Midwest-based businesses. She located a foundry in Kaukauna that she could work with to pour cast iron, which would be hand-sanded, seasoned over live fire and rubbed with food grade flaxseed oil.
She connected with Rowe Pottery of Cambridge – a group of potters who she'd contract to make old school bowls, spoon rests and crocks – and contracted Whetstone Woodenware in Indiana to chat with them about creating reproduction woodware.
After first searching up and down the eastern seaboard, she even found a rivet-maker in Markesan who could manufacture rivets for her tall copper cookware. From there, she worked with each business to coordinate the design and manufacturing for her line of custom historically-inspired products.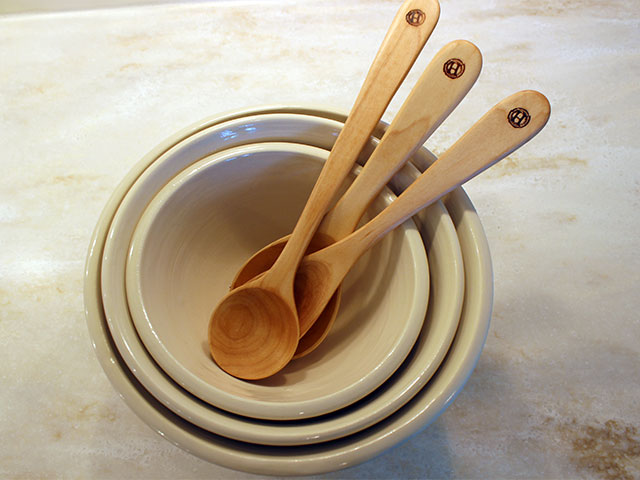 "Starting this business, and creating these items, stems from a desire not only to have things that are local, handmade and built to last, but also the simplicity in the design. For me, I like looking at something and knowing it was made by a modern machine, but that it looks like it was made 100 years ago."
Total immersion
Interestingly, as Dahmen moved the business forward, she found herself even more connected to the world of historical reproduction.
During her research, she discovered Bob Bartelme, a master tinsmith from West Bend. Intrigued by his work, she paid a visit to his shop, where he recreates historically accurate reproductions of historical tin and copper cookware, army mess kits, kettles – generally anything that can be used in a kitchen and beyond.
"I thought, 'This is ridiculously cool,'" says Dahmen. "It was this big tin shop in this converted garage. It's like stepping back in time, but with modern efficiencies. There were tools on the walls from the 17 and 1800s. And there were tools he uses that date back to the 1700s. And it was just so cool that he was carrying on those traditions."
Dahmen found herself enrapt by the idea of learning this swiftly disappearing trade. So she asked Bartelme if he would consider taking her on as an apprentice. Bartelme agreed.
"Beyond the saving of a craft, it's just really great to be close to it, to be hands on," says Dahmen. "The tactileness of working with the metal and creating things, it's so great. Even better, there's real value in understanding how things are put together. It feeds the research and my understanding of how things were built."
She's also been able to immerse herself in both the artistry – and the science – behind some of the world's most beautiful kitchenware. Take copper, for example.
The allure of copper
Currently, Housekeeper Crockery carries two types of tall copper pots, under the name House Copper pots, available in two and three quart sizes (priced at $325-400 each, with lids available for an additional $150). In the photo below, you can see a Housekeeper Crockery House Copper pot, alongside a reproduction similar to those used in the early 1800s.
They are beautiful. And yes, they carry a somewhat weighty price tag. But Dahmen underscores the fact that the practicality of the cookware goes well beyond its reputation as something fancy or beautiful.
"There are huge misconceptions out there about copper cookware," she says, "... that it's not thick enough or that it needs to be paired with stainless steel to be useful. And that's simply not true. On the scale of conductivity for metal, the higher the number the faster and better it conducts heat. Pure unalloyed copper comes in at 385 while stainless steel is a 12 or 14. When you cook with copper, it's like painting with your food. You have complete control of your heat. And you don't need as much energy because it conducts so well."
Because it conducts heat so well, copper uses far less energy than other materials to attain the same results. Add that to the fact that copper is a renewable resource that's 100 percent recyclable, and you're looking at a cookware option that's the greenest of green.
And if you're looking to save money buy purchasing stainless steel lined copper cookware, think again.
"First, you're negating the reason why you're cooking with copper. The stainless steel takes so much longer to heat up, and the mechanics simply don't work," she says. "And because of the temperature differential between the metals, eventually the stainless steel warps. And then you're looking at replacing your pot."
As a result, Dahmen's pans are lined with tin.
"If you've cooked with stainless steel, you know that things stick to it," says Dahmen. "But tin is nonstick. It's like an all-natural teflon. Beyond that, there's an actual molecular bond between tin and copper. They're both non-ferrous metals, so they form a bond that's permanent. They conduct heat together. They won't pop apart. And as a result, the pans will last forever."
As for the price point, Dahmen admits that copper is an investment.
"The nice thing is, you just need a handful of really great cookware in a functional kitchen," she says. "And when you know that it will last, that can literally be passed on for generations, you're actually saving money in the long run."
Housekeeper Crockery products can be found online at housekeepercrockery.com, as well as at Blue Heron Artisan's Marketplace in Port Washington and Rustic Palate in Cedarburg.
Facebook Comments
Disclaimer: Please note that Facebook comments are posted through Facebook and cannot be approved, edited or declined by OnMilwaukee.com. The opinions expressed in Facebook comments do not necessarily reflect those of OnMilwaukee.com or its staff.