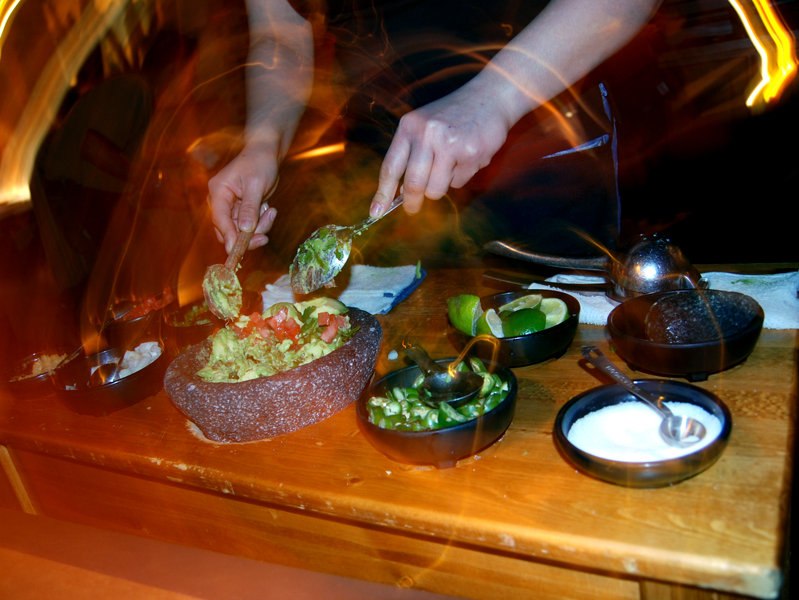 Popular Jose's Blue Sombrero offers quick fare
With a name like Jose's Blue Sombrero, and a tagline of "hip, cheap and no sleep," diners at Jose's Blue Sombrero, 20371 W. Bluemound Rd., Brookfield, are likely not looking for freshly made, authentic Mexican food when they walk into the doors, but rather a party atmosphere, margaritas on tap and drive-through fast Mexican food -- and that's exactly what they'll get -- after the lengthy wait for a table, which on one visit, was close to 45 minutes.
Jose's immediately reminded us, décor-wise, of the extinct Chi Chi's chain of Mexican restaurants, with loud colors and flashy menus. The Brookfield location is popular, with a healthy bar crowd and slews of people waiting for tables at the front entrance; I asked around and heard the same about the Racine location: it appears you can usually expect a wait at both locations, especially on a busy weekend night.
Jose's offers standard, quick, non-spectacular Americanized Mexican fare with some interesting options added for good measure. If you conflate your ideals of what you expect to find at a 6th Street Mexican restaurant in Milwaukee with the menu of a bar appetizer list, you'll have Jose's menu at your fingertips.
Starters like ranchero wings ($6.95) and jalapeno poppers (jalawhoppers, $6.45) join nachos ($6.25) and a tableside guacamole ($7.65), for a Mexican meets American dining spin.
The tableside guacamole is a fun addition to the menu, and is mixed fresh at your table in record time. Jalapenos, onions, avocado, cilantro and tomato make up the mix -- the making of which is entertaining to watch -- and pleasantly hot, but is conspicuously missing a squeeze of fresh lime juice.
The entrée section of Jose's menu mirrors the appetizers, with hamburgers ($5.95-$7.95) and a Southside of Philly beef sandwich ($7.75) adjacent to tacos ($8.25) and burritos ($9.25).
Chicken enchiladas ($9.75) rolled three corn tortillas with shredded chicken in a tomato heavy enchilada sauce that tasted closer to a marinara. Beans and rice are standard accompaniments with the enchiladas and most of the Platos Especiales that venture into seafood combinations with chipotle cream sauces (seafood burritos, $13.95) and roasted chicken with potatoes (Benjamin Adrian's Pollo Ala Parrilla, $12.45). And while tack tacos ($8.25) with beef were unremarkable, they were on par with other Mexican restaurants of this genre.
Service at Jose's was fast and flawless, and a pitcher of water pre-positioned on our table guaranteed there was never a moment with an empty glass. All told, even on the evening with the 45-minute wait, we were in and out in under 90 minutes with our food flying out of the kitchen almost as we ordered it.
Facebook Comments
Disclaimer: Please note that Facebook comments are posted through Facebook and cannot be approved, edited or declined by OnMilwaukee.com. The opinions expressed in Facebook comments do not necessarily reflect those of OnMilwaukee.com or its staff.