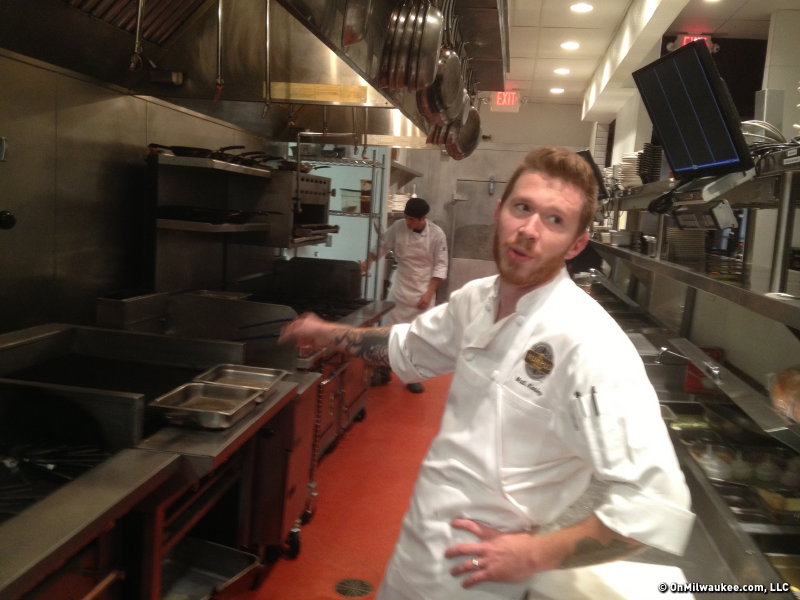 Featured chef: Rumpus Room's Matt Kerley
For the sixth straight year, October is Dining Month on OnMilwaukee.com, presented by Concordia University. All month, we're stuffed with restaurant reviews, delectable features, chef profiles and unique articles on everything food, as well as the winners of our "Best of Dining 2012."
As the Bartolotta Restaurant Group readied its two new Joey Gerard's supper clubs to open in September, a chain reaction also affected other restaurants in the group. For example, when Chef Andrew Ruiz was hired to run the kitchen at the Mequon supper club, it left an opening in the kitchen at The Rumpus Room on Water Street Downtown.
Enter Chef Matt Kerley.
Upon his arrival in August, Kerley tinkered the menu at Rumpus Room, in Lori Fredrich's words, "re-focusing their sights on charcuterie, cheese, a large selection of frequently changing small plates, large plates, sandwiches, salads and desserts."
Clearly willing to keep things fresh, Kerley revisited the menu again in October.
Though he's still getting comfortable in his new position, we checked in with Kerley to ask him about his background, his favorite places to dine in Milwaukee, his must-have kitchen gear and more.
OnMilwaukee.com: What kind of experience and training brought you to your current position?
Matt Kerley: I started cooking in high school and fell in love with the excitement and creativity that comes along with the restaurant business. After a few years of fine dining in the Carolinas, I moved to San Francisco to further myself in technique and philosophy of food. I think that having a positive attitude along with confidence and hard work has paid off.
OMC: You've tinkered with the menu twice in recent months, what was the reasoning behind that?
MK: My hope was to instill in our guests that we are an ever-evolving kitchen that will always push to better itself by expressing our love of food through our menu.
OMC: What menu items have become customer favorites during the first year?
MK: Definitely the pork schnitzel.
OMC: Are there whose popularity have surprised you a bit?
MK: I was surprised to see the sautéed clams out-sell the mussels.
OMC: Have there been challenges at Rumpus Room navigating the waters of more casual dining when Bartolotta Restaurant Group is generally viewed as a more upscale brand?
MK: Well, our company knows hospitality. I believe that our diners instantly knew to expect only the best from us, and that is what we always strive to offer. However, we have successfully shown the dining public that we can offer high standards in a casual setting.
OMC: What do you like most, and least, about your job?
MK: My absolute favorite moments always come when creating, tasting and talking about new dishes. It is hard for me to say that there is something that I like least. I love my career with passion. I would have never made the sacrifices I have if I didn't enjoy everything about being a chef.
OMC: What are your favorite places to eat out in Milwaukee?
MK: I''ve always been a sucker for my neighborhood spots, no matter what neighborhood I live in. My family and I live in Bay View and frequent Honeypie. Hinterland, The Noble, Roots, Odd Duck and Tenuta's are among some of our go-to joints. Yet, we seem to mostly end up at Rumpus Room.
OMC: Do you have a favorite cookbook?
MK: The "Ideas in Food" cookbook (by Aki Kamozawa and H. Alexander Talbot) has always been a favorite, yet there are too many to name just one.
OMC: Do you have a favorite TV or celebrity chef?
MK: Honestly, no. I've generally tried to stay away from the Hollywood side of cooking.
OMC: What's been the biggest development in the culinary arts over the past 10 years?
MK: I would have to say casual dining. When the economy took a downturn, most diners didn't have the luxury of eating out for a regular meal anymore. Though we have always had access to the "golden arches," I recall times around 2004-2008 where we had to reevaluate our price points and concepts. Now we, as chefs, have the enjoyment of marrying great food and great beverage in an extremely approachable way that lets diners enjoy all of the excitement of eating out while maintaining a healthy budget.
OMC: What kitchen utensil can't you live without?
MK: My Kunz spoons, or a chinoise.
OMC: What's the next big trend in food?
MK: So hard to say with all that has trended in the last 12 years since I've been cooking. I would like to think that we will continue to grow in sustainability and awareness by really understanding what is happening in our oceans and the potentially negative effects of factory farming.
OMC: What's the toughest day / night to work in the restaurant biz?
MK: Sundays are always hard.
OMC: What is your favorite guilty dining pleasure?
MK: Tenuta's thin crust pizza, or lengua tacos from any truck I pass.
Facebook Comments
Disclaimer: Please note that Facebook comments are posted through Facebook and cannot be approved, edited or declined by OnMilwaukee.com. The opinions expressed in Facebook comments do not necessarily reflect those of OnMilwaukee.com or its staff.