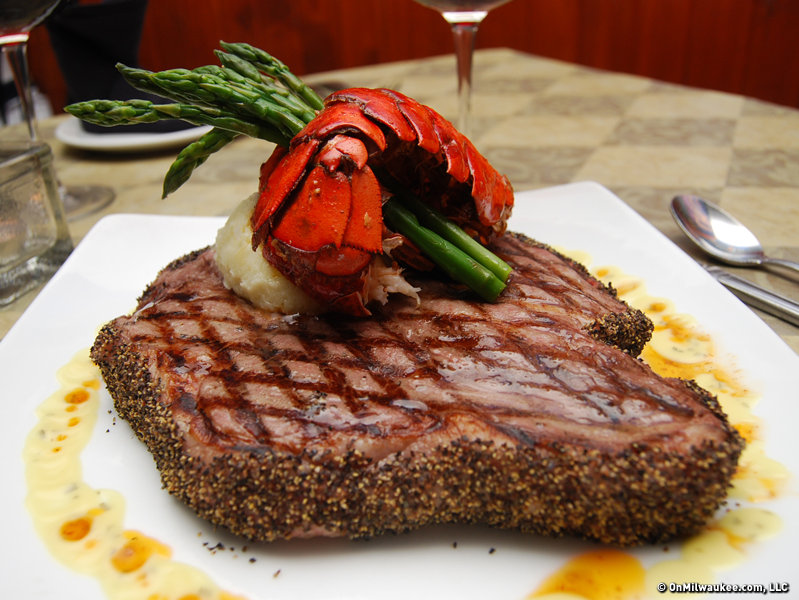 Scouting report: Kurt's Steak House in Delafield
For many, the term "steak house" in recent years has come to mean "à la carte."
Everything from a salad to a baked potato to a smattering of mushrooms or blue cheese can be added to your naked steak -- for a price.
So, going to Kurt's Steak House in Delafield, 22 W. Main St., not only offers a flashback in the form of ambience and décor, you'll also be drawn back to the days when steaks were served below the $26 mark with soup or salad, mushrooms and potatoes included. Kurt's even throws in a heaping pile of haystack onion rings for good measure.
Kurt's is a 50/50 blend of Wisconsin supper club and Rat Pack nostalgia. The supper club portion shines through with paneled walls and vinyl table cloths, a large, busy bar and a basket of rolls on the table.
The Rat Pack feel comes from Frank Sinatra pictures and murals, peppered throughout the restaurant, with a painted mural of The Sands and a full Vegas scene in one room. Frankie's jailhouse booking picture hangs in another, and other Rat Pack memorabilia is displayed in the entryway, bar, and back dining area.
The menu at Kurt's is what one would expect in a supper club. It even throws in two items you're likely hard-pressed to find in most Milwaukee area steak houses; an appetizer of crisp sautéed chicken livers ($5.95) and an entrée of sautéed calf's liver ($12.95).
There are also nightly specials like all-you-can-eat peel and eat shrimp ($12.95) on Wednesday, all-you-can-eat baby back ribs on Thursday ($16.95), and of course, a Friday fish fry and Saturday night prime rib special.
Steaks, unsurprisingly, take up the better part of the menu, with all standard cuts available, and all ringing in at $25.95 or less, with soup or salad, mushrooms, choice of potato (garlic mashed or an au gratin style parmesan potato) and onion rings.
Kurt's also offers a few off-the-menu seafood selections and a page of specialties, including Italian-influenced dishes like chicken Vesuvio ($15.95) and veal Marsala ($18.95). Again, these entrees come with choice of soup or salad and potato.
A popular petite filet appears in this section for $12.95; but the price doesn't belie the portion. Even though the steak appears to be somewhere between 4 and 6 ounces all in, with accoutrements, it makes for an easy and inexpensive meal.
But, if you feel like you still need to order an à la carte option for your dish, Kurt's offers sautéed asparagus or creamed spinach for $3.95.
Wines at Kurt's, too, are reasonably priced, with most coming in around $30 a bottle, and they are pleasantly well-selected.
Expect to see the cream of the crop in this lower price range, with very little room for error-like their entrees, you can order any of their bottles with confidence that you will get a good value for your dollar.
abewsyzdawcusfyfvffatfdqsyyvudyeduzfza
Facebook Comments
Disclaimer: Please note that Facebook comments are posted through Facebook and cannot be approved, edited or declined by OnMilwaukee.com. The opinions expressed in Facebook comments do not necessarily reflect those of OnMilwaukee.com or its staff.