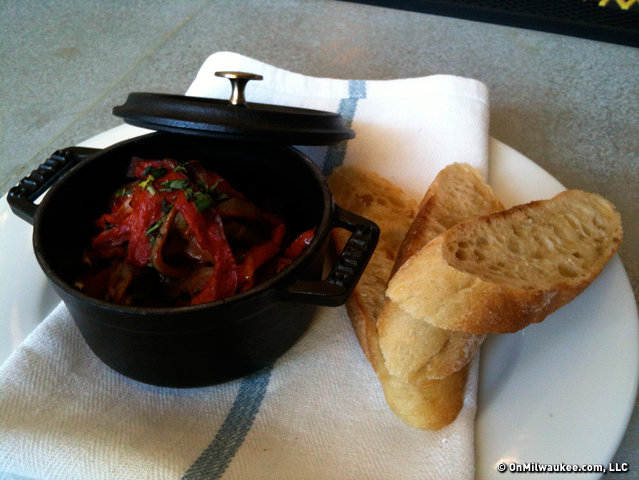 Le Reve's new small plates add flavor to happy hour
As Lent came to a close last week, Wauwatosa's French bistro, Le Reve, brought its annual Lenten fish fry season to a close. The restaurant's Julie Gostisha said the fish was as popular as ever.
But with a new season comes another change at Le Reve. On Monday, the restaurant launched a new happy hour tapas menu that is available Monday through Saturday, from 3 until 5 p.m. Le Reve is closed Sundays.
In the past, Le Reve has served its lunch menu right up until dinner kicked in. Now, lunch is served from 11 a.m. until 3 p.m., the happy hour menu leads into dinner, which begins at 5 p.m. Dinner is served until 9 p.m. Monday-Thursday, and until 10 on Friday and Saturday.
Le Reve already had a modest small plates menu available that offered cheese and charcuterie plats along with mussels. The new menu keeps those items, but adds three fries options, four other "petits plats" and a five tartines and rillettes.
Some of the dishes arrive "in pieces" (crostini and a spread and garnish, for example), that allow the diner to assemble them to taste.
"We're trying to make it a more interactive experience," says sous chef Patrick Murphy. "More build it yourself."
Murphy says that he created the dishes – some of which have been available as appetizers or specials in the past – along with sous chef Gil Petrovic and Le Reve owner and chef de cuisine Andy Schneider.
He said they spent a long time experimenting, taste testing and getting the menu ready to launch. The result is a good mix of flavors that will suit most any palette and preference.
"We tried to make it vegetarian-friendly," says Murphy. "(Plus) there are a couple different meat items, a couple seafood items. So it can appeal to everybody."
Recently, I tried a variety of the offerings and was wowed in every case. I've yet to try the fried duck wings, which, says Murphy, "are a French twist on an American classic."
Smoked trout rillettes ($6) offers a subtle "pate" of fish with toasted baguette. Adding complexity is a mix of pickled red onion and capers.
The sweet and savory wild mushroom tartine ($6) pairs the same baguette with sweet, buttery chevre and a mix of sauteed wild mushrooms and herbs on top.
The Basque crostini ($6) marries toasted bread with what at first appears to be a very Italian-American-style piperade peppers and onions mix (there's chorizo here, too, which makes the comparison even more obvious). But hiding beneath the explosion of color and flavor is a sweet surprise in warm herb cheese.
My favorite of all, however, were the crispy fried artichokes, which arrived two on a plate ($6), looking a lot like fried chicken legs. But one bite into the tender, delicious hearts (the stem makes a great handle if you eschew the knife and fork) erases that notion. No, these are savory, addictive treats that are a revelation.
A few plates will do just fine for most diners, says Murphy, and I agree.
"We figure about two or three plates per person and you've got a meal," he says. Plus, you get a variety of flavors and an interesting mix of textures and experiences.
The plates run from $4 to $6 and build your own cheese and charcuterie platters (from three selections to 11) run $6.95-$14.95.
cysttbzttv
Talkbacks
Andrea0208 | April 13, 2012 at 1:08 p.m. (report)
A friend and I came into Le Reve on Tuesday to try out the new tapas menu and it was awesome! We split 6 tapas which ended up being a bit too much for two people but everything was great and the prices were good. The duck wings were my favorite. I've never had anything like them. Le Reve never disappoints!!!
Facebook Comments
Disclaimer: Please note that Facebook comments are posted through Facebook and cannot be approved, edited or declined by OnMilwaukee.com. The opinions expressed in Facebook comments do not necessarily reflect those of OnMilwaukee.com or its staff.