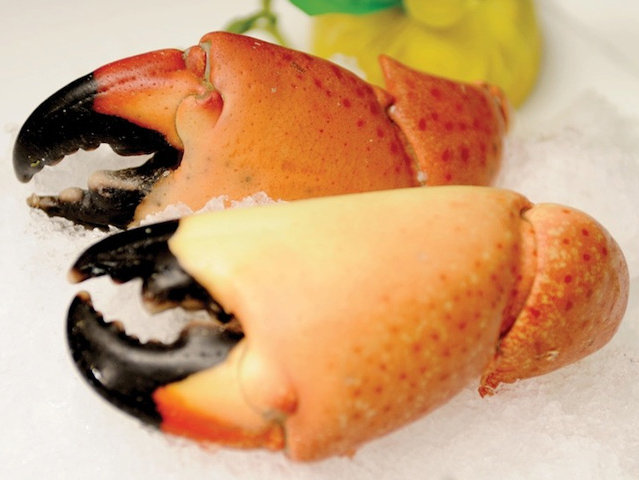 Mason St. Grill chef hits the open sea to source fresh crab claws
There are a handful of places you can enjoy the fresh from the sea Florida Stone Crab claws that small Offshore Seafood catches in its traps off Clearwater Beach. All but one are in Florida.
Luckily for us, that one is Mason Street Grill. Thanks to an efficient processing system and overnight shipping, Mason Street's kitchen gets the meaty, delicious claws about as soon as its Florida counterparts do.
The claws are available at Mason Street Grill – served with a tangy Miami Beach Mustard Sauce – during the crab season, which runs from mid-October through May.
"We've been doing stone crabs for a few years now and the issue in the past has been sourcing the right ones, finding great quality," says Mason Street Grill general manager Ed Carrella.
"Unfortunately if you go through a large vendor, they're going to grab from many different companies. It's hard to tell what you're going to get. So (Chef) Mark (Weber) and I said, 'what do we do to get consistent quality stone crabs?' So we said, 'Let's try and source directly.'"
Carrella says in the past that because of inconsistent quality on offer from vendors, Mason Street Grill sometimes had to go without crab claws.
"We didn't want to jeopardize the quality to our guests," says Carrella.
So, says Weber, he called a Texas fishing connection he made when he owned Watermark on the East Side. That connection led him to Offshore Seafood.
"This is a direct source. This is the best quality stone crab you're going to get in Milwaukee," says Carrella, who adds that Offshore wanted to show off its product by offering Weber the chance to fish the crabs himself.
"(He said) 'Why don't you come on down and see our operation,'" says Carrella. "'Come on the boat, fish the stone crabs, see what we do and I can assure you it's the best quality.'"
So, Weber flew down and went out at the start of the season, in mid-October.
"It's pretty labor intensive," says Weber. "I hadn't done that before. They put out an amazing amount of traps. This one boat puts out about 10,000 box traps. Put a little bait in them (pig trotters). They work up along Clearwater Beach area, six to eight miles, the water's about 50 feet deep. It's a big working boat, it's about 30 feet long and there are two working winches on board."
Weber says that the traps are pulled up, they snap the claws off and throw the crabs back overboard. The crabs can regenerate their claws a number of times across their lifetime.
"Seeing them coming out of the water is great, but more importantly for us is the process of what happens to them after they come out of the water and how quickly we get them," says Weber.
"They keep them in saltwater. They're cooked immediately and sorted immediately. They're super chilled and ready for shipping. It's out of the water and at the plant at 2, shipped by UPS at 6 and we have them at 10 the next morning. It's great."
The claws, which are now available to Mason Street diners in two sizes and in a variety of quantities, have become extremely popular at the restaurant, which is located in The Pfister Hotel.
"We figure we've about tripled our sales in stone crabs," says Carrella. "I was shocked. Within the first few days, it was incredible. We ran out a couple times right in the beginning. That's a good problem to have."
The result is that Mason Street Grill now realizes just how much growth potential there is for certain menu items, if superior quality can be guaranteed via direct sourcing.
"What we're finding is direct sourcing is the key to great quality and is something that's great for a restaurant to do," Carrella says.
"When it comes to the high-end, high-cost, high-quality items on your menu, I think it's important for a restaurant to give that to their customers. To say, we not only give you the highest quality, but we source it directly. We go out to Florida, we go out to Boston to find the best quality."
Carrella and Weber have also been direct sourcing other fish, like grouper and snapper, from Offshore in Florida and has found a direct source for lobster, too. When lobster season begins, Weber will head out to Boston to try his hand at catching them, too.
"We're not holding off on quality," promises Carrella. "We're going to take the time and we're going to find someone who takes care and we will bring them to Milwaukee."
Facebook Comments
Disclaimer: Please note that Facebook comments are posted through Facebook and cannot be approved, edited or declined by OnMilwaukee.com. The opinions expressed in Facebook comments do not necessarily reflect those of OnMilwaukee.com or its staff.