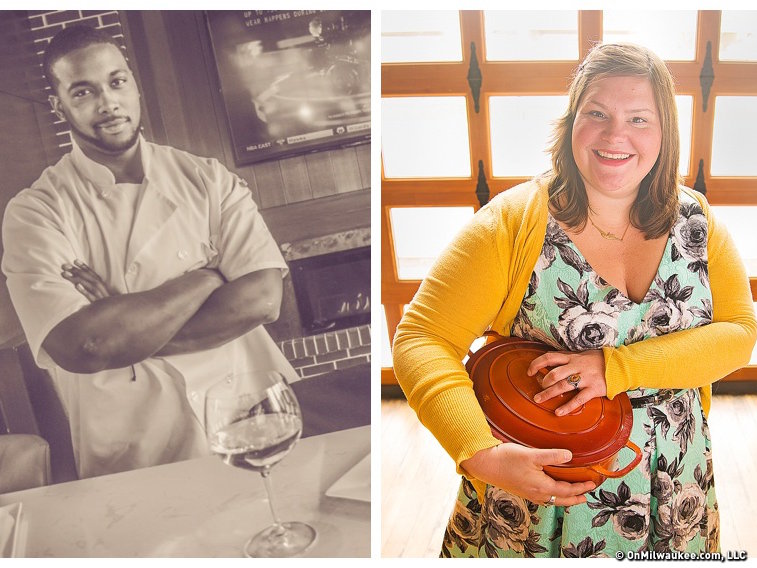 Two Milwaukeeans compete in sixth season of "MasterChef"
How does it feel to be chosen as one of 40 of the nation's best home cooks?
Just ask Katrina Kozar or Taylor Moore, two Milwaukeeans who made the cut for the sixth season of "MasterChef," the competitive cooking reality show that kicks off tonight at 7 p.m. on the Fox Network.
Kozar, who works as an administrative assistant at UW-Milwaukee, spends her free time cooking. But, she's also a member of the Professional Disc Golf Association, placing first in the Advanced Women category of the 2014 Silver Cup XIV tournament in Manitowoc.
Moore, who was born and raised in Milwaukee, works as a transportation consultant for Integrated Shipping Solutions. When he's not assisting businesses in streamlining their freight needs, he's in the kitchen cooking up delicious treats for his family.
In the premiere, both cooks will travel to Los Angeles with 38 competitors to present their signature dishes to judges Gordon Ramsay, Graham Elliot and Christina Tosi. Once the Battle for the Apron concludes, the top home cooks will be put through their paces in a series of challenges designed to test their palates, food knowledge, passion and culinary skills.
Later, the hopefuls visit an amusement park to create amusement park-themed meals; cook for Las Vegas jugglers, magicians and dancers; visit a cattle ranch to prepare meals for ranchers and cowboys; and face the infamous restaurant takeover.
With each new challenge, the pressure will mount as the home cooks compete for the coveted title of MASTERCHEF, a cookbook deal and the $250,000 grand prize.
I connected with Kozar and Moore this week by phone to ask them about some of their initial experiences on the show as well as some of the things they feel will make them stand out. Here's what they told me.
OnMilwaukee: Tell me a little about your background as it relates to food and cooking.
Katrina Kozar: I came from a family who first loves to eat, and secondly loves to cook. I was the youngest of four daughters. My mom was a stay at home mom, and she really gave all of us free reign in the kitchen. She was interested in organic healthy food. I remember drinking carrot juice and eating sprouts. And we had two big gardens. It was also economically important for us to stay home and cook, since we had a big family. My dad did a lot of grilling; he was a great cook as well. So, we all worked together, cooking and trying out recipes.
Overall, my entire family was really interested in food. For us, showing love was all about spending tie in the kitchen and cooking for people. The kitchen was really the heart of our home.
Taylor Moore: I started out cooking from about the age of seven. My first dish was a grilled cheese, and it went from there.
For me – and this is going to sound so cliché – but it really started with my grandmother. She's from Arkansas, and I spent my childhood eating her cooking. I'll never forget one of my first memories of her in the kitchen. I was about ten years old, and my grandmother was cooking greens – mustard greens, turnip greens. I really just ate everything that she cooked. And that developed my palate.
OMC: What made you decide to audition for "MasterChef"?
KK: I've been watching the show for the last three years. And season three really captivated me. My boyfriend Alex has been my cheerleader for the past few years, encouraging me to be on the show. At first I was pretty insecure, thinking I'd never make it onto the show. But now…
TM: Cooking has always been a passion of mine. And I was at a point in my life when I'd graduated from college and I was really trying to figure out what was central to my life. And food really spoke to me. The audition in Chicago was on my mom's birthday, and I just decided to do it. A few days before I got cold feet, but then I went and did it and had the best time of my life.
OMC: How do the signature dishes you submitted for the competition reflect your personalities and backgrounds?
KK (signature dish: pan-seared salmon with Penang curry and peas with jasmine rice): Dad is a big hobby fisherman. So, we always had fish coming out of our ears. Lake trout, salmon, bluegills, walleye. So, the dish is a homage to my family – and to Wisconsin, really. You talk about Friday fish fry in Wisconsin, well we did that at home. On Fridays, we'd have grilled salmon or trout with slaw.
I also really love Thai food. So, I wanted to do a bit of a flip on it. So, I made the curry, and added peas, since they were a staple in our family. And I included the slaw – which was a cucumber and Napa cabbage slaw – to bring part of our traditional meal into the picture.
TM (signature dish: blackened salmon with pineapple salsa): Everything that I cook, I literally put myself into it. So, every dish I make is a signature dish. It will be different from how Graham or Gordon cooks it. Because it's an expression of me. For the signature dish I really wanted to get a balance of flavors, and I think that really reflects on the way that I cook. Something sweet and smoky, and the flavors really balance one another out.
OMC: "MasterChef" tends to cast a variety of "characters" on the show. There are the funny, outgoing ones, the super competitive, cut-throat ones. Which one are you?

KK: Well, I'm 34. I'm very honest and hard-working. I'm also very knowledgeable about how to cook, but I feel as if personally I don't always believe that. But, I'm hard-working and determined. And for me, recipes and research and cooking – it's the reason why I get up in the morning. It's the thing that makes me tick.
For me, it's about bringing integrity to the show. That's who I am. I was raised in a German Slovanian family where we've always worked hard, and that's really essential to me. You do your best every day and you don't let yourself down.
TM: In terms of my personality, I'm very focused. I'm a former athlete. But, I'm also a total goofball. I'm a kid at heart. I'm doing impressions all the time, like Barack Obama. You can ask anyone. I'm having fun, that's just me.
But, when the lights come on, I'm ready to play. And I really love to win.
OMC: What was the most difficult part of being on the show?
KK: We're the top forty. So, you're constantly comparing yourself to other people – people from around the U.S. You're constantly evaluating who's better than you, and if you're better than they are. It's a competition, first of all. And we're competing to win.
TM: Being able to transfer cooking from home – in the kitchen that you know – to working in a completely different kitchen that's not yours. Any chef will tell you they need to be in control of their environment. And so the toughest part for me was making sure that I could control that environment. I mean, you have three talented individuals who know just about everything about food, watching you cook. Getting adjusted to that was challenging.
OMC: What was the best part?
KK: Being with world-renowned chefs – that was awesome. Being picked as part of the top 40. That's something I'd never dream of. It's really hard to think that a sweet, hard-working girl from Milwaukee would make it onto this show. And it's a show I love. So, that's just been really great.
I'm also meeting people that I wouldn't have met otherwise – people who all have a common thread. I'm there with all these people who love cooking as much as I do. And I'm actually really looking forward to hanging out with some of them outside of the show.
Being in Southern California during the winter months, that wasn't bad either.
TM: Honestly, it was really meeting all the other individuals who were as in love with food as I was. Those people love food so much, and it's amazing to share those experiences. The camaraderie, the love between the people. We just totally nerded out together.
OMC: What type of cuisine do you most enjoy cooking?
KK: I'm not one specific genre; I'm pretty eclectic. I love to cook gumbo, soups and stews. I also love salads. And of course I love Thai food. Being raised in a German household, I also enjoy German food. I make mustard, so anything to do with that, I'm all over.
I don't really have a style. But, I tend to focus on down to earth wholesome cooking. It doesn't always have to be fancy; it doesn't always have to be lobster. I mean, if you want lobster, I can cook it. But, I'm constantly researching and thinking about food, and then creating.
Other people go out to the bars for entertainment. I cook. I look in peoples' fridges, and create things off the cuff. It's just who I am.
TM: I'm more of a cook than anything. I can bake, but I generally focus on cooking. And I really try to make dishes contemporary and make them taste good. So, starting with great ingredients and matching flavors is what I'm really focused on.
Contemporary American food is really where my focus lies. In a way, my style is somewhat regionally specific. It's kind of like French traditional meets southern. I use lots of spices, lots of different pairings. Just the other day I made aiguillette de poulet with braised Swiss chard and mashed sweet potatoes with butter and ricotta. The sweet potatoes were very southern; they're a staple of African American soul food. And I braised the Swiss chard like my grandmother would do. On the other hand, the chicken aiguillete is a very French inspired dish made with chicken tenders. So, I really try to bring together all those flavors and types of cuisine.
OMC: Is there anything else you'd like people to know about you before they see you on the show?

KK: I'm just really passionate about food. And I love the Midwest and Milwaukee especially. And I really feel the best when I'm in the kitchen, so this opportunity is something exciting, something I've never dreamed of. I'm actually really excited myself to see the premiere
TM: That's a very deep question. I really wanted to go on the show The biggest thing for me – especially for everything going on in America right now, and even here in Milwaukee – I want to be an advocate for African American men. We can be athletes, college educated, upstanding citizens. And we can cook. There's so much diversity among my community. And I really wanted to represent that; it was important to me to show that side of Milwaukee and really communicate that to people who are watching.
cwcfydeubvuzvadx
cwcfydeubvuzvadx
Facebook Comments
Disclaimer: Please note that Facebook comments are posted through Facebook and cannot be approved, edited or declined by OnMilwaukee.com. The opinions expressed in Facebook comments do not necessarily reflect those of OnMilwaukee.com or its staff.