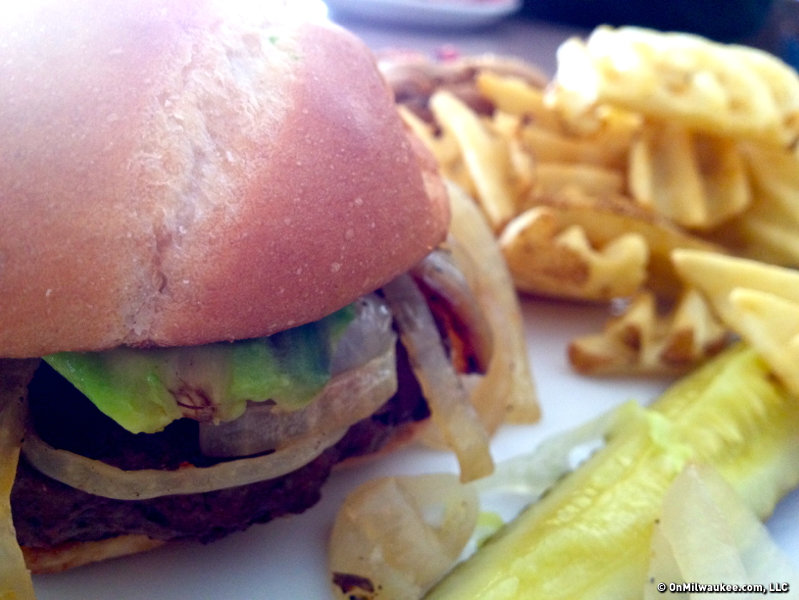 The best burger in New Berlin?
I was amused and intrigued to get an e-mail, out of the blue, from an old colleague I've seen twice in the last 15 years. Joe is a mentor from before I even launched OnMilwaukee.com, and apparently, he's quite the beef enthusiast.
"Can I buy you the best burger in New Berlin?" he asked.
That invitation to catch up with an old friend, not to mention score a free lunch, was too good to pass up, so today I made the 25-minute drive to Matty's Bar & Grille, 14460 W. College Ave.
I'm not sure if I've ever ordered another hamburger in New Berlin, so I can't say definitively if it was the best. But I'd stack it alongside the best burgers I've had in Milwaukee, so it's very possible that it is.
Matty's hangs its hat on what it calls the "Smokehouse burger," a combination of Angus beef infused with their own smoked brisket. Starting the this month, they unveiled a different burger of the day, complete with a "Kopp's Custard" style list to take home. Today's burger, for example, was "The Firehouse," consisting of Havarti and provolone cheese, spicy ham, jalapeños, pepperoncini, ketchup, mayo and fresh dill on an Italian roll.
I opted to create my burger, if only to participate in their "burger creation contest." When I saw their list of artisan cheeses, I opted for a burger with a Asiago blend from Sheboygan with caramelized onions, avocado slices and Cajun sauce.
It was pretty great, though a little less salty than some of my other favorites like Kopp's or Oscar's. And whether I win the contest or not, I shall call my creation the OnMilwaukee.com Burger. Ask for it by name (but be prepared that no one will know what you're talking about).
Milwaukee is a town of many, many great burgers, so I'm not sure I'd drive all the way across town for this one (though apparently, their pizza is great, too). I liked the ambience and good service, however; and if I found myself tooling around the southwestern suburbs, I'd definitely stop back. If you're in the neighborhood, you should give Matty's a try, too.
zzrbudxfeadvxwrvywyefq
zzrbudxfeadvxwrvywyefq
Facebook Comments
Disclaimer: Please note that Facebook comments are posted through Facebook and cannot be approved, edited or declined by OnMilwaukee.com. The opinions expressed in Facebook comments do not necessarily reflect those of OnMilwaukee.com or its staff.