Oh, the delicious irony: McDonald's owner dines out seven nights a week
Season's eatings! The weather may be getting colder, but Dining Month on OnMilwaukee is just cooking up, dishing out your winning picks in this year's Best of Dining poll. Dining Month is brought to you by Fein Brothers, your premier food service equipment and supply dealer in Wisconsin since 1929. Congratulations to all of the winners, and happy eating for all those who voted! See all the winners for the month so far here.
On March 16, 1971, Marshall Chay – who was 16 years old at the time – reported to McDonald's on 35th and Juneau for his first day of work. His job was to "dress" the burgers with ketchup, mustard and pickles and his wage was $1.35 per hour.
Fast (food) forward 46 years, and Chay now owns two McDonald's restaurants, 6631 W. North Ave. and Highway 100 and Burleigh. Today, he still works the drive-thru at his North Avenue location every morning.
"I've literally done every job in the restaurant, and my favorite is working the drive-thru," says Chay. "I love presenting the food to customers – we have about 100 per hour every morning – and interacting with them."
Chay says dozens of customers come through the drive-thru or into the restaurant every morning specifically for soda.
"McDonald's has the absolute best carbonation system," he says. "It is maintained at the best possible level possible. We change the filters three times a year and if we have any issues we have someone come immediately to fix it."
Chay, who appears to be a fit man, says his favorite menu item on the McDonald's menu is – and always has been – the Big Mac. However, he eats a lot of salads and parfaits – also on the McDonald's menu – to ensure good health.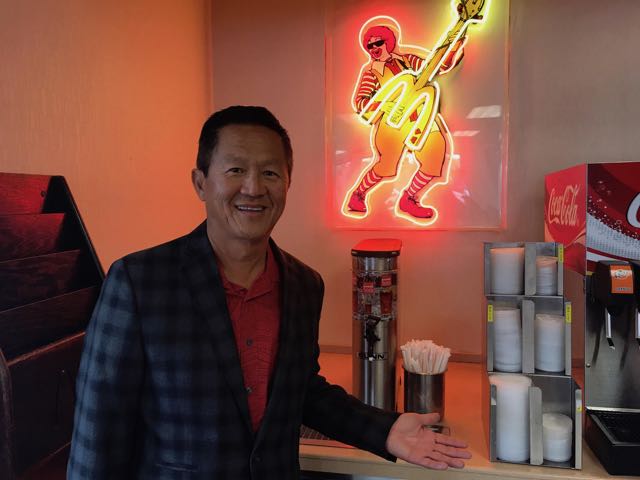 Although the consistency of McDonald's food at every location has been one of the reasons for its success, Chay sometimes experiments with ingredients behind the scenes.
"I've tried lots of different combinations back there," says Chay. "A lot of items, including the Big Mac and the fish sandwich, were invented by store owners."
Depite his adoration for McDonald's food, Chay is a hardcore food enthusiast who eats out seven nights a week in restaurants all over the city.
"I love so many restaurants. For Italian, Il Mito. For French: Maison. For Mexican, I like BelAir," he says. "I live in Wauwatosa, four blocks from my restaurant, and I like to support local businesses."
Chay often journeys beyond the neighborhood for meals and cites Eddie Matini's, Coquette Cafe and Benji's as a few more of his favorites.
"I just love food: Thai food, Indian food, Chinese food," says Chay. "And of course, McDonald's food."
Chay came to the United State from Seoul, Korea in 1963. His father emigrated to Wisconsin in the late '50s, earned a degree from the University of Platteville and secured a job as a math teacher before he brought over 8-year-old Chay, his brother and mother.
In Korea, Chay was in the third grade, but because he did not speak English, when he moved to Milwaukee he was placed in the first grade at Walt Whitman Elementary School.
"I was immersed in English language culture and the language, but I couldn't remember how exactly I learned English," says Chay. Thus, he sent his four now-grown children to MPS' French Immersion School so they would have the experience of learning another language, and so he could recall the process he went through as a child.
For 12 years, Chay has served on the board of directors for the Ronald McDonald House and is in charge of its annual gala and golf outing.
"Giving back is very important to me," he says. "More important than food."
Facebook Comments
Disclaimer: Please note that Facebook comments are posted through Facebook and cannot be approved, edited or declined by OnMilwaukee.com. The opinions expressed in Facebook comments do not necessarily reflect those of OnMilwaukee.com or its staff.