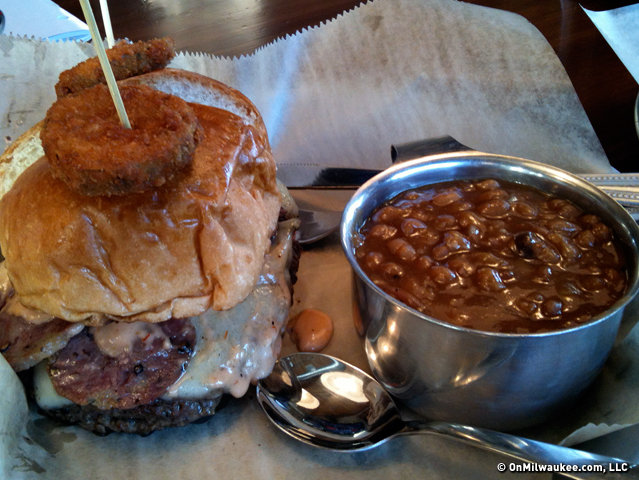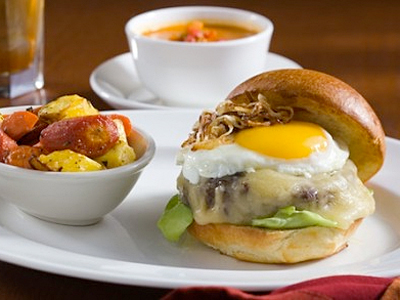 Comfort foods reign on new menus
Trends may come and go, but at least in Milwaukee, a passion for comfort food endures. Big, hearty dishes are the stars on a range of new menus in local eateries.
Stack*d Burger Bar, 170 S. 1st St., in Walker's Point, has whipped up a new menu based on some of its most popular specials.
There's a sizzling hot inferno sauce slathered on chicken wings, house-made baked beans and more than a half-dozen new sandwiches, including an overflowing bahn mi, a cool and refreshing lobster roll and a dastardly alluring Kick in the Pants Burger topped with melted cheese and piquant salami from Milwaukee's Bolzano Artisan Meats.
"These are mainly specials we ran throughout the year that were hits that month," says manager Trevor Danielsen, who has a wide-ranging resume that includes running a rickshaw service in Milwaukee. "Now we've incorporated into the menu."
"We consider ourselves a burger bar for foodies. But we're not going to toss fois gras at you or anything like that," says general manager Joe McPherson.
"What we wanted to do was be a little bit different than our competition where mainly you can get burgers and fried food, well, here we have some good salads and some different sandwiches, too, so that we can please a lot of different tastes."
One of the biggest changes might not be immediately noticeable.
While you'll easily spot the savory sweet potato fries – thanks, of course, to their bright hue – you might not recognize that Stack*d has tossed aside the stalwart Idaho Russet potato in favor of the pricier heirloom Kennebec variety.
"They're double the price of the russets, but I think it's worth it. " says McPherson, who once was chef at the beloved and now-lamented Mike and Anna's on the South Side.
"We bought a 50-pound case maybe a month ago. We had really good feedback from customers. They were really happy with it; so were employees. We leave the skin on when we fry and that can sometimes be bitter. It has such a thin skin it has less bitter notes to it. It's kind of nutty, it's fleshier. It fries up real crisp."
McPherson says the secret to Stack*d's super crispy fries is the process.
"We blanch them at 275 (degrees) for five minutess," he says," then we chill them completely and fry them to order at 350. That's why they have that crispness."
Although McPherson says Stack*d aims to buy as locally as possible, it doesn't always happen. The new potatoes, for example, come from Idaho, as did the Russets before. The burger bar just welcomed a new local vendor, however.
It's switching from Kemp's to Bay View's Purple Door for the ice cream used to create Stack*d's signature monthly shakes. McPherson said the Purple Door ice cream is not only better, but the company is flexible and can make flavors to order. That opens up a whole new world of shakes for Stack*d.
"One of the things I've wanted to do for a long time was something out of Cleveland, where Michael Symon does a bacon, bourbon and apple shake and they have a bacon flavored ice cream," says McPherson, "so it will be perfect."
After nearly two decades, Water Street stalwart McGillycuddy's, 1135 N. Water St., closed briefly this summer as the bar and restaurant changed hands. Now, under new owners Drew Deuster, Josh Janis, and J.J. Kovacovich, who also own the Red Rock Saloon and The Library Club, things are changing.
Improvements have been made inside and a new patio will appear by summer. Already, the kitchen is serving a new menu that focuses on two bar mainstays: Guinness and Jameson.
A Jameson chicken sandwich draws the sweetness out of the whiskey and builds on it with red peppers and a layer of melted cheese. Meanwhile, a thick, Guinness-glazed burger is rich and heaped with sweet fried onions.
The hearty menu is personified by a thick Irish stew with big chunks of carrot and celery. But don't miss the wings. The wet sauce Buffalo wings have some tang – as does the stew – but even better are the Guinness wings, which are baked and deep fried before they are slathered in a delicious stout sauce.
Down on the avenue, a change of seasons has again brought a change in lunch menu at the Capital Grille, 310 W. Wisconsin Ave.
The restaurant's modular "Plates" lunch menu includes choice of soup or salad, sandwich and side, from three options in each category. Each season one selection in each column is replaced.
For winter, Capital Grille has added a Wagyu cheeseburger that comes with a fried egg and crisp onions. I warn you in advance, this sumptuous burger is easily a meal for two.
In the soup category there's a roasted red pepper soup that is especially alluring on a cold day and among the sides you'll find a selection of roasted root veggies.
The "Plates" menu lunches may seem a tad pricey at $16 but the food is delicious and plentiful. Take the leftovers and make a second lunch of them the next day. (Also, we get a deal here in Milwaukee. In some markets the menu is priced $2 higher.)
fbyrwrxfddxuzfqfwac
Talkbacks
brewcitypaul | April 30, 2012 at 1:06 p.m. (report)
Sweet potato fries are all the rage right now. I see them being added to lots of places menus lately. Not complaining at all, I think they're great. Have to get down to Stack'd sometime, never been there before.
brewerfan13 | Feb. 6, 2012 at 1:38 p.m. (report)
Add the Sprocket burger at Cafe Benelux to this list of comfort foods. 4 words: Duck fat fried egg. YUM.
fbyrwrxfddxuzfqfwac
Facebook Comments
Disclaimer: Please note that Facebook comments are posted through Facebook and cannot be approved, edited or declined by OnMilwaukee.com. The opinions expressed in Facebook comments do not necessarily reflect those of OnMilwaukee.com or its staff.