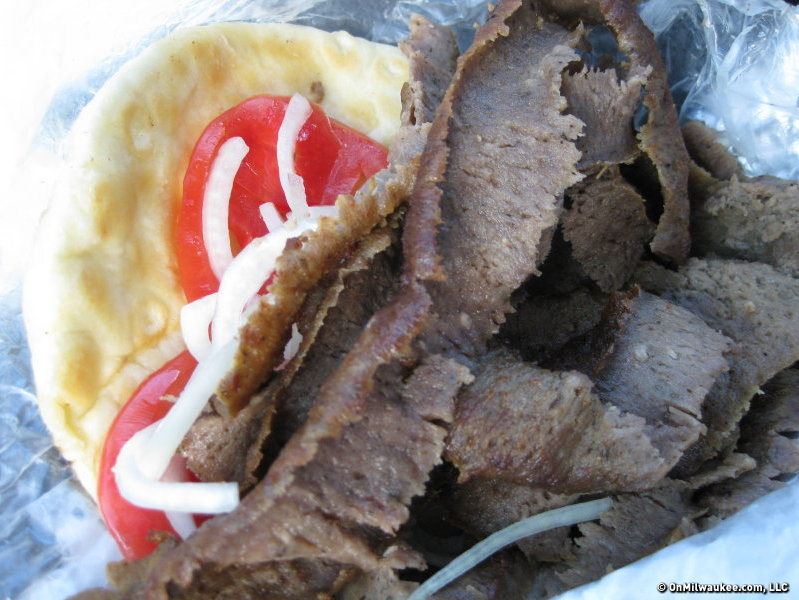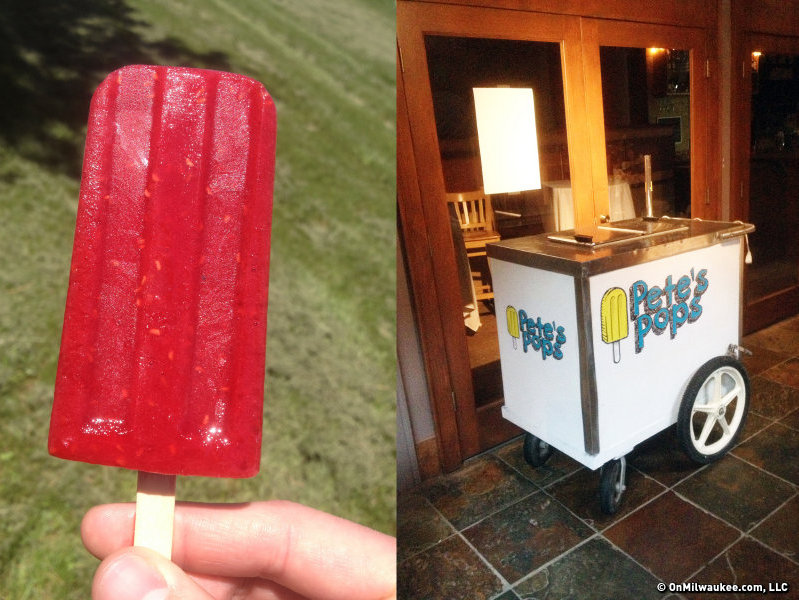 Milwaukee food truck guide, 2014
Note: The contents of this guide were checked for accuracy when this article was updated on July 22, 2014 at 11:12 a.m. We continually update the thousands of articles on OnMilwaukee.com, but it's possible some details, specials and offers may have changed. As always, we recommend you call first if you have specific questions for the businesses mentioned in the guide.
Call it a sign of the economy. Call it a part of Downtown's urban renaissance. Call it a smart dining idea. Whatever the driving force behind it, there's no denying that Food Trucks rule the scene in metro Milwaukee.
Here at OnMilwaukee.com, we're delighted to see all sorts of new trucks and street vendors popping up on the streets of Brew City. From pizza to pitas, crepes to tacos, the hungry lunch (and bar time) crowd has more options than ever.
As the popularity of food trucks grows, we'll be ready with updates… and our own wishlist for what's coming next. Anyone else hoping for mobile cupcakes?
Want to know where your favorite food trucks are set up today? Check out our Food Truck Locator for continuous updates!
American Euros
@americaneuros
American Euros on Facebook
american-euros.com
The cleverly-named American Euros cart hit the streets of Milwaukee five years ago and owners Mark Miller and Chad Mydlowski keep it fairly simple. Customers choose from chicken or lamb – or a combo of both – marinated in a homemade broth and carved fresh daily at their service kitchen in West Milwaukee. They also offer specialty pita sandwiches and doner kebabs, "the best sandwich you never heard of." The American Euros cart location changes daily.
Beef-E's
@MilwaukeeBeefees
Beef-E's on Facebook
beefes.com
There's no need to head down to Chicago for authentic Italian beef sandwiches when you can get them right here in Milwaukee. Choose from the Classic Italian beef; The Beef-E-Man, an Italian beef with Italian sausage; The Italian Stallion, an Italian beef and Philly cheese steak hybrid; the Brew City Beef with melted cheese curds and bacon; the Stallis with southwest ranch sauce; and Judy's Pot Roast with mashed potatoes, carrots, onions and french-fried onions. All sandwiches are served with juice "on the side," "poured on," or "dipped" and come with a choice of hot or mild house-made giardiniera for no charge.
Bubble Tea Fusion
@bubbleteafusion
Bubble Tea Fusion on Facebook
bubbleteafusion.com
Looking for a nice, cool and delicious drink on a hot summer day in the Brew City? Bubble Tea Fusion offers a variety of bubble teas, fruit smoothies, and flavored ice teas. For bubble teas, you have the option to choose a single flavor or a two flavor combo. Are you also feeling a little hungry? The truck also offer spring and egg rolls, Asian hoagies and a rotating menu that includes a roasted beef hoagie, chicken teriyaki, fried rice, pad thai, vegetable stir fry, sweet steam pork buns and taro buns.
Buddha's BBQ
@buddhasbbq
Buddha's BBQ on Facebook
buddhasbbq.com
Buddha's BBQ brings a bit of heat and Southern smoked flavor to Milwaukee. The truck serves lunch every week day and late nights on weekends, serves spare ribs (three-four bones), 1/2 and full slab of barbecue ribs, rib tips, slow cooked pulled pork, beef brisket, Mississippi steak (a thick slab bologna) and hot dogs. My mouth is already watering. Go here for the truck's location schedule.
Bun Me
@bunmemke
Bun Me on Facebook
Bun Me is a food truck selling variations on banh mi, the Vietnamese sandwich. The truck sells three kinds: salty-sweet pork belly, and chicken or a seasoned soy-based vegetarian version dressed with lemongrass or peanut sauce. The sandwiches are topped with marinated daikon and carrot, cilantro, jalapeño and a long slice of cucumber for traditional banh mi flavors. At lunchtime, Bun Me usually is at Water and Buffalo streets in the Third Ward on Mondays and Fridays and in front of the U.S. Bank Building, 777 E. Wisconsin Ave., on Tuesdays and Thursdays. The truck is also at North and Farwell avenues around bar time Fridays and Saturdays.
Burgermeister Truck
@BurgermeisterWI
Burgermeister Truck on Facebook
There's nothing better than a great, juicy burger. Burgermeister, a food truck that made its debut earlier this summer, offers burgers of all kinds. The truck also serves grilled mahi mahi in Cajun spices and Chicago style hot dogs. The burgers are served with the truck's own potato chips, fries, and a drink.

Chameleon Mobile Cuisine
@chameleonmobile
Chameleon on Facebook
Dave Jurena of the Soup Market is behind the swiftly moving Chameleon, so named because it will adapt to its surroundings. It's ever-changing menu includes signature soups, sandwiches, and comfort food favorites like barbecued pork sandwich with chips and slaw and white cheddar mac and cheese with grilled chicken, roasted poblanos and bacon.
Eats & Treats Truck
@EatsTreatsTruck
Eats & Treats on Facebook
Eats & Treats is a local Milwaukee based food truck that's been in service for over 25 years. Famous for their waffle dog -- which is skewered and dipped in batter before going into a specially shaped waffle maker. The truck also offers other waffle-coated variations including waffle sausage, waffle bacon and the waffle beer brat.
El Charrito Taco Truck
This taco truck offers a wide range of authentic street tacos, from beef tongue to chorizo, tripe, chicken and asada-stuffed tacos. You can find them parked across from Koz's Mini Bowl on South 7th Street. They've also been spied on 6th and Becher and 23rd and National.
The Fast Foodie
@fastfoodiemke
thefastfoodieonline.com
It's something like a pita, but maybe more like a tortilla … but it's always filled with goodness. But, no matter which way you look at it, world-cuisine-inspired Globacos are food in portable packages! Choose from the Jamaican Me Crazy, the Hahny Hahny, The Big Sexy or the Sexy Veggie, along with homemade potato chips seasoned with globally inspired "love dusts." Naked bowls are available for those who wish to skip the bread altogether.
Fresh Farm Bowls
@FreshFarmBowls
Fresh Farm Bowls on Facebook
farmfreshbowls.com
The focus of Fresh Farm Bowls is fresh produce and real ingredients. According to the website, this is "street food at its finest" that comes straight from the farm and into your bowl to enjoy. Although the food truck won't hit the streets until next spring, Fresh Farm Bowls will be appearing at different events this summer for people to try samples.
Fivestar Nacho
@fivestarnacho
Fivestar Nacho on Facebook
Get your nacho fix with the help of Fivestar Nacho. Their offerings include your choice of rice, along with roasted garlic pork, marinated ground beef, spicy grilled chicken, or grilled vegetables. Toppings include lettuce, tomatoes, salsa, slaw and Fivestar cream, a cross between sour cream and creme fraiche augmented with a bit of citrus. Gluten-free, vegetarian and vegan options are available upon request. In addition to the usual, the truck also offers daily specials like chorizo and egg, duck confit, Korean chicken, herb marinated lamb and honey barbecue pulled pork.
Flying Cow Pizza
flyingcowpizza.com
Flying Cow on Facebook
The Flying Cow Pizza Truck sports a mobile wood fired pizza oven that pumps out amazing, bubble-crusted Napolitana style pizzas. The truck offers a weekly special, along with six core pizzas, including a classic Margherita with fresh mozzarella, basil and San Marzano tomato sauce; spinach-feta pizza with olive oil; and the Italian Stallion that has pepperoni, italian sausage, and pancetta (Italian bacon). The truck stops at the Lake Mills Farmers Market on Wednesdays.
Fry Bread N Things
@FryBreadNThings
Fry Bread N Things on Facebook
It's not common to find Native American fry bread in Milwaukee restaurants; however, it is possible to get it from a food truck. Chad Esser converted a shuttle bus into a food truck that specializes in fry bread. Try frybread tacos, fry bread with dipping sauces or dessert style fry bread.
The Gouda Girls
@GoudaGirlsTrk
Gouda Girls on Facebook
goudagirls.com
Specializing in grilled cheeses and friendly customer service, the Gouda Girls get it right every time. From their classic grilled cheese, to the award-winning Roma with slow roasted tomatoes, mozzarella and Asiago, to their fully loaded Wisconsin cheese steak, the Gouda Girls offer the most comfort you can find by the side of the road. They also make over 50 varieties of Rice Krispies treats, with three showcased each day on the truck.
The Hard Wood Café
@thehardwoodcafe
hardwoodcafe-catering.com
The Hard Wood Cafe contains an on-board smoker and grill. It offers everything from grilled burgers to pulled pork sandwiches and pork nachos. The Hog Wild, a combination of ham, bacon and pulled pork, is a specialty. French fries or sweet potato fries are available on the side, as well as "Pig Candy," chocolate chock-full of bacon and coconut.
Page 1 of 2 (view all on one page)

Next >>




Talkbacks
Crew_Dat | July 22, 2014 at 11:38 a.m. (report)
Great scene out there. Just wishing Tigerbite, Jeppa Joe's and Flirty Momo were still around. Too good to be gone already...
Facebook Comments
Disclaimer: Please note that Facebook comments are posted through Facebook and cannot be approved, edited or declined by OnMilwaukee.com. The opinions expressed in Facebook comments do not necessarily reflect those of OnMilwaukee.com or its staff.