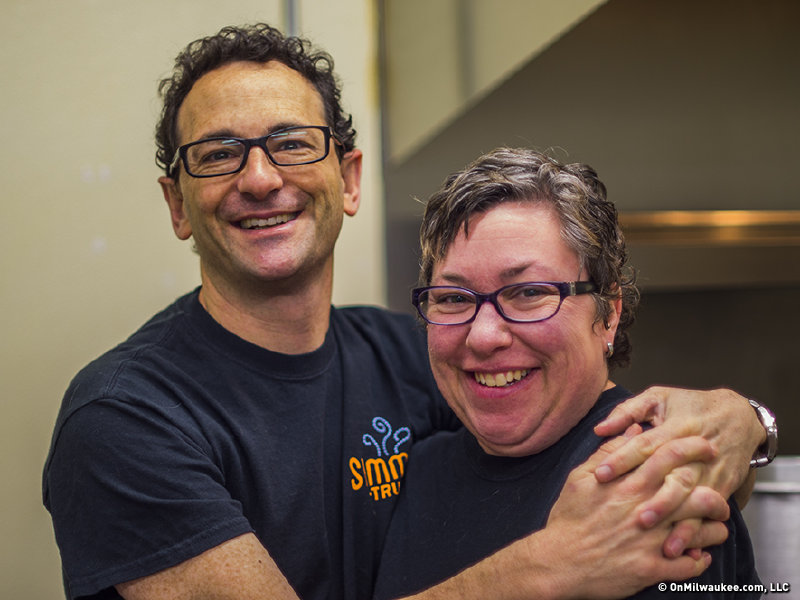 The Weekly Nibble: Simmer Truck Takes to the Streets
Even if you're paying close attention, it's sometimes difficult to keep up with the latest in food news here in Milwaukee. So here's a taste of what's new and notable – with news about the newest food truck on the block, heirloom vegetables for sale, and a great new breakfast and brunch spot.
New Milwaukee food truck serves up homemade goodness
Steve Perlstein, formerly Chef Partner at Buca Di Beppo, and his wife, Jennifer Block, are owners of the newest food truck concept on the Milwaukee block.
Starting May 6th, their 1995 Blue Bird Micro Bird bus will be trolling the Milwaukee streets, ready to serve up fresh soups, salads and panini.
Simmer Truck is the realization of Steve and Jennifer's passion to bring great food to the streets of Milwaukee - fast, fresh, affordable, and portable. All soups, stews, dressings and sauces are made from scratch, and the rotating list of soups and Meals in a Bowl, like their Spicy Simmer Chili, which made a splash at this year's Chili Bowl cook-off, will include vegetarian and gluten-free options every day.
Soups for the week of May 6 will be tomato basil bisque, chicken corn chowder, balsamic beef barley, and curried lentil with sweet potato. Panini will include cumin coriander chicken with caramelized onions, muffaletta, and three cheese and tomato. The meal in a bowl will be spicy simmer chili.
Pricing for soups will run $4.50 - $6.50, panini $7-$9, and salads, $4.50 for a side and $8 to $10 for an entrée.
"I've always wanted to open my own place," Perlstein says. "But as Jennifer and I talked more about it, a food truck started looking better and better. It's much cooler, and we really liked the idea of being mobile and flexible. If we want to try a different location, we pack up and go. If we feel like opening for dinner on a particular night, we find a spot to open for dinner. If we want to take a day off, we do that. Plus, opening a truck is costing us about one-fifth what a brick-and-mortar restaurant would."
The Simmer Truck will take part in Take Out Tuesdays at Schlitz Park, Food Truck Thursdays at the Milwaukee County Courthouse, and Food Truck Fridays at Red Arrow Park. Every Saturday during the summer, they will provide eats to East Side Garden Market-goers next to Beans and Barley. In addition, the duo will be donating their time and food one day a month all summer long to feeding kids who normally get free lunch at school during the school year.
In the time left before their official launch, The Simmer Truck is running a Kickstarter campaign to put them over the top in funding their startup. In addition to playing a role in helping get Simmer Truck rolling, contributors get one of Simmer's great soup recipes and swag ranging from free soup to a catered party for 50. For more information, or to support their campaign before it ends on April 29, 2013, head over to Kickstarter.com.
Heirloom vegetable sets from Slow Food
Growing a garden this year? Support biodiversity by purchasing an Ark of Taste organic vegetable set from Slow Food WISE. The Slow Food Ark of Taste is a catalog of over 200 delicious foods in danger of extinction. By growing and eating Ark products you can help ensure they remain in production and on our plates.
This year, Slow Food WiSE has selected a set of 6 regional vegetable plants that are both delicious and well suited for the Wisconsin Growing Season. They have partnered with Weber's Greenhouses who will start and nurture the seeds along, until they are ready to be planted in your home garden.
The set of 6 organic vegetable plants includes one each of Aunt Molly's Ground Cherry, Aunt Ruby's Green Tomato, Amish Paste Tomato, Beaver Dam Pepper, Sheepnose Pimento Pepper, and Amish Deer Tongue Lettuce. Also included is a packet of Amish Deer Tongue Lettuce seeds for sowing during the growing season.
Sets are $20 each for Slow Food members and $25 for non-members. Sets can be picked up at the Village Green Street Fair in Wauwatosa on June 1, 2013. Order online.
Grab breakfast or brunch at Joey Gerard's
Breakfast is now being served at both Joey Gerard's locations in Greendale and Mequon. Enjoy pancakes, French toast, and omelettes. Or try something a bit more adventurous like popovers stuffed with scrambled eggs and ham and topped with Carr Valley Cheddar (8.95) or prime rib hash with peppers, potatoes, onions, poached egg and hollandaise ($12.45). Morning cocktails include favorites like the classic Wisconsin screwdriver($5.50), a ruby red mimosa ($5.50), and Joey's bloody Mary with Zing Zang bloody Mary mix for $8. Greendale offers breakfast from 8 a.m. to 2 p.m. on Saturdays and Sundays. In Mequon, breakfast is served on Sundays only from 9 a.m. to 2 p.m.
Firefly launches new menu
The weather is (hopfully) getting warmer soon, and Firefly Urban Bar and Grill, 7754 Harwood Ave., is getting prepared. They've launched a brand new summer menu, featuring delicious and refreshing options like apple bbq pulled pork sandwich with coleslaw and pickles ($12), Buffalo chicken sliders featuring shredded chicken, Buffalo sauce, blue cheese and shredded celery ($11), jerk chicken served with ginger-lime rice and peach-papaya salsa ($15), hoison glazed tofu with vegetable fried rice and red chimichurri ($14), and more. They have also brought back their endless fish-fry featuring beer-battered or baked cod with Asian slaw and fries.
Facebook Comments
Disclaimer: Please note that Facebook comments are posted through Facebook and cannot be approved, edited or declined by OnMilwaukee.com. The opinions expressed in Facebook comments do not necessarily reflect those of OnMilwaukee.com or its staff.