I ate at Olive Garden and lived to write about it
For the 10th straight year, October is Dining Month on OnMilwaukee, presented by the restaurants of Potawatomi Hotel & Casino. All month, we're stuffed with restaurant reviews, dining guides, delectable features, chef profiles and unique articles on everything food, as well as voting for your "Best of Dining 2016."
It's been a good number of years since I've set foot into an Olive Garden. The simple fact is, there are so many interesting locally owned restaurants to enjoy that the idea of OG seldom even crosses my radar.
But, it's Dining Month. And if I judged purely by the constant stream of cars that flows in and out of the parking lot at the South 76th Street location, I'd be prone to suspect I was missing out on something truly special. It seemed a stop was in order.
Despite a few initial misgivings, I found myself looking forward to my visit. After all, don't we all harbor some level of desire for an evening filled with tender all-you-can-eat breadsticks and plates overflowing with succulent pasta?
It was 5:30 p.m., and the house was packed with a diverse mix of diners, both young and old – a good sign, by any gauge. We took our seats in the lively dining room, which featured textured stucco walls hung with Tuscan-style dinnerware, along with black and white photographs depicting workers in lovely vineyards and family dinners in picturesque olive groves.
To be honest, I found the decor charming and pleasantly homey, until I rounded the corner partway through dinner and came upon two to three more sets of the same photographs rehung in various areas of the restaurant … a firm reminder that I was, indeed, eating at a chain restaurant where even familial portraits were nothing more than stock photo mythology.
Breadsticks!
The magic of the Olive Garden experience is likely captured in the first 10 minutes of the dining experience, during which one can still dwell in the pent-up anticipation of what's to come. If you're lucky, as we were, you'll be greeted gaily by an enthusiastic server bearing a basket of piping hot breadsticks and free samples of Pinot Noir.
The breadsticks were tender and slightly doughy, with the gentlest hint of garlic. They were also greasier than I remembered; but that didn't dissuade me from indulging. There's a bit of nostalgia to be earned with every bite, after all.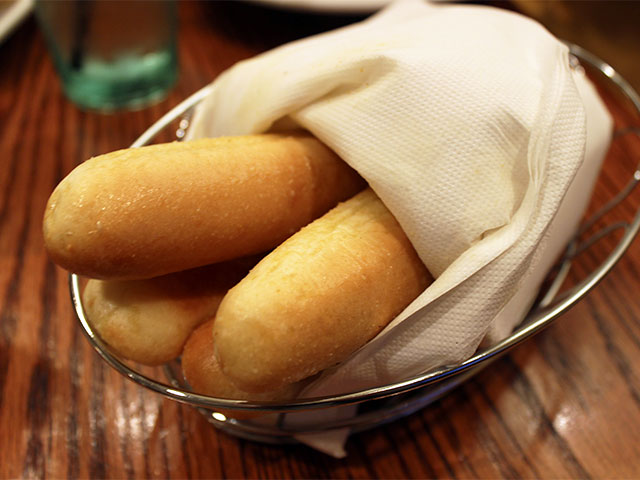 As we happily munched our breadsticks, we perused the wine list, which is filled primarily with bottles from well-known commercial vineyards like Beringer, Cavit and Coppola, priced in the $25-30 range. And we chuckled a bit as we wondered about the type of diner who would splurge on the $95 Bertani Amarone, a classic choice made with Corvina, Rondinella and Molinara grapes that makes a great pairing with umami-rich Pecorino-Romano or a hearty bowl of ragout.
But, we didn't ponder long. For, before we knew it our bowl of salad had arrived. It was fresh, crisp and well dressed with just enough onion and tomato to keep the Romaine lettuce from getting lonely. I balked a bit at the sight of the cheap oxidized black olives, but quickly refocused on the simple, indulgent joy of watching our server as she grated copious amounts of Parmesan cheese over the top of the salad, stopping only when we deemed there was enough to please our Wisconsin palates.
There was also a moment of jubilation when I spied a whole pepperoncino, whisking it onto my plate as if it were a choice reward for my salad eating efforts.
Unfortunately, it was the last ounce of joy I'd reap from my OG experience.
If I had it all to do over again, I would have skipped the Sampler Italiano appetizer platter ($11.79), which in our case offered calamari, stuffed mushrooms and crispy risotto bites.
Good calamari is a thing of beauty in my world. And these bore the sort of light, crisp coating that would have drawn me in had it not been a mere mask obscuring nothing more than cold squid with a texture not unlike fresh rubber bands. The stuffed mushrooms were, in contrast, piping hot; but their soggy, breadcrumb-laden filling effectively drained the joy from an otherwise promising bite. Risotto balls were similarly deceptive: delightfully crisp on the outside, but unforgivably mushy on the interior.
Entrees
On the entree side, I went against my better judgment and ordered the chicken and shrimp carbonara ($18.29). I knew better than to hope for the authentic dish, made with egg yolk, Pecorino-Romano, guanciale, black pepper and pasta. In fact, I knew from the menu description that what I'd get would be bacon-laced alfredo sauce redolent with cream. But, somehow, I thought that would be OK.
It wasn't. The dish was a train wreck. The too-creamy sauce may have graced the noodles at one point; but, after that (probably under a heat lamp somewhere in the kitchen) it had slipped down to the bottom of the bowl, leaving the overcooked spaghetti noodles languishing in a little dried out heap beneath equally dry chicken cutlets and a few stray shrimp.
The ravioli di portobello ($13.49) was similarly disappointing. From the vibrant orange smoked cheese and sun-dried tomato sauce – which had clearly broken from being held at too high a temperature – to the pasty filling, which evidenced only tiny frizzled bits of mushroom, it was a dish that would be better (and more frugally) created at home with a jar of sauce and frozen ravioli.
It's worth mentioning that all of the pasta we ordered – from the angel hair to the spaghetti to the rigatoni – missed the al dente mark entirely, a fact that should inspire weeping among Italian nonnas everywhere.
That said, if you don't mind your pasta served up "scotta," you'd be a good candidate for the Neverending overcooked pasta bowl ($9.99), an offering which innately penalizes you for showing restraint. The offering includes your choice of pasta topped with carbonara (er, alfredo sauce), meat sauce, asiago garlic alfredo or classic or five cheese marinara. Add-ons are also available (including grilled chicken, Italian sausage, meatballs, or fried chicken or shrimp), but will set you back by $3-4.
The pasta ain't pretty; in fact, there are no pains taken to make it so (barring a sprinkling of parsley). But, it will fill you up in a hurry.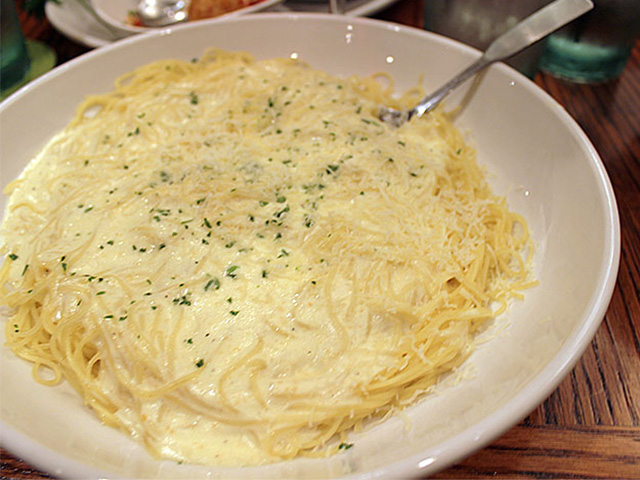 Dessert
Like the entrees, desserts at the OG come in large portions fit for sharing. But, in the end, it's just another example of why bigger isn't necessarily better.
The sizable slice of pumpkin cheesecake ($8.29) was heavy and dense with the slightly fake spice-infused flavor reminiscent of a Starbucks gingerbread latte. A fair bet, if you like pumpkin and you prefer your cheesecake hefty and sweet. But, by my gauge it was a bit too heavy and rich after a dinner of fat-laden pasta.
Similarly, the house tiramisu holds the potential of fulfilling your craving for something creamy and sweet (emphasis on sweet); but, it's unlikely to compete with the impossibly light espresso-kissed versions you might find in Italy. In fact, I sensed none of the pleasant tang of mascarpone in the filling, nor the pleasant acidity imparted by espresso. In the end, it amounted to little more than a rich pudding layered with soggy, ultra-sweet sponge cake ($7.29).
I was almost grateful for the (too) bitter cup of espresso I'd ordered ($3), as it did help cut through the sweetness of dessert. But, it did not assuage the nagging feeling in my gut that told me I should've just gone across the street to Kopp's for a scoop of custard instead.
Hospitaliano!
A bright spot of our visit was the service, which was on par with the restaurant's theme of "Hospitaliano!" (a word emblazened on buttons worn by wait staff). Water glasses were refilled with stealth, and our server was attentive and friendly, even offering informed recommendations on entrees when we asked.
Interestingly, if you're in a hurry or weren't blessed with particularly attentive waitstaff, OG has also made it possible to get what you want exactly when you want it. Standing tablets on each table are equipped with call buttons, allowing you to summon your server on demand. If you're dining solo (or with kids), you can also use it to play a variety of games for a small fee (unlimited play for $1.99).
If you desire, the kiosk also makes it possible to order all of your food and pay your bill without conversing with your server. We used it to both order our dessert and pay our bill, and I had to admit it was quite convenient. However, much like the self-checkout lines at the grocery store, the lack of human interaction also removes the potential for some of the pleasantries of a great dining experience.
The verdict
Sometimes nostalgia is just ... nostalgia. My Olive Garden meal, which had started off promising, swiftly degraded into an experience my inner food snob could not overlook. By the end of the evening, my mouth was coated with residual fats from the rich pasta dishes, my head was throbbing (presumably from our questionable choice of wine) and my teeth had developed little fuzzy sugar coats thanks to the heavy, sweet desserts.
By the time I got into the car, I was already craving a gallon of water from ingesting what could have easily been a week's worth of sodium in one sitting. And in the days that followed my visit, I had little desire to even touch the leftover pasta gracing the shelves of my refrigerator, even when I finally became hungry again.
Facebook Comments
Disclaimer: Please note that Facebook comments are posted through Facebook and cannot be approved, edited or declined by OnMilwaukee.com. The opinions expressed in Facebook comments do not necessarily reflect those of OnMilwaukee.com or its staff.