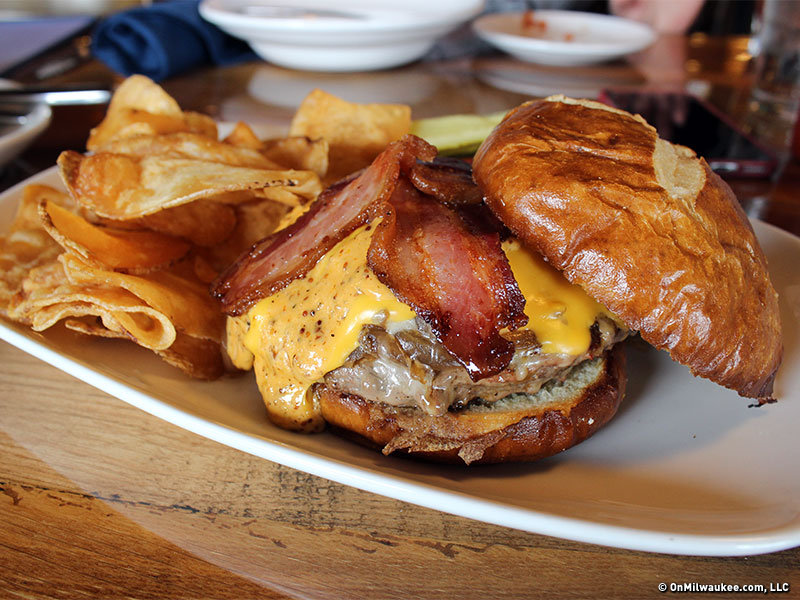 On the Burger Trail: The signature burger at Bibinger's in West Bend
In this series, we'll be hiking the burger trail to find the latest, greatest and most delicious burgers in Milwaukee. Click here for an explanation of the criteria used to rate each burger. Where have we been? Check out the complete catalog of burger reviews here.
Bibinger's
3747 Cedar Creek Rd., West Bend
(262) 247-0703
bibingers.com
One of the best parts of the Burger Trail series has been exploring burgers at hidden gems outside of the immediate Milwaukee area. And recently, I found yet another burger gem just 40 minutes outside of town at Bibinger's.
Built in 1846, the historic property – which had been home to numerous businesses over the years – was recently rehabbed and named for its founder Johann Bibinger (read more here). Pay a visit and you'll discover a well-loved space with a rustic, old school vibe and a modern menu that's worthy of a short weekend road trip.
From fresh salads and internationally inspired plates to sandwiches, comforting entrees and a hand-breaded Friday night fish fry, there are dishes for just about everyone. And Chef Kady Gibowski makes a point of making virtually everything in-house, so you're getting scratch-made fair using a hefty sum of local ingredients.
Among the sandwich offerings, Bibinger's has three burgers including the classic Cedar Creek Burger with American cheese, lettuce, tomato and onion on brioche; and a patty melt with Swiss, aged cheddar, caramelized onions and roasted garlic mayo on toasted rye.
I chose the signature Bibinger's Burger featuring a half-pound grass-fed burger from Pleasant Valley Meats topped with aged cheddar, Swiss, American cheese, Schwai's bacon, caramelized onions and spicy sauce on a pretzel roll ($14) ... because, when you put your name on something, it should be the best. Right? I normally order fries with my burger, but Bibinger's offers housemade chips that are pretty stellar, so I went that way instead.
Presentation: 8
The burger presents well, with its pretzel bun hat slightly tipped to reveal a glorious display of mustard-seed studded sauce, melted cheese and bacon that begs to be eaten right off the burger.
Bread/bun: 7
The pretzel bun was a good choice for this burger, in part due to its inherent sweetness. That complemented the caramelized onions and offset the multitude of other savory elements in the compilation, while adding a nice sturdy foundation for the gigantic half-pound burger.
Burger: 8
The burger itself is huge (I actually would consider sharing this burger next time). It's also juicy and well seasoned with a nice grilled flavor on the exterior. I ordered mine medium-rare, and it was prepared slightly on the rarer side, but not so much so that it was off-putting. The burger was delicious on its own, and even better with the toppings.
Toppings: 10
Overall, the toppings offered a nice mix of flavors. There were candy sweet, deeply caramelized onions (the kind that were cooked properly, and it shows). The bacon was just crisp enough and moderately smoky. The sauce, while billed as spicy, was more tangy, with the kick of a good mustard. But, it was the combination of cheeses – nutty shredded Swiss and cheddar, along with the meltable umami of American – which made the burger's toppings work. The cheese also neatly covered the slippery onions, so things held together while I was eating, giving the burger extra points for great composition (someone was thinking when they built this one).
Value: 7
The Bibinger's Burger is thoughtfully designed. At $14 you get a half-pound of beef with great flavor and a cadre of well-suited toppings. Not bad at all.
Total: 40/50
If you love meaty half-pound burgers, you'll find one at this historic gem just northwest of Milwaukee.
Bibinger's is open Tuesday through Thursday from 11 a.m. to 10 p.m., Friday and Saturday from 11 a.m. to 11 p.m. and Sunday from 9 a.m. to 2 p.m. for brunch.
Facebook Comments
Disclaimer: Please note that Facebook comments are posted through Facebook and cannot be approved, edited or declined by OnMilwaukee.com. The opinions expressed in Facebook comments do not necessarily reflect those of OnMilwaukee.com or its staff.