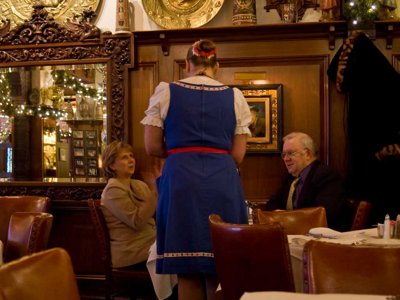 Rapid review: Karl Ratzsch's Restaurant
March Madness is here, and the basketball action heats up in Milwaukee this week as the Bradley Center hosts the Midwest and West regional rounds of the "big dance." With fans flocking from near and far, the editorial staff at OnMilwaukee.com thought we'd help greet our new visitors with a week's worth of features and guides to everything that makes our city a great place to visit. It's "Welcome to Milwaukee Week" at OnMilwaukee.com!
Karl Ratzsch's Restaurant
320 E. Mason St., (414) 276-2720
karlratzsch.com
Milwaukee is a great restaurant town, which is good because -- as visitors can tell by our size -- people here love to eat.
While the Downtown area boasts many newer restaurants with chefs that push the culinary boundaries with delicious results, there is something to be said for the standards.
Karl Ratzsch's is a traditional, family-owned restaurant that OnMilwaukee.com dining critic Amy Schubert once called, "a culinary time capsule."
For 106 years, it has been serving food that reflects Milwaukee's German heritage. The woodwork and chairs are heavy. There are beer steins and German artwork everywhere. The servers wear vests and dirndls. And the meals are like grandma used to make -- or enjoy during a night out.
You start with a basket of light caraway rolls and dive into homemade soups (often with dumplings) and move onto entrees like liver roast duck, sauerbraten, wiener schnitzel and veal cutlets.
The portions are large. The prices are reasonable. The vibe is comfortable. A trip to Karl Ratzsch is a trip back in time, but you will enjoy the ride.
Talkbacks
bacmad19 | March 24, 2010 at 8:17 a.m. (report)
It would take too long to explain the details but a year ago the maitre'd there was one of the most rude human beings I have met. The waitstaff was oustanding but the matire'd was so outrageous that I will never step foot in Karl Ratzsch's again. Mader's it is.
Facebook Comments
Disclaimer: Please note that Facebook comments are posted through Facebook and cannot be approved, edited or declined by OnMilwaukee.com. The opinions expressed in Facebook comments do not necessarily reflect those of OnMilwaukee.com or its staff.