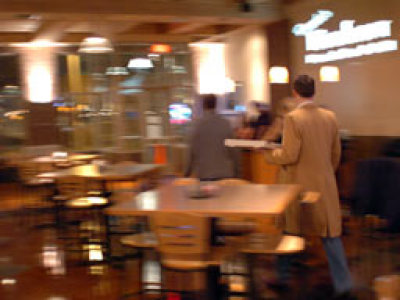 Ricardo's Riverfront Pizzeria Bar and Grill does unique pizza, perfect pasta
When I think killer pizza in Milwaukee, there are a few old-school places that come to mind; for thin crust, Zaffiro's, Albanese's and Tenuta's, medium crust, Palermo Villa, Libiamo and Mama DeMarini's, and for thick crust, the Marquette classic, Angelo's Pizza. Even more upscale eateries are in a trend of putting out classier versions of Italian pies, or "gourmet" pizzas, like Shaker's and Coquette Café, showing the versatility that lies over the premise of crisp dough, fresh tomato sauce and, of course, cheese.
But, until a few visits to the new, smoke-free, Ricardo's Riverfront Pizzeria Bar and Grill, 509 E. Erie St., I had never seen a BLT or a cheeseburger pizza (complete with pickle slices) appear on a pizzeria menu anywhere.
Ricardo's Riverfront Pizzeria's menu is identical to their Greendale location, and offers moderately priced average casual Italian cuisine with the added boons of a lovely riverfront patio and a smoke-free environment. The clientele here appears to be mostly made of their Greendale followers and less of the Downtown, Walker's Point, and Third and Fifth Ward crowds, but it works well in the new location as both a draw to suburbanites and as an inexpensive destination spot for those dining out with children.
The unique additions of the aforementioned BLT and cheesesburger pizza are also complimented by some traditional offerings and taco and Mediterranean renditions of classic pies. The biggest draw for Ricardo's, beyond the patio, is that they offer mini ($9), small ($15.50-$16.50), large ($17.50-$20.25), and family sizes ($20-$25), that will allow a group to accommodate the varying tastes of any size party. In addition to their pizzas, Ricardo's Riverfront also has a good selection of pastas and sandwiches.
Riverfront has a good, albeit small, wine list, and a large standard appetizer list with items such as chicken tenders ($6.49) and onion rings (small $3.25, large $6.25). A combination basket ($6.49) contained ordinary breaded eggplant strips, mozzarella sticks, and mushrooms with ranch dressing and a marinara. The roasted red pepper, spinach, and artichoke dip ($6.95) was overpowered with the tasted of roasted red peppers, but came with some deliciously crisp crostini. A small order of garlic bread ($2.75) was drenched in garlic butter, but was very good, although decidedly soggy from the overabundance of butter.
Our favorite dish at Riverfront was the mostaccioli ($9.25) which was a healthy serving of perfectly cooked pasta tubes topped with a very good homemade red sauce. In fact, future visits for us will keep us in the pasta section of the menu, because we found all three of the pizzas we sampled to be disappointing and bland.
Taco pizza (mini-$9.75) was the most flavorful of the pizzas with refried beans, crushed tortilla chips, ground beef and all the standard taco trimmings. The deluxe (sausage or pepperoni, mushrooms, onions, green peppers, and black olives) was beautiful on arrival, but we were shocked to find the pizza virtually flavorless. Somehow, even though the pizza was piled high with onions, there was no indication of them on our palates, and very little of any of the other ingredients. We had the same issue with the Mediterranean which featured fresh tomatoes and green olives; only bites with the green olives present carried any indication of the definable zesty flavor one finds in homemade pizza with fresh ingredients.
Service at Riverfront was spotty, and we were surprised to have one of our servers box half of a large pizza into a small Styrofoam container rather than a pizza box, sending us out the door with a mashed pizza that had now become "one." But the pizzeria is new, and is already very popular, so they will have plenty of time to practice both their service and their pizza perfection before the warm weather hits Milwaukee again. And I very much look forward to enjoying a plate of pasta and a glass of shiraz on Riverfront's amazing river patio.
rztfrucvabavequsrsaqeqxxdf
Facebook Comments
Disclaimer: Please note that Facebook comments are posted through Facebook and cannot be approved, edited or declined by OnMilwaukee.com. The opinions expressed in Facebook comments do not necessarily reflect those of OnMilwaukee.com or its staff.